The Bat! Email Review: Manage Multiple POP and IMAP Accounts from One Email Client
The Bat! is an email client that allows you to manage multiple accounts that uses POP, IMAP and native MAPI for Microsoft Exchange Server. The Bat! also makes repetitive tasks easy with canned replies using versatile templates. There are many different tasks that can be carried out such as having saved searches automatically placed in virtual folders. Creating custom labels and folder views makes email management bearable.
What really impressed me about the program is the "Mail Chat" function that works as a live chat that uses the email protocols to connect to other users.
The high security of the program is also impressive. Using the same features as some of the more expensive email programs, The Bat! delivers tools for both anti-virus and anti-spam. Bayesian spam filtering, remote image blocking, OpenPGP and auto-encryption for local data are also included for added security features.
The only thing that didn't prove 100% reliable is the HTML editor. Although the plain text editor is up to par, the HTML left much to be desired. If sending and receiving plain text emails are the only type you are interested in, then you should be fine.
The Bat! Features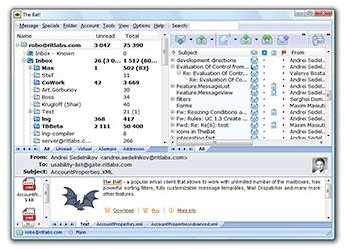 · Ability to manage multiple POP, IMAP and MS Exchange email accounts
· Adaptable email search engine
· Customizable message labels and folder views
· Influential filters
· Ability to use macros and plug-ins for changeable message templates
· Anti-virus and anti-spam solutions
· Advanced plain text editor
· Flexible scheduling and notepad for email reminders
Pros
· Powerful security and privacy provisions
· Faster solutions for finding email messages with virtual folders and filters
· One of the best plain text editors on the market
Cons
· Unreliable support for HTML
· Interface is a bit cluttered and confusing with an overwhelming amount of menu commands and options
Verdict (5 out of 5)
Overall, The Bat! is a wonderful email client that delivers on its promises. There are minor hiccups, but the program is definitely worth a try. When it comes down to it, The Bat! has all the features that I desire in an email client. For this, I give it five stars because it surpasses expectations on all the features that matters. The Bat! is available in a Home version and a Professional version, which includes a fully portable option called The Bat! Voyager.