Top 5 Digital Meeting Recorders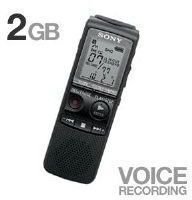 Today, recording devices have become advanced and they are equipped with many modern technologies like password encryption and USB connectivity. Electronics giants like Philips, Sony and Olympus are the leading players in digital recording technology. Here we'll talk about some of the most popular and advanced digital meeting recorders often seen in the hands of interviewers news reporters and journalists.
1. Sony ICD-PX820 - Long Lasting
Weighing in at only 2.2 ounces, this device looks like a mobile phone and has numerous built-in functions putting it at the front position on the market. With a 2 GB flash memory and podcast-ready feature, it is a very handy device. The device does not require you to convert recorded voices into MP3 format because by default it does so by itself, which gives it an edge over its competitors. Its most amazing feature remains its long recording time that enables you to go on recording for up to 535 hours without any break. It features a few menu buttons, which keep it simple and easy to operate. The device has a built-in mic so as you speak, it will record, and the files you do not want to keep, can be simply deleted from the memory. It is simple yet powerful digital meeting recorder.
Pick one up at Amazon for around $80.
2. Livescribe Smartpen - The Speaking Pen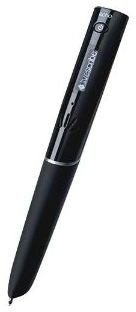 The Livescribe Smartpen is the best example of how technology has made our lives easy and fast. As the name itself implies, it is a smartpen that can record audio, save documents and easily transfer data to your computer through a USB connector. The device has expandable memory of 4 GB and that speaks volumes about this amazing sleek quality digital meeting recorder. All you need to do is to take it out of your pocket, press the record button and start recoding. It is equipped with a 3.5 mm audio jack, which means you can insert the headphones and get an amazing sound experience. The memory can be expanded up to 8 GB, which can easily suffice for hours of recording sessions. You can even change the sound quality during recording for more lengthy sessions. Calculator, paper piano and audio tapping are the additional features offered by this device.
Find this speaking pen at Amazon for around $119.
3. Digitally Processed - Olympus DS330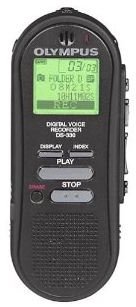 Olympus DS330 is a trusted name and is very popular among doctors and journalists. It is easy to operate, can record at two different sound speeds and the easy to navigate menu buttons make it an easy device to handle. The device has numerous features that are not seen in other competing devices and some of its features are audio lock, a nice scrollable LCD display and batteries are included. One can easily connect it to a PC or Mac and transfer the files from one device to another. It is a complete package that perfectly fits the definition of a digital meeting recorder.
Buy the Olympus DS330 from Amazon for around $290.
4. Philips Pocket Memo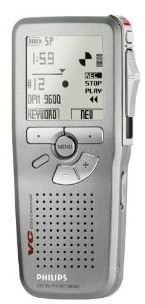 The Philips Memo has a large screen; it's feature packed and works with ease. However, barring its price, everything about this device is great. The price is bit on the higher side, but those who want quality audio and an amazing user interface must go with this device. It comes with a four sided switch, ProDictate and SpeechExec as unique features and it can be charged while you connect to the computer when transferring your files. It has nice keys and even those with big hands find it easy to operate. You can even protect your files by locking them with a password encryption program that allows you to keep your files safe from unauthorized access.
Pocket Memo from Amazon starts at $428.
5. Sony PCM - Portable and Modern Recorder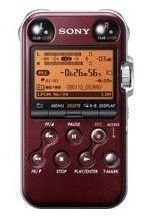 Yet another product from Sony that has a good solid body, nice appearance and amazing sound quality. It looks like one of those Walkman mobile phones from Sony Ericsson and if we do not consider the calling feature, this recording device is almost similar to the basic Walkman mobile phone. It has an internal memory of 4 GB and if that does not meet your requirements, or you need to record more audio files, it has got what you need, an extra slot to expand its memory. Built in speaker, cross memory recording and stereo microphones are unique features.
Buy the Sony PCM at Amazon for around $215.
Final Say
The digital meeting recorders mentioned above have different specifications and different recording times. Depending upon your use and audio quality requirement, select the digital recorder that works best for your needs. Always make sure the audio is recorded in the desired format to save the time required for conversion of files from one format to another. Plan your budget accordingly as these recorders are the bestselling products on the market.
Screenshots and product information courtesy of Amazon