Career Fairs
Career fairs may be thought of as those perfect opportunities for recently graduated students to get their names to several companies at once, meeting representatives, and learning about the companies they will meet. But career fairs are a good place for anyone who is looking for employment or a change of employment.
Career fairs, depending on the city and state, will usually have a number of big name businesses that are looking for employees. For those that are looking for work through job boards, either online or off, will most likely get an email or see an announcement of that job board sponsoring a local career fair or alerting their members of upcoming career fairs.
For those that may have never been to a career fair, this article will give a few tips and advice for going to a career fair.
How Career Fairs Work
You can think of a career fair as a small to very large gathering of employers who are looking for employees. These are usually held over a few days, usually during a weekend (starting on Thursdays and ending on the weekend) or sometimes taking place during the weekday and are held either within a large center (like a convention center). Some career fairs are specific, such as those that take place on college campuses.
Many local businesses use career fairs to look for potential employees, however national businesses also look for potential employees at career fairs. Some big name businesses that can be seen are AOL and MetLife and military and law enforcement agencies may also be present. The advertisements for career fairs can either be done through television ads, newspapers, or online. Online advertisements usually come to those job seekers who are signed up on a job board, such as Career Builder or Monster; for college students, they may get announcements in the form of email or word of mouth, either from fellow students, teachers, or counselors.
Advice for going to a career fair is to initially think of it as a short interview with many employers. With this in mind, going in with a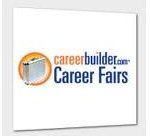 prospective employee thought puts you ahead.
Be on time! – It's better to get to a career fair right as it starts. This may allow for more time to speak with employers before a larger crowd comes by and the representative has five extra people to speak to.
Dress for Success – The word 'fair' makes it seem as though this is a place to bring the kids, the dog, and get some popcorn. While career fairs can be fun, they are – again – an initial interview. You wouldn't bring your kids to an official interview, would you? (Hope not!) Dress like you are going to work – suit and tie for the guys (though you may be able to lose the tie), slacks, dress, or skirt for the girls. No sneakers, shorts, jeans, etc.
Bring an Updated Resume – First time seekers may go to a job fair without their resumes and that's a big mistake. It's better to have a business' representative walk away with your resume in hand than to say you'll send it to them.
Know Who's There – Most of the time, a full list of businesses that will be at a career fair will be readily available. Job boards that announce career fairs will usually have a list of the businesses who will attend and the same is true for those being hosted on campus. Know who will be there and then choose which business you want to learn more about. And then visit their website (if they have one); learn about what the business does and then have some questions ready to ask the representative.
Be Proactive, but Be Yourself – You will of course need to go up and talk to business representatives. That's a must, but don't try winning them over by being someone you aren't. Some people are not cut out for the military or clerical work, so why pretend you are? It will just reflect badly on you. The goal is to present yourself so that the business would lose money if you are not hired.
Image content @ CareerBuilder.com