Instead of watching your favorite movies and tv shows on a computer, watch them on a TV with a DVD player and a burned DVD. The process involves copying video files stored on the computer's hard drive to a DVD. To do this, a DVD burning software is needed. The following DVD authoring software guides you through the process of burning files onto a DVD and shows you how to add professional DVD qualities such as subtitles and menus.
WinX DVD Author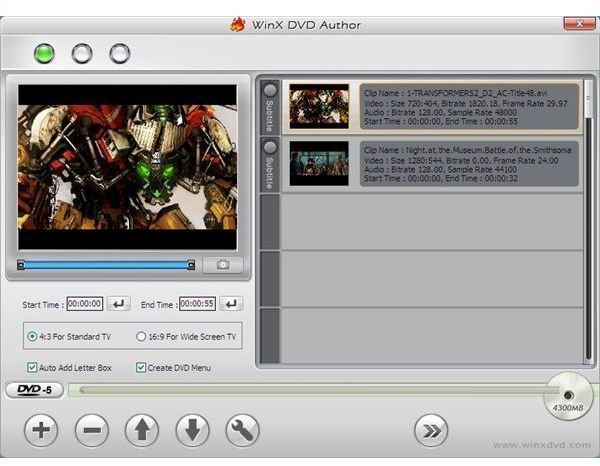 WinX DVD Author is a simple to use DVD authoring program that features a step by step wizard for creating DVDs from various video formats. MKV, M2TS, M4V, H.264, FLV, MPEG, RM, RMVB, AVI, MP4, and MOV files are compatible with this software. A definite benefit with this DVD authoring software is the ability to create menus and add SRT subtitle files for each DVD. Expect to burn a 4gb DVD in less than an hour. Download the free WinX DVD Author software at winxdvd.
StarBurn
The free edition of StarBurn offers DVD-ROM emulator functionality. The process is relatively simple since the program guides you through it. The video burning wizard lets you select the format, the video disk type, burning mode, source file, and the option to use optimum power calibration. An unique aspect of this DVD authoring software is that it works with newer devices without having to update the software. Download the free StarBurn software at starburnsoftware.
Sothink Movie DVD Maker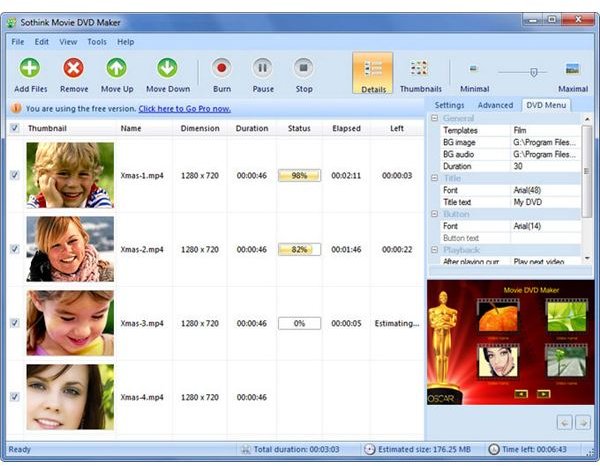 Watch the movies stored in your computer on a large screen TV by transferring the files to a DVD with Sothink Movie DVD Maker. This DVD authoring program is compatible with standard video file formats such as AVI, WMV, and MKV, as well as HD camera formats including M2TS, M2T, and MTS. You can add external subtitles to the DVD and create chapters to navigate through various video files. Also, the aspect ratio can be set to 16:9 for widescreen TVs or 4:3 for standard TVs. Download the free Sothink Movie DVD Maker software at sothinkmedia.
DVD Flick
Another free DVD authoring program available online is DVD Flick. With it, you can copy nearly any video format onto a DVD. The program supports over 60 video codecs and over 40 audio codecs. You can easily add subtitles and menus to the DVD. An added benefit of DVD Flick is that it is compatible with AviSynth scripts, which lets you do postprocessing of images. To access this feature, AviSynth needs to be installed. Download the free DVD Flick software at dvdflick.
DVDStyler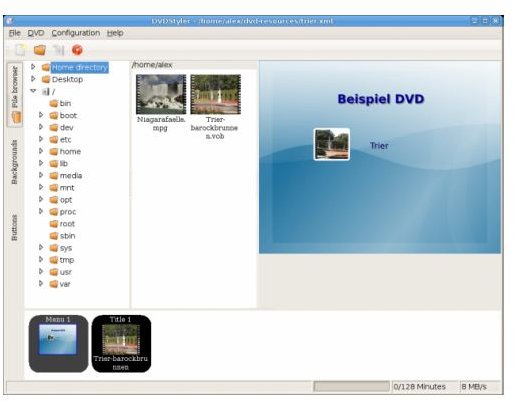 DVDStyler is an open source DVD authoring software that lets you create DVDs from various video formats including AVI, MOV, MP4, and MPEG. You can add subtitles and audio tracks to the DVD. The interface is user friendly, featuring drag and drop for the placement of buttons, text, and images. You can create interactive menus and photo slideshows. Download the free DVDStyler software at dvdstyler.
Reference
1. https://www.winxdvd.com/dvd-author/
2. https://www.sothinkmedia.com/movie-dvd-maker/
3. https://www.starburnsoftware.com/products/starburn/overview
4. https://www.dvdflick.net/index.php
5. https://www.dvdstyler.de/en/screenshots
Image Credit – Images courtesy of the respective software developer.