Movie trailers are great way to build buzz for the upcoming release of your film, and Apple's iMovie allows you to create movie trailers using templates quickly and easily. Many people want to know how to create their own trailer templates in iMovie. Is it possible? If so, then you are faced with this question: how to create your own trailer templates in iMovie?
Can You Create Your Own Templates?
Well, unfortunately, the answer is no. You cannot make your own movie trailer template. You can, however, make a full project using animatics. Then, you can save this as a template, and you can then keep using this project as your template.
Importing Your Movie
While you can't create your own templates in iMovie, the program does offer you a number of templates, which can tweak based on your own preferences. Before you can start making a trailer, however, you need to first import your movie into iMovie.
To import a movie, follow these instructions:
1. Go to File.
2. Then, select the import feature that you need to use. If your movie is on your hard drive, just select Import. If it is on your camera, select Import from Camera.
3. After you select import, then iMovie will start importing your movie. Depending on the size of your movie, this could take several minutes.
4. Now, you must open up your movie. Go into the Event Library, and select your movie.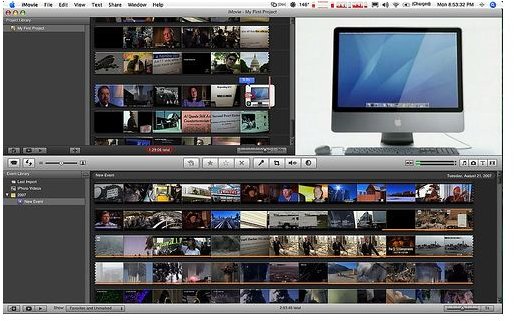 5. Go to File and then New Project to start making your trailer. Give your project a name, and then pick the frame rate and aspect ratio that you want to use.
6. Select OK.
Now, you can start making your trailer.
Using Templates
iMovie offers different types of trailers, including the following: Blockbuster, Drama, Action, Love Story, Supernatural and Sports. There are usually about 15 trailer templates depending on the version of iMovie that you have.
Select the trailer template that most nearly fits your movie. Sometimes, you will not be able to find an exact match. For example, iMovie doesn't have a comedy trailer, but you usually can find something close. When you select the trailer, you will see how long it is and how many cast members this trailer is for.
When you find one that you like, select Create.
Creating Your Trailer
Each trailer has three tabs that you need fill out: shot list, outline and storyboard. Input information about your studio, cast members, movie title, credits and release date. You must input information for each tab. Alternatively, you will see the generic information for that tab.
Select your logo style. You cannot change the look of the logo at all, so you may want to experiment with a view.
Next, add the video clips that you want to use in the Storyboard tab and you can view all of your clips in the Shot List.
Once you are done, you can preview your trailer by clicking on the Play button. When you are done with your trailer, you can use the Share menu to share it on different social networking sites.
References
Apple, https://discussions.apple.com/thread.jspa?threadID=2741425&tstart=0
Udt_greenberet1123, https://www.flickr.com/photos/10013975@N03/1317605652/sizes/m/in/photostream/