Creating a funeral program can be a way to help a family member honor and pay tribute to the deceased. The program is a keepsake for all that cared for them to take home from the funeral. Making one can be a cathartic process. With all the other costs associated with death, taking on the task of creating a program at no cost, can be one less burden to feel the strain of.
We'll give you ten good resources, along with some tips to help you in this task. As you'll see below, there is a certain amount of latitude in terms of format, design, and room for images in the resources given.
Design Your Own
Want to create your own program? Bright Hub has a useful article on this subject entitled Sample Layout for Funeral Program. This article provides a visual example of a funeral template and ideas on what to include.
Funeralprogam-site.com
This Funeral Program Site (funeralprogram-site.com) offers a free download of a template with no images included. This allows you to personalize it iwth your own image and summarize the highlights of a loved one's life. This download could make an appropriate keepsake of the event.
Microsoft Word Template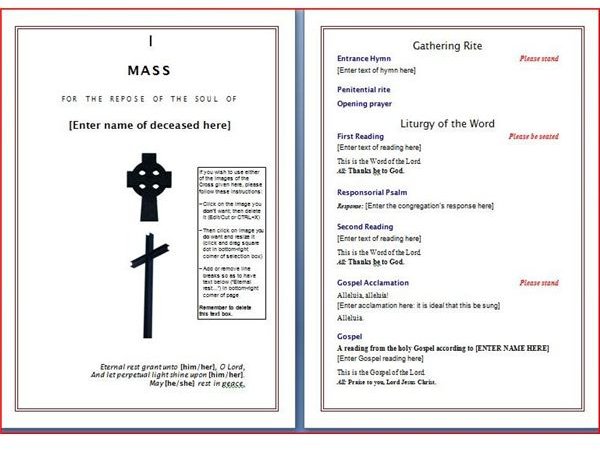 The free funeral program template available at wordtemplates.org is geared toward a Catholic Funeral Mass and read for use in Microsoft Word. Includes two black images and lots of space for customizable text.
Doc Stock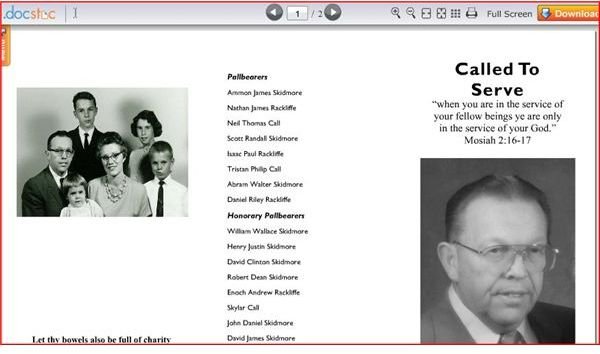 This straightforward and classic template is available to download at docstoc.com. It can easily be customized with personal images and text.
More Options from Funeralprogram-site.com
Along with some rather peaceful, colorful, and stunning options for programs with space for that loved one's picture that you would pay for at funeralprogram-site.com/blog/funeral-programs are a few free templates to download.
Templatesfree.blogsome.com
This website offers several plain and basic templates for download. Visit https://templatesfree.blogsome.com/category/funeral-program/ to download a template that meets your needs.
Funeral-program-templates.com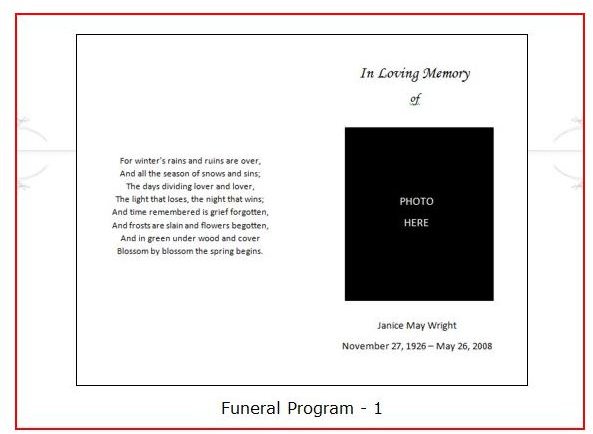 For our last selection, we direct you to Funeral-program-templates.com. You have seven templates there available for download. Some have space to upload images or photos, while others have reverent and appropriate images already embedded.
We are sorry for your loss, and hopefully, this information has helped you, in some small way, in dealing with the reality of this sorrowful time.