Wedding programs are a great way to let people know why you're doing specific things such as why specific quotes are being read, why there are certain things present in the ceremony such as memory candles for parents or grandparents, and even a great way for them to know how far along in the wedding they are, sort of like a built-in clock Creating your own wedding program from scratch is always an option, but with these free wedding program templates, you can take the some of the stress out of planning your big day.
Related Articles:
Fonts for Wedding Invitations (and Wedding Programs)
Love Quotes for Wedding Programs
Maria's Wedding Boutique – BiFold template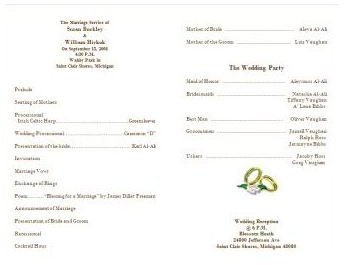 Maria's Wedding Boutique offers up a beautiful classic bi-fold wedding template with a set of golden rings on the front. This template is to be printed on a standard sheet of 8.5″ by 11″. Attractive, simple, and compatible with Microsoft Word.
Find Me a Gift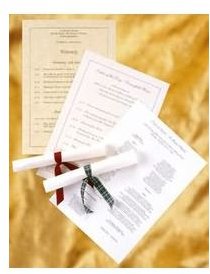 Find Me a Gift offers up an order of the day scroll that they suggest you use with your own favorite stationary paper! These are most commonly used for civil ceremonies to let the guests know what is going to happen, especially if they've never attended one before. This is compatible with Microsoft Word.
Microsoft Templates – Flourish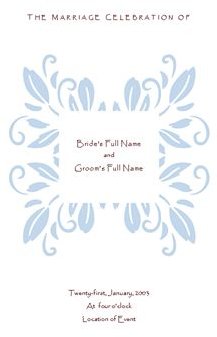 A charming blue floral design, Flourish by Microsoft Templates, is available for free and is compatible with Publisher 2003 or later. This is one of my favorite designs because it is simple, yet endearing.
Microsoft Templates – Renaissance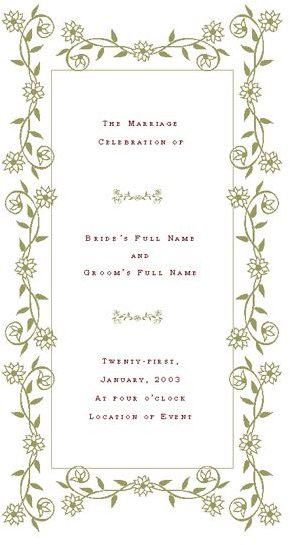 Microsoft Templates offers up another wedding program, this time with a Renaissance design, surrounded by beautiful floral vines. This is very classic, very charming, and compatible with Publisher 2003 or later.
Southworth

Southworth offers a full line of free wedding printables, including, invitations, RSVP cards, reception meal cards, table place cards, and of course a program template! This is a great one stop "shop" as it were, allowing you to easily take care of everything you need all in one place. They even suggest the sizes of paper you should use to make the process even easier.
Ayleebits – Fan Program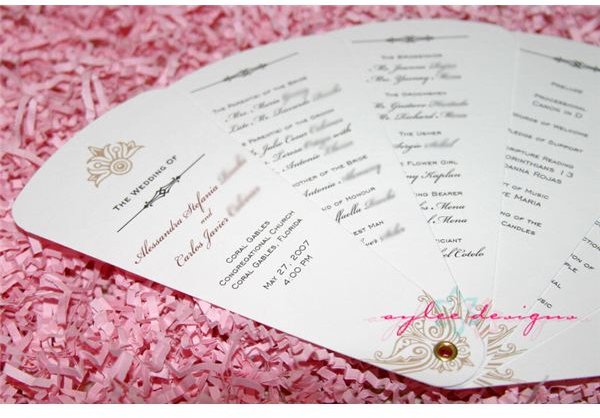 If you're looking for something that will be a conversation piece, as well as functional and beautiful, why not try making a Fan Program? Ayleebits offers a template that allows you to create a program that fans out, which is an attractive alternative to the bi-fold or tea-fold programs that you may have seen. These are a little more labor intensive and will require some special equipment, but if you're looking for something unique, this might just be for you.
Top Wedding Sites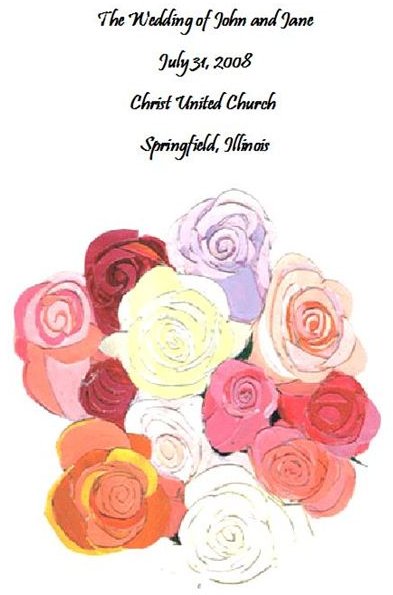 Top Wedding Sites offers a cute bi-fold template with a floral design on the front. It includes a celtic knot graphic on the inside, and lots of room to add the names of the wedding party, the information about your chosen readings, and an aknowlegement section.
Brilliant Wedding Pages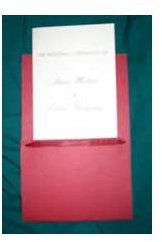 Brilliant Wedding Pages offers a nice little how-to on a unique tea-fold wedding program (template included) that has a nice included paper folder to go with it. This helps tie together the wedding colors, as well as give your wedding programs a unique twist from the normal!