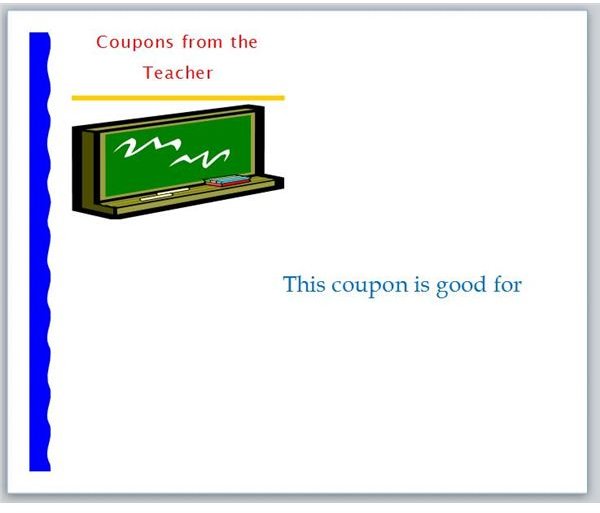 Teachers have limited budgets and must be creative when looking for ways to reward good behavior or encourage true effort in the classroom. One way a teacher can acknowledge hard work, manners and good sportsmanship is by creating custom reward coupons. The coupons need not be for material gifts, but can award desirable actions such as first in line for recess or a one-time tardiness pass.
This template prints six coupons to a page. They feature bold primary colors and the image of a chalkboard in one corner. The upper left corner reads, "Coupons from the Teacher," which could easily be changed to a specific teacher's name. The center of each coupon states, "This coupon is good for…" leaving sufficient room for custom rewards.
Download Page: Free Downloadable Coupon Template: Classroom Rewards
Mother's Day Coupon Templates for Download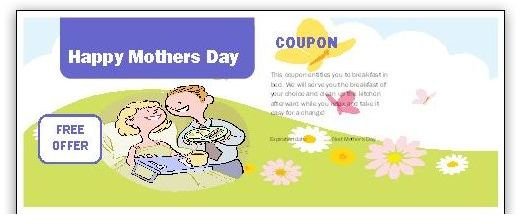 Moms can be difficult to shop for on Mother's Day or on any occasion. Why not make her some custom coupons instead? You know she would prefer something homemade anyway, and you can give her gifts she would really appreciate, such as chores performed without argument, a back massage or an errand run on her behalf.
This template prints three coupons to a page and has Breakfast in Bed as the sample coupon. However, this coupon can be tailored to any holiday, gift, or person. Simply change the images, select a different color scheme if desired and customize the wording to suit your needs.
Download Page: Free Downloadable Coupon Template: Mother's Day Coupon
Business Flyer Coupon Templates for Download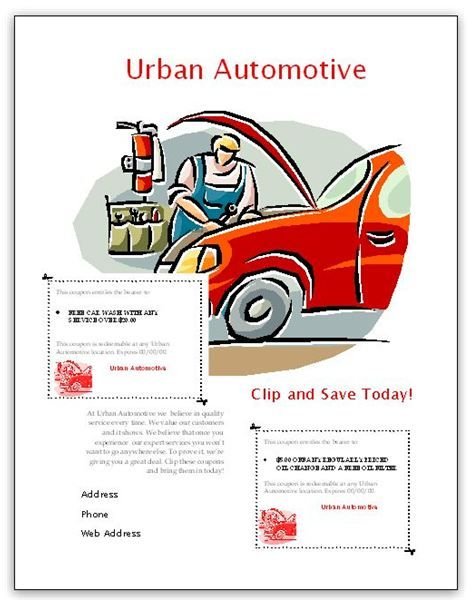 Flyers are a fruitful way to spark interest about your business. When coupons are included, this increases curiosity and prompts recipients to visit or call you. This template contains all you need to create a custom flyer with two coupons for clipping. Customize the flyer by replacing the clip art image with your logo or photo of your retail location. Change the text in the coupons, which are each bordered with a dotted line and scissors to encourage clipping. Add your contact information and a paragraph about what makes your business stand out. Mail or hand out your flyers and wait for the crowds to show up at your door.
Download Page: Free Downloadable Coupon Template: Flyer with Coupons
Two-Sided Business Coupon Templates for Download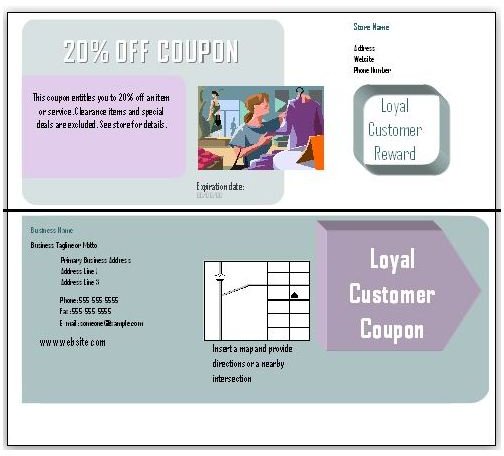 Colorful coupons that advertise your business are an effective way to draw in new customers and keep past ones coming back. This coupon template advertises a 20 percent discount that can easily be altered to a dollar amount or other special deal. Change the color scheme to coordinate with your store or service colors. Add a map and directions to the back of the coupon. Change the image to a more suitable one for your business and insert all of your contact information. This template prints three double-sided coupons to a page.
Download Page: Free Downloadable Coupon Template: Double-Sided Business Coupon
Check back regularly, as more Microsoft Publisher templates are continuously being added. For more help with Publisher, go to the Bright Hub MS Publisher Tips library.