Do you have the need to create a Christmas flyer online to suit any multitude of functions relating to the holiday season? Well, we have solutions detailed here to help you get this task done quickly and easily. A flyer can be used for a myriad of purposes. Perhaps you're a small business owner wanting to make a special sale or service offered at Christmas time known, post holiday hours, or even type up a mini newsletter to show appreciation for your customers' business. Anyone can use a flyer as an invitation to give party details and directions. Organizations offering free meals to the downtrodden can announce their charitable good graces with a flyer. Secret Santa names and instructions can go on it, a program for a Christmas play might be called for, or information for any other program or gathering you'd like to announce. Before we dive into the ones designed specifically for Christmas, I'd like to point out that for all your needs with this painless project, The Best Free flyer Templates on the Web provides a wide array of opportunities to make your own without spending a dime.
Creating your Christmas flyer online is simply a matter of taking advantage of an online template or the graphic design application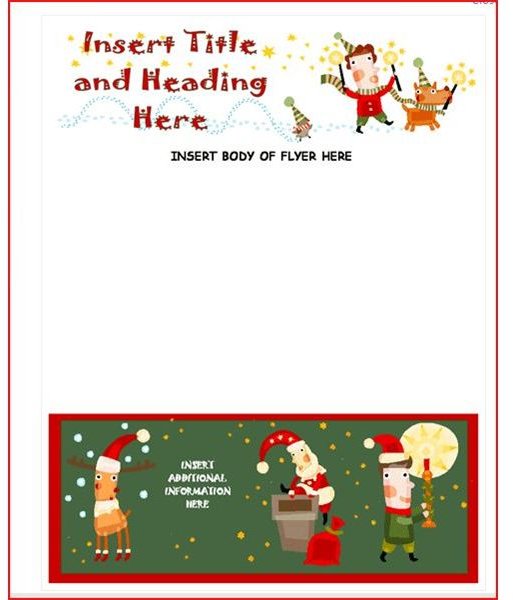 available on a website to customize the ready-made flyer to suit your needs. In some cases, this process is even free. Always a good place to start when searching for online templates, Microsoft Office often has a selection or two to choose from for all sorts of reasons and types of materials. In addition, the instructions for these (as well as any other templates you find on the Web) are simply to download your chosen template into the application it's designed to work with (i.e. Microsoft Word or Publisher) and then customize it by typing over the example text. Some templates allow for uploading any personal pictures or graphics that you want included as well. In that case, the instructions for doing so are clearly stated on the site. Here is the festive offering available from Microsoft, which you can see in the image to the right of the screen.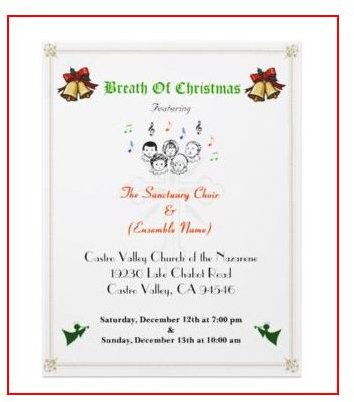 Premium online flyers will cost you a little, but there's more variety and sharper graphics in most cases. Usually sites offering premium selections will offer you the option of printing the finished product at home or they'll take care of the printing after you choose the card stock you like and send you however many you need. Zazzle.com has thousands of holiday templates to choose from with Christmas themes of just about anything you can think of from nativity scenes to Christmas trees to Santa himself. Finally, we've already got a worthy selection of online resources gathered for your convenience at Ten Free Christmas Flyer Templates so that gives you a ton of examples to choose from. Merry Christmas good people!