FontSpace's Free Wedding Fonts
The celebration of a marriage can become a wonderful way to bring people together with the use desktop publishing. Whether you are looking to create a wedding invitation, announcement or some table place cards, there are ways to blend the theme of a wedding through the use of the right font. Here we are going to take a look at some of the more elegant and free wedding text fonts available online through FontSpace.
The free font powerhouse, FontSpace currently has over three hundred wedding text fonts to choose from. The online free collection contains a wide range of wedding fonts based both on hand drawn work and flourished modifications that are based of off already established fonts. Not all wedding text fonts offered through the website are ornamental, there are also themed text fonts and more simplified wedding text fonts that can offer the user a wide range based on their wedding style needs.
Precious Font

Precious is a free wedding text font that was created by Bolt Cutter Design. This font was made from hand drawn text and showcases highly stylized upper case lettering.
The lower case lettering blends into the design by being a simplified and clean cursive. The Precious set comes with one hundred and eight characters and is available for full free download. Click through here to get this full set of free wedding text font: Precious
Adine Kirnberg Script

Adine Kirnberg Script was created by David Rakowski in 1991. This font is based from the original Art Nouveau era script entitled Schreibschrift Romana.
Instead of full use of flourish in the uppercase letters as is seen in the Precious font, in this set that includes ninety-one characters, the uppercase letters have a smaller flourish with a calligraphy feel. Click through here to get this full set of free wedding text font: Adine Kirnberg Script
LMS Inside My Claddah Font

LMS Inside My Claddah is a font created by London's Letters that focus on using the design of the Irish Claddagh ring. The ring shows two hands holding a heart between them and on top of the heart is a crown. The ring's symbolism stands for love, loyalty and friendship.
This font holds each letter inside the heart and the full set contains fifty-two characters. Click through here to get this full set of free wedding text font: LMS Inside My Claddah
Dobkin Font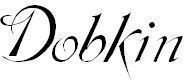 Dobkin is another font that was created by David Rakowski but developed in 1992. This font also has a the feel of calligraphy but in a non-cursive way.
The uppercase letters are stylized by curves, whereas the lower case letters are slanted with less curves. The entire set consists of eight-two characters that includes full punctuation. Click through here to get this full set of free wedding text font: Dobkin
For more information on FontSpace and to check out all three hundred free wedding text fonts, visit their wedding fonts page at: FontSpace Wedding Fonts. All font sets are free to download and use, but some fonts are not for commercial use as by copyright of the font designer. Each individual font page will show the usage allowances that are available for that particular font set.
*Images provided by FontSpace and are © Copyright 2007-2010 FontSpace, LLC