What Is a Brochure?
There are many different types of brochures. For instance, some brochures are folded while some take on the form of a small booklet. Brochures are used for a variety of reasons and can be made for practically anything.
Designing a Brochure
To some, creating a brochure may be easy, but its a lot easier when using PowerPoint. Follow the steps below to make a brochure in PowerPoint in no time.
Step 1: Choose a Layout
As stated, brochures can come in different forms and can be used for different purposes. Before jumping onto the computer, brainstorm formatting and layout ideas. Are you creating an informative brochure or sales brochure? Answering these questions beforehand will save time and can make all the difference between an effective or ineffective brochure.
Step 2: Design Cover Page
Upon opening a new PowerPoint session, there will be a default template or slide ready to go. You can use the default slide provided or choose one of your own by clicking the Home tab Layout. For this brochure I will choose the Title and Content slide.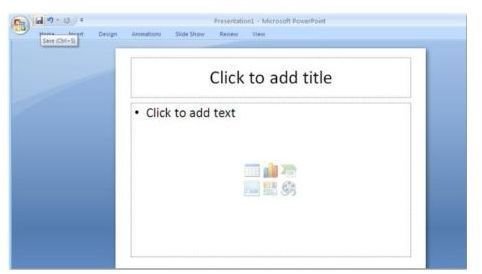 As you can see, PowerPoint makes everything pretty easy for its users. Simply click the field you would like to edit, and insert the content. The cover page will then look this way: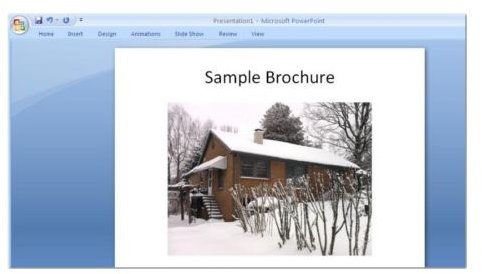 Step 3: Create Remaining Pages
Now that the cover page is completed, the remaining pages must be added. For the second (last) page of the brochure I will choose the Content with Caption slide. This slide is perfect for the displaying of content and other important information within a confined document. Perfect for a brochure.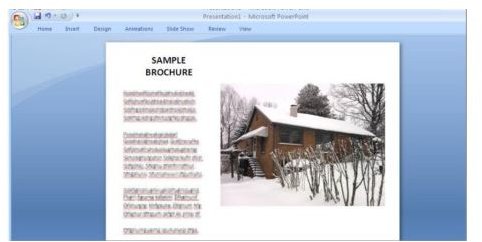 To add pages (or slides), click Home and then New Slide. A drop down menu will appear with your page layout options.
For more advanced page layout options such as page size follow these steps:
Click the Design Tab (located at the top of the Ribbon).
Click Page Setup (the page set-up dialog box will open containing the options).
In the Slides sized for: section, using the drop-down menu, choose the desired page size.
Chances are the template needed will be located here. To add additional images and text, click the Insert tab and the corresponding button. Repeat these steps to when adding additional pages. My example is very simple. There are numerous ways to design a brochure so that it stands out from the rest.
Things to Remember:
The content, pages and slides are interchangeable and can be arranged in any way you see fit.
When creating textboxes, be sure to insert text into the textbox before clicking on another field. If you don't insert text immediately the box will disappear and you will have to create it again.
If you are creating a brochure with more than one page, don't forget to research binding options.
Regardless of PC experience, learning to make a brochure in PowerPoint is easy. PowerPoint is user-friendly and practically error-free. Tons of small businesses save money every year by making the decision to make a brochure in PowerPoint. Why not give it a try?