Winter Night

Winter Night
Snowy nights can create a seasonal feeling, as can Winter Night. The typeface is white on a black background, complete with gently falling snowflakes in the background. You can change the colors in your desktop publishing program, of course, but the black and white combination looks striking. The font is almost entirely complete, missing only a few obscure symbols. It even comes with a full set of accented characters, which allows you to use it for just about any type of text you want to lay out.
Frosty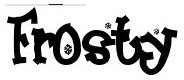 Frosty
Whether or not you plan to include snowmen in your project, Frosty can add a touch of winter. The font has a similarity to handwritten text, with just a few snowflakes scattered throughout the character set. Not all of the letters have snowflakes — in fact, only a portion of the lower case letters have them. The font is not quite complete: it includes most of the punctuation marks, but does not have accented letters or many symbols. It does include a few characters that are simply an individual snowflake, providing a few different snowflakes you can use on your project.
Krystal
Krystal
Krystal is a bold font, with snowflakes carved into each letter. The juxtaposition between the block letters and fine white flakes will look attractive in a variety of different projects. It can be a little difficult to read, however, depending on the color the letters are set on. The font has a full set of letters and numerals, as well as almost all of the symbols. However, it only includes a handful of accented letters.
Igloo Laser

Igloo Laser
Dripping snow, each character of Igloo Laser looks more than a little cold. This wintery typeface is useful for headlines, as well as emphasizing important text. The lower case letters are smaller versions of the uppercase letters, and the rest of the font is somewhat limited. It also contains numbers and a few punctuation makrs, but it does not have the accented characters or symbols necessary to lay out more complex passages.
More Winter Fonts
If you don't see just the right font here, there are other winter and secular fonts available that work well in a variety of desktop publishing projects. Font directories, such as Dafont, often maintain a category that includes winter fonts — in Dafont's case, the site mixes 'fire' and 'ice' fonts into one group.