Finding the Best Patriotic Clipart
We've put together the best of the collections on the web that offer free and funny patriotic clipart, along with sample images and a rundown of other images you can expect to find in the collections. At the end of the article you will find a list of references, which provides you with the links you need to access all that funny clipart with a patriotic theme.
Free Eagle Clip Art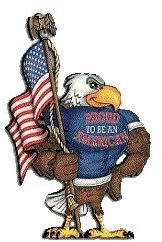 There are few more images than an eagle featuring the Stars and Stripes, that are more patriotically American. Not all of the images in this collection are funny, but there are a few great ones to choose from. There is the butch eagle holding the flag, and sporting a jersey with the slogan 'Proud to Be an American', as well as some classic Muppet images, which are always guaranteed to raise a smile. Perfect humorous images to grace any 4th of July celebration.
Patriotic Cartoon Images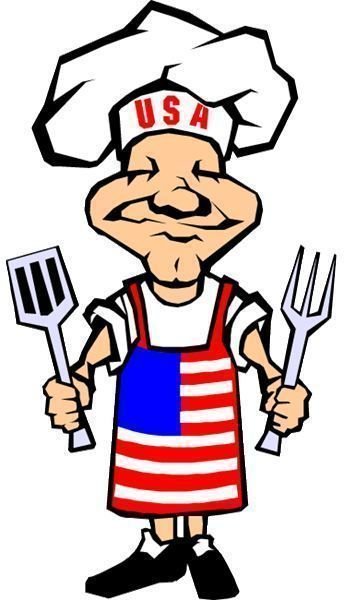 As well as the standard "Uncle Sam Needs You" images, this collection has some pretty amusing clipart images, that will offer some alternative images to your patriotic celebrations, or even to convert and use as some patriotic wall art. The American man ready to grill, and the Stars and Stripes hot dog are particularly appealing and would be great used on invitations to a 4th of July barbecue or party. There's some great cartoon images with Civil War characters too.
I Love the USA – Graphics Hunt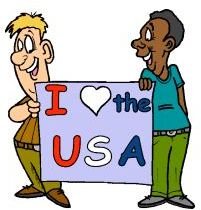 There aren't a huge number of images in this collection, but they are of good quality and are definitely worth a look. The "I Love the USA" cartoon could be used in a large format to be waved around during a sporting occasion, or try the funny patriotic cartoon drummer from days gone by for a school project on the civil war era. There are some appealing Stars and Stripes images too, that could be incorporated into any patriotic celebration.
Patriotic Clipart – Free Clipart Pictures
There is a certain amount of overlap with the Graphics Hunt collection (above), but there are a good few new images to use in this collection too. As well as the man and dog image pictured here, you may also like the Uncle Sam-style snowman, and the amusing cartoon eagle with flag. The Stars and Stripes balloons, would also be versatile addition to your clipart collection for any party or occasion with a patriotic theme, from Veterans Day to Independence Day. Twin these images with one of our 4th of July fonts, for a memorable party invitation.
Photobucket Patriotic Clipart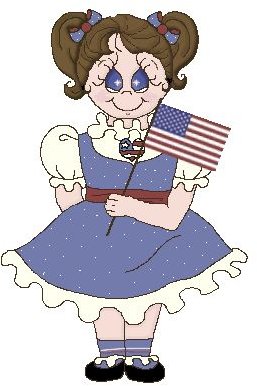 You need to hunt around in the Photobucket collection for humorous patriotic clipart, but there are certainly a good few options to choose from. The cartoon doll in patriotic dress would be a quirky and amusing addition to any school project, or why not try the patriotic Mickey Mouse used on a child's party invitation, for their very own 4th of July celebrations. Photobucket is free for anyone to access and to add their own images to, so it's worth checking back now and then, to see what's new.
Other Funny Clipart Options
If none of the above free collections have ticked all the boxes, then you could try one of the paid for options. "Pictures Of…" is a great site for funny patriotic clipart, as they offer such quality and a good range too. The image of a cartoon couple holding up a 4th of July banner is a good choice, and there are astronauts, babies, and cartoon golfers that may make you chuckle too.
Artist Dennis Cox has some superb creations on "Clipart Of…", featuring a cartoon Uncle Sam in humorous poses. Some of his creations are on "Pictures Of…" as well, so it's worth checking there first due to the lower fee.
If you are of Irish heritage, then you might find the funny Irish clipart images at "Crazy website" amusing, especially for St Patrick's Day celebrations. More Irish clipart can be found in our article on the best free St Patrick's Day Clipart, too.
While humor is down to personal preference to a certain extent, there are sure to be some amusing patriotic clipart images in the above collections that will have you raising a smile or two.
References
Free Eagle Clip Art – Crazy Website
Patriotic Cartoon Images – Cartoon Clipart World
I Love the USA – Graphics Hunt
Patriotic Clipart – Free Clipart Pictures
Photobucket Patriotic Clipart – Photobucket, Image Credit Patriotic Doll/bettyboop6896
Funny Irish Clipart – Crazy Website