10 Free Mardi Gras Mask Templates for Parties & Graphic Design Projects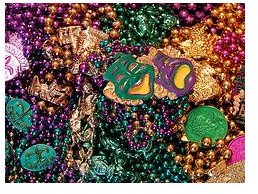 With Mardi Gras just around the corner, isn't it time that you go ahead and get ready? This article showcases some fantastic masks that you can print out and decorate, then wear or even use as invitations to your Mardi Gras party.
Tradition dictates that masks are gold, green, and purple, but feel free to throw caution to the wind and decorate however you'd like. Decorating these masks can be as simple a box of coloring pencils, or done in Photoshop with a set of cool brushes.
Masquerade Mask 1, 2 and 3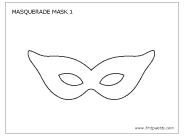 These three Masquerade Masks are all available to download at firstpalette.com. The first is a fantastic standard mask that can be easily added upon for a lot of different types of customization. With the additions of feathers and sequins, or just some well placed colors, you can easily make this mask very visually interesting. High quality PDF.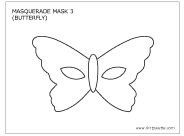 The second is a standard rounded mask, lending itself to more of a traditional feel than some of the others, featuring a good amount of space to easily add all kinds of things, including interesting patterns, decorative elements such as sequins or feathers, and much more!
The third is a butterfly mask, which obviously has a ton of traditional routes you can take. Color your mask in Photoshop like a monarch butterfly, a luna moth, or just a cute color combination that you think you would enjoy.
Mask Template 1

Mask Template 1 is a cute jester style template that would easily look very stunning in a red and black pattern, but could easily be customized to fit any number of color and decoration schemes! High quality PDF.
Mask Template 2
Mask Template 2 works well not only for Mardi Gras and Halloween, but Valentine's day too! This heart shaped mask is adorable and could be decorated in pinks, reds, and purples for any occasions! High quality PDF.
Mask Template 3

Another traditional rounded mask, Mask Template 3 boasts a classic bow tie-shape, allowing for the addition of feathers, beads, patterns, sequins, ribbons, or anything else you may wish to add! High quality PDF.
Mask Template 4

Mask Template 4 wins for most original with it's flower or cog shape. This one would be fun to customize as there are a few different directions you could take this to make it one of the most interesting masks to display.
Mask Template 5

Mask Template 5 is a fun and playful star-shaped mask that begs to be decked out in gold paint or glitter. High quality PDF. You'll be the star of any party if you show up wearing this mask.
Mask Template 6

Mask Template 6 is a traditional mask with a twist. Textured bumpy edges of this map lead to a lacy, fancy feel. this mask could be easily decorated to have a very feminine feel to it. High quality PDF.
Mask Template 7

Sometimes less is more, and that is precisely what Mask Template 7 offers. A standard oval mask allows a lot of room to decorate as simple or elaborate as you would like. High quality PDF.
References