Kids Love Disney Characters
All over the world, kids simply love Disney characters. These characters, created by Walt Disney, never fail to amuse children and have been the center of attraction for the past several decades. What makes these characters truly lovable even for the parents is that they teach their children valuable lessons like the importance of friendship, courage, compassion and love.
Who could resist a calendar with the popular Disney cartoon movies such as 101 Dalmatians, Alice in Wonderland, Beauty and the beast, Lady and the Tramp, Snow White, Cinderella and Mickey and Minnie Mouse? Do you know that you can actually create your own Disney calendar which children will surely love? Okay, you'd love to make one but you don't have enough time and you just feel like downloading? Read on and feel free to download this sample kids' printable Disney calendar.
It's Time to Create Your Own Disney Calendar Using Microsoft Publisher!
Creating a Disney-inspired calendar is really fun! You will surely be inspired to make one it's always great to create something special for the kid of your life. Let's get started and let your creativity splurge all through the way.
Decide the "theme" of your calendar. Will it be a Minnie and Mickey-inspired one? Kungfu Panda? Then, download the pictures you need in free-to-download websites.
Open the Microsoft Publisher program in your computer.
Click the " Blank Page" option on the menu and then hit "Booklet."
Decide on your preferred font style, size and appearance
Change your back ground if you wish by simply clicking the the "Apply Background " button and then choose your desired design.
Click the "Add Text" button and then insert tables where you could write the dates for your calendar. You may also choose to use Disney font to make it more attractive to kids.
Adorn your calendar by adding photos simply by clicking "Insert Photo" on the main menu and then select "Picture."
Note that you can also move your text box and pictures by simply dragging them.
If you have no time to make one, take a look at this downloadable calendar and feel free to change the pictures! You may also choose to just print this 8.2 x 5.2 Cinderella calendar in PDF File here.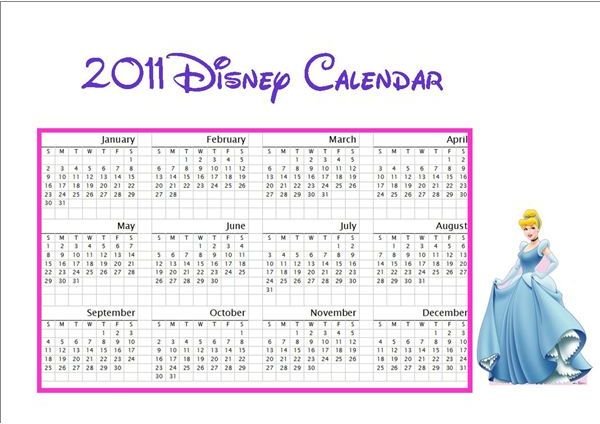 Quick Tips on Designing Your Calendar
Veer away from the boring calendars. Adorn it by adding some embellishments to add texture and color! Before finally making one, take a quick glimpse at the following tips: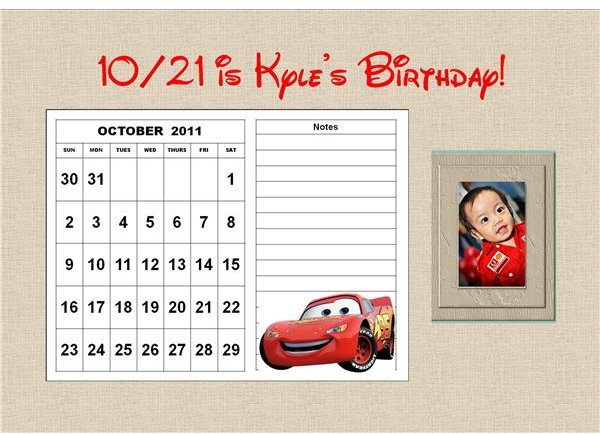 Make your design for each month unique. Download several Disney pictures to include. You may also wish to highlight the birthday of the kid you are giving the calendar to by putting his/her face for that month. Use Adobe Photoshop to change the face of the character he/she really likes to his/her face. The kid will definitely love to see himself/herself in a Cinderella or Mickey Mouse body! After having your calendar printed when creating a princess-inspired one, adorn it with ribbons and laces. You may also add some 3D Disney princess stickers to add a twist.
Credits: The images used in this article were created by the author.