Artscow.com Review - An Online Printer that Offers Lots of Freebies
Introduction
There are a lot of online printers on the internet. Artscow.com is a Hong Kong based online printer that offers a wide variety of products at low prices. In fact, the company often offers free specials that can provide the customer with hundreds of free prints or other products for just the cost of shipping.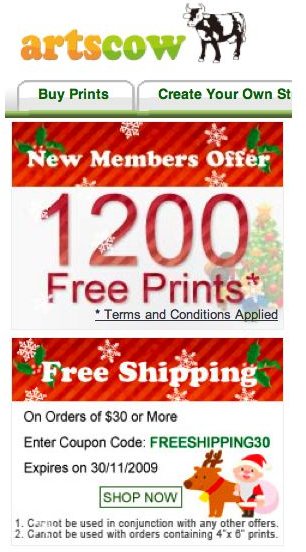 Products (5 out of 5)
Artscow.com offers a very wide range of products including many different print sizes and types (including both mounted and unmounted canvas prints), photobooks, calendars, posters, and also all sorts of clothing, bags, cigarette cases and other stuff you can have your photos printed on. Prices vary once you get beyond the free promotional offerings, but generally are on the low side. Of course, these cost savings come from laxer environmental laws in China than here in the United States making it possible for the company to produce a cheaper product. Shipping is a bit on the slow side, in part from the distance goods must travel, but possibly also from bulk shipping which would make shipping even less expensive for the company and perhaps allowing it to make a small profit off the shipping costs.
Quality (4 out of 5)
Product quality seems to be pretty good based on the prints I've ordered so far. This includes a photobook (excellent), some large prints (11x14 and 12x18) which were very good and some canvas prints that were also very good. The company offers regular specials, many of which are worth taking advantage of provided you're not in a hurry to get your order.
Right now the company is offering new members 1,200 free prints (including 4x6s and 5x7s) with no fee for signing up. The company also offers free shipping on some orders.
Make sure you've already edited your images before uploading them since the site doesn't offer anything in the way of photo editing tools. You can upload images individually or via a bulk uploading program you have to download from the site and install on your computer. The uploading program is helpful, but if you're reluctant to install an unfamiliar program on your machine, it's not a big enough improvement to lose sleep over.