As the leaves turn to shades of orange and red and fall to the ground, you might reach for your camera and grab the kids for a few shots. But why pose under the old oak tree and call it done? This article will give you tips on how to dress your kids to keep them warm and help them stand out in the photographs, offer up great Fall location ideas, explain why sometimes getting dirty is fun, and of course offer up some alternatives if you don't live where you can take full advantage of the Autumn scenery in order to make the best of your Fall child photography shots!
New to outdoor photography? Learn Outdoor Photography Tips and Tricks from a Professional Photographer!
After you take the pictures, why not check out Ideas for Displaying Family Pictures?
Let Kids be Kids!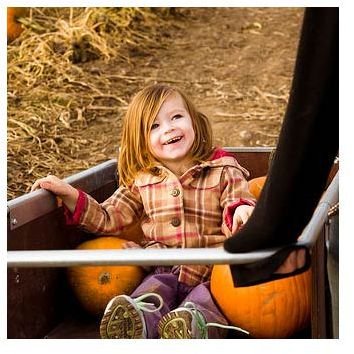 Posed shots are fine, but you're bound to get more emotion and recall more memories if you let the kids have fun! Let them play in leaves, pick out pumpkins in pumpkin patches, run through corn mazes, and climb trees! Keep your camera out and keep shooting any time you see something that you think would make a great picture.
Image Credit: Image by Awen Photography
Mind Your Lighting
If you're going outdoors to photograph kids, make sure to mind your lighting! Morning, evening, and cloudy day shoots have the added benefit of diffusing otherwise harsh sunlight. This is great for your pumpkin patch, playing in the yard, walking on the beach, open-space style shots. Not to mention, the kids will appreciate not having to squint into the sun as you try to get the perfect lighting! However, if you're going to take the time to walk through the forest, you might just want that extra sunlight so you don't have to rely on your equally harsh flash.
Overcast/Cloudy Fall Day Photography Tips
One of the things that seems to be fairly common, especially in my neck of the woods, is the fact that most of the days in mid-autumn are very, very cloudy and overcast. Here are a few quick tips on how to combat the cloudy day grays!
Grab yourself a tripod. Chances are, you'll have to open the aperture and slow the shutter speed to let in more light. Using a tripod will eliminate any bumps, wiggles, or jiggles that will create blurring and ruin an otherwise great shot.
Confused about shutter speed? Check out All About Shutter Speed to get a better understanding. Additionally, you also should check out Understanding the Elements of Exposure for a quick lesson!
A polarizing filter might help remove some of the harshness from a bright grey sky, eliminating the glare off of any reflective objects. You can also try a skylight filter – the kinds that have a pink tint to them – to help warm the pictures if you notice that they're coming out too "cool" for your taste.
Bundle Up!
Break out those scarves, hats, coats, and mittens if it gets cold where you live. You're more likely to get more smiles (and less runny noses) if you bundle children up on photography shoots. Not to mention, cute Fall clothing adds to the seasonal feeling. Bright or cool colors will stand out against the warm, earthy colors that Fall is famous for and draw the focus to the children.
Take a Road Trip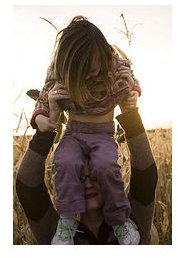 If you don't live close to somewhere where you can truly appreciate the season, pack up the car and take the kids out for the afternoon. Be sure to watch the weather and dress accordingly. Great ideas for road trips can include a local pumpkin farm where the kids pick out their own pumpkins, favorite trails through the forest, and if you're lucky enough to live near one: corn mazes! Not only do these offer fantastic photography opportunities, they also offer activities to keep the kids busy!
Image Credit: Image by Awen Photography
Composing Great Shots
Just because you're taking photos of the kids, don't think everything needs to be straightforward. Try mixing up your composition! Don't be afraid to stand above or below your kids to add some more feel to your shots. And of course, you can always choose to frame your subject in the surroundings for a more interesting feel. And by now, you should already know the benefits of following classic rules, such as the Rule of Thirds. But if you need a few more tips and tricks, you can always check Bright Hub's article on Angle Photography to make sure you get a great, eye-catching shot!
Bring Autumn Inside
If a road trip isn't an option or if you don't live anywhere remotely near somewhere with an Autumn-feel, feel free to bring the season inside! Craft stores will offer foam pumpkins, cloth leaves, and various different kinds of Autumn decorations that you can easily pack up and take home. Grab a few yards of fabric in warm, earthy tones to drape over tables or chairs to set children on for posed shots! Bonus points: Let children carve pumpkins and take before, during, and after shots of the fun!