Parents with Tons of Pictures Can Benefit from Adobe Lightroom's Survey Tool! Using the Survey Tool in Adobe Lightroom's Library Module to Help Organize Your Digital Photos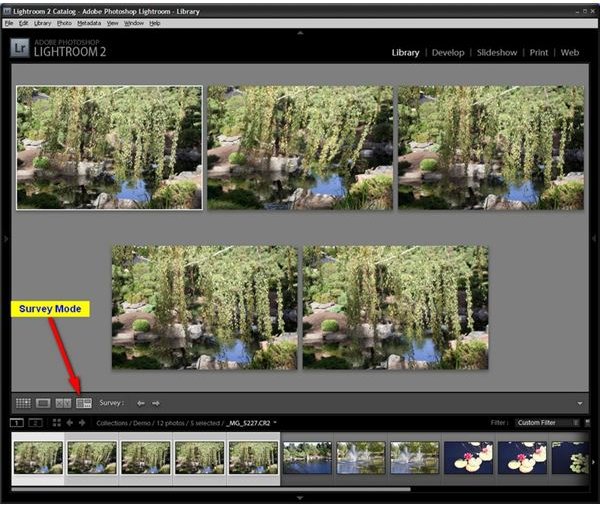 Parents and Photography
As photographers who are parents, one of the toughest tasks we face is organizing our photos. Every parent knows what it is like to have dozens of photos sitting around waiting to be put into photo albums. Every parent with a digital camera knows what it is like to have hundreds of photos sitting around on a disk drive waiting to be labeled, printed, ordered or put into a slideshow or family newsletter. Adobe Lightroom's solution comes in the form of the Library module.
Library Module in Lightroom
The Library Module is designed to help photographers with the first step of their workflow which is managing all the picture files they have by separating the good from the bad and then organizing the good ones in a way that makes them usable now and for the future.
For parent photographers one of the key steps in keeping their photo collections usable is finding the keepers. Since digital picture taking is virtually free - once you have the equipment - it isn't uncommon to take three, four, five, or even 20 pictures of the same scene in order to get one that is "perfect." The tough part is finding which one is perfect in a mass of files.
To make this happen, Adobe Lightroom's Library module provides several tools. The most important one is the Survey tool. With the survey tool, you can select a group of pictures and display them on the screen all at once. Then, as you determine which pictures are NOT the ones that are the "perfect" photos, you can eliminate them from the screen with a single click. This does not delete them from your catalog or disk so you don't need to be cautious. Once you know what pictures you want, you can add them to the proper collections or give them keywords or send them off to the printer.
Using Survey
Here we have 5 shots of the same thing. This view allows us to decide which one of these pictures we want to keep. If you are one of those people who can never delete any picture "just in case" (I'm guilty) you can tag those photos as "Archive" or something similar and export them to another location for storage. That way, you can keep your main collection clean and usable. It will be much tougher to find the perfect picture for a Christmas card if you are sorting through 20 shots of each kind of animal at the zoo than if you have those down to one or two and the rest on DVD or elsewhere.
.
.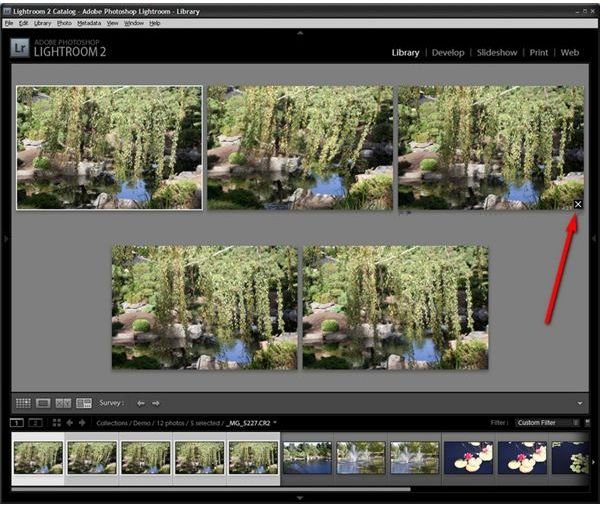 Once you've decided that one photo doesn't make the grade, you click the X that appears when you hover your mouse over the photo. The photo disappears from the screen but it is not deleted or moved. Think of this screen like setting out the pictures on a table. As you eliminate photos you move them off the table, but you don't throw them in the trash. You put them back in the main pile. That is all you are doing here, so feel free to click the X.
Narrowing It Down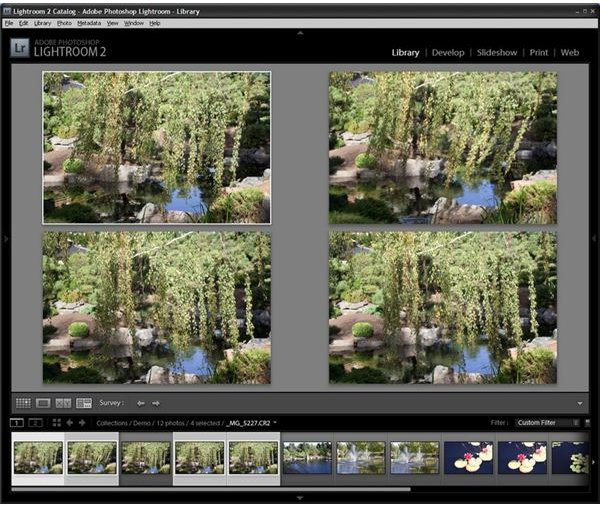 The best thing about this screen is that as you go, it will be less obvious which picture is better than others so you'll need to look closer. Every time you remove a picture from the survey, Lightroom reconfigures the screen so that the photos are arranged so that you can have the biggest view of each picture possible. Now that there are only 4 pictures our view is bigger.
Keep in mind you can flag, add keywords, add to collections and so on from this screen too. This isn't an "extra" tool. This is a part of Adobe Lightroom, just a different view, so you are not limited in what you can do on this screen.
This post is part of the series: Adobe Lightroom For Parents
In a world with five thousand digital photography programs, how come it seems like none of them are made for parents? Actually, Adobe Lightroom is perfect for the parent photographer. It's just that all the manuals are not. Get everything you need for your digital photos with Adobe Lightroom.