There are certain features that should be included on a business card, no matter the profession of its carrier. Your business cards should display your name and your photography business name, if different. Of course, contact information such as your physical, email and web addresses and your phone number must be included. Additionally, you should provide a brief yet clear description of the services you provide.
When you are looking for photographers' business cards, there are other aspects to consider. Business cards for photographers should definitely include an image that highlights their talents, style, and type of photography they specialize in. Contemplate your target market when choosing everything from paper type to lettering font to the image you choose to showcase on your business cards.
Whether you are just starting a photography business or are a long-time pro, business cards can help you spread your name around, promote your skills and grow your business.
Galleria Ventures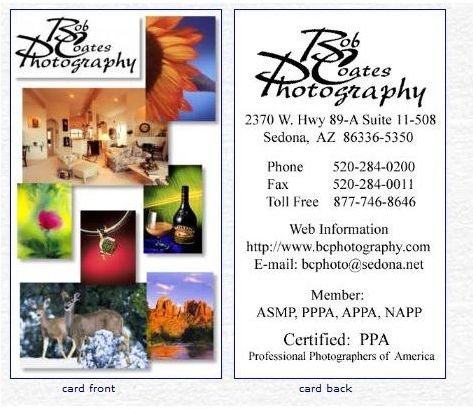 Galleria Ventures is a professional design service that will help you design photographers business cards as well as photo post cards. Their design services are free, and designs are reviewed online in a timely manner. They offer a variety of packages, and you can design either one-sided cards or double-sided business cards that allow you to further emphasize your photography skills. They will send you a digital proof of the card once you have approved the design, allowing you to check for errors or make any changes before your cards go to print. In addition, Galleria Ventures keeps your card template on file so that you can reorder without any hassle.
MOO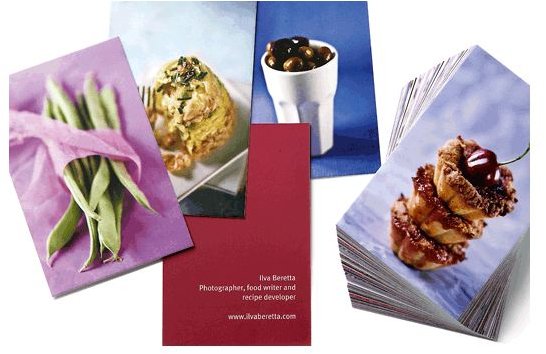 Although the name might sound rather silly, MOO offers up some seriously professional photographers business cards at a great price, with fifty, full-color, double-sided business cards currently starting at just over $20. You can upload photos from your computer or even import them from your Etsy, Facebook or Flickr accounts. You can even print multiple designs in one pack, allowing you to showcase all of the facets of your photography skills. Every order comes complete with a standard holder that is perfect for a shelf or desktop, and you can order others such as a leather holder that fits perfectly into your bag or pocket.
If you want to try before you buy, check out the MOO Business Card Sampler. Select ten of your own images and add your info. MOO will send the sample pack to you at no charge.
KO Cards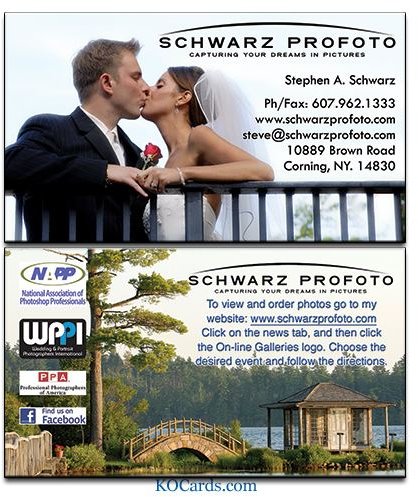 Knock out prospective clients with business cards for photographers designed and printed by KO Cards. Your business card design will be custom created by a professional graphic artist. All cards are in full color and are double-sided, allowing you to display your favorite shot on an entire side of your photographers business cards. Once you are absolutely satisfied with the design, your cards be will printed via offset lithography, which is the same type of printing used by high-end publications, onto the thickest card stock available. You can choose from a glossy uv finish or a matte finish and reorder online with a few simple clicks anytime.
Marathon Press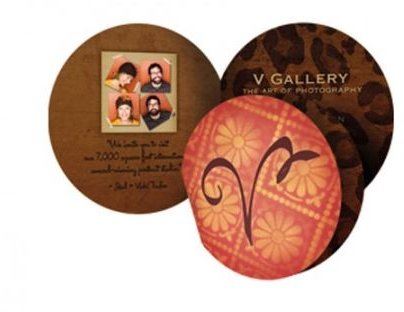 Marathon Press is a marketing solution agency specifically geared towards helping professional photographers grow their businesses. One of the services they offer is a wide array of business card styles and templates. If your tastes lean toward unique and eye-catching, you might like one of their less-traditional styles of photographers business cards, such as the Circle Die Cut Business Card (pictured here) or the Pull Tab Business Card. You can create your business cards using one of their various and interesting templates or you can design your very own offset or digital business cards. Quantities start at 500, and prices vary widely between designs and printing selections.
Diversified Lab
Diversified Lab is a professional photo developing company that works with professional photographers in many different aspects. One of the various services they provide to photographers is professional photo business cards. They feature efficient, high-end card printing starting in quantities as low as fifty. Your business cards can be single- or double-sided and you get to choose from three paper types: semi-gloss, linen/matte, or pearl. Their prices are highly competitive as well, with single-sided business cards starting at just $6.50 and double-sided cards as low as $8.00.
One final thought: Be sure to carry your photographers business cards with you at all times. You never know when a new opportunity might present itself.
Photo Credits
Bob Coates Photography Business Cards, Galleria Ventures
Ilva Baretta Photography Business Cards, MOO Business Cards
Schwarz Profoto, KO Cards
Circle Die Cut Business Card, Marathon Press