About Anne Geddes
The international fame of Anne Geddes' baby pictures is a fact. But who is Anne Geddes? Who is the woman behind the camera who produced such emotive images of babies? In her autobiography "Labor of Love," Anne Geddes described her childhood in North Queensland, Australia, as lacking in emotional warmth. She took an interest in photography and apprenticed for seven years under a family portrait photographer in Melbourne. Finally deciding to establish her photography business, she and her husband, Kel Geddes, converted their garage into a home studio. To boost her confidence, Kel had a plaque engraved with "Anne Geddes, Photographer" placed on the door. She was already a skilled photographer and began creating calendars. Then she published her first gift book "Down in the Garden," which showed images of babies in flowerpots. The refreshing and original Anne Geddess pictures of babies caught the attention of the world. She was on her way to fame.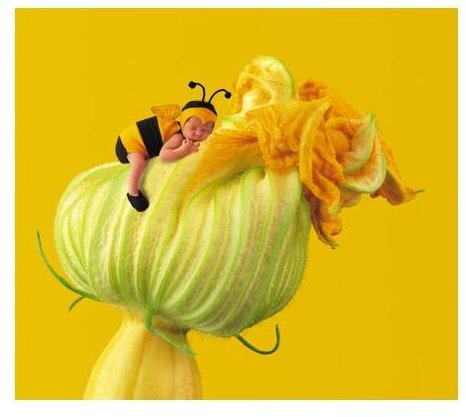 (Click on any image for a larger view)
Baby Photography
Anne Geddes' pictures of babies reveal the fragility and power of newborns. But why choose baby photography? There are many reasons. On Geddes' personal creative side, she finds babies as the most inspiring subjects. Babies are pure. Babies are engaging. On the advocacy side, Anne Geddes and her husband firmly believe that babies should be protected, nurtured, and loved. This is also why they established the Geddes Philantropic Trust, which aims to prevent child abuse and neglect in Australia, New Zealand, the United States, and the United Kingdom. But the photos of babies wrapped in cabbage leaves and babies nestled between flower petals do not describe the whole creative landscape of Anne Geddes. What many people don't know is that she also takes pictures of flowers. Taking pictures of flowers is the soothing side that balances the high profile side of taking baby pictures. According to Anne Geddes, the "delicate, fragile, and yet fleeting beauty of flowers is so connected to the newborn. The synergy between the two is perfect."

The Geddes Techniques
Anne Geddes started out with film photography. She used to develop her pictures in a darkroom. But with the advent of digital photography, she immediately realized its potential in expanding every photographer's creativity. For baby portraits, she uses medium-format digital cameras that produce about 110MB of image files. For her personal flower photography, she uses DSLRs. Anne Geddes actually anticipates the day when DSLRs will provide a picture quality that is close to that of a medium-format. Anne Geddes also prefers to use LED lighting rather than conventional heat-radiating lights. In manipulating images, Anne Geddes works with people that she calls Photoshop experts. Her role is that of a director who has creative visions that must be brought into screen by her highly technical computer artists. Anne Geddes fully embraces digital technology as a vehicle for magnifying the photographer's creativity. But she also warns that using technology for technology's sake will produce terrible and poor quality pictures. She insists that in the world of digital photography, there is still an immense space reserved for new creative photographers. Her advise in making original pictures is to "shoot from the heart."