What to Look For When Selecting a Photo Printer
When selecting a photo printer, there are some things to consider. First of all, you need to think about resolution/dots per inch (dpi). Dots per inch indicate how many dots can be placed within a square inch of paper: the higher the dpi, the better the printer. For example, the best printers on the market generally run in the 4800 x 1200 dpi range.
Photo printers are made to use the photo paper from the same manufacturer. The quality is generally much clearer and the photos crisper. You may want to price the photo paper before you buy the printer to get a general idea of how much printing a photo is going to cost you.
Extras matter when selecting a photo printer. For example, if your printer comes with an additional USB cable or a memory card slot, you can plug either your camera or memory card directly into your printer, leaving out the need to upload your photos to your computer. Many photo printers even allow you to edit your photos directly on the printer itself, saving you time.
Now, that you know what to look for in a photo printer, it's time to go over the best three photo printers under $150 on the market now. HP, Canon and Epson consistently produce quality photo printers so it makes sense that all three brands would be represented in this list.
Canon Pixma iP4600
Canon Pixma iP4600 ($89.00 to $100.00 online) comes with a whopping max resolution of 9600 x 2400 dpi, creating crisp and breathtaking photos. This extraordinary detail comes from Canon reformatting their ink to a dye-based black ink. The new ink also means that your photos will last longer than ever before. It sports five individual tank cartridges, saving you money since you only have to replace one tank as they run out. You can connect your camera directly into the printer, eliminating the need to download your photos to a computer.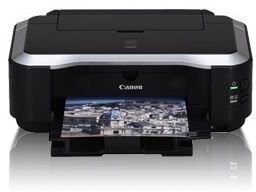 The photo printer comes with two paper trays with a total capacity of 300 sheets. This will allow consumers to hold both photo and regular paper, saving the need to switch the paper out depending on what you are printing. You can create borderless photos with this printer, which makes them look more professional. The printer can print 26 pages per minute in black and white (2.3 seconds per page) and 21 pages per minute in color (2.9 seconds per page). The cost per print is about $0.29. This machine is not compatible with memory cards.
Epson PictureMate Dash PM260
The next up is the Epson PictureMate Dash PM260 (approximately $90.00 online). This is a dedicated photo printer, which means that you can only print photos on it. At a little over five pounds, the PictureMate Dash can be carried with you, allowing you to print photos wherever you are. It's very fast, printing 4X6 prints in just about 40 seconds. With a rather large, moveable LCD screen (3.6 inches), you can edit your pictures directly on the printer with ease. The photos that you get from this printer are smudge and fade resistant, meaning that they'll last a very long time.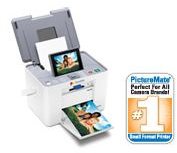 The picture quality is amazing on this machine; the maximum resolution is 5760 x 1440 dpi. It prints border-free pictures in a variety of sizes. It can handle the following memory card types: Compact Flash (Type I and II), Secure Digital, MMC, Memory Stick, Microdrive (Type M/H) and xD-Picture Card. You can also hook up your digital camera directly to the printer.
HP Photosmart A636
The final printer is the HP Photosmart A636 ($120.00 to $150.00 online). For the power that it packs, it's rather small, and all of its trays and other features fold up into it for easy movability. The printer is pretty self-sufficient and lightweight (only 3.3 pounds). You can buy an external battery pack, a carrying case and a Bluetooth dongle so that you can take it on vacation with you. All the necessary installation information is stored on the printer itself, making for very fast setup. What really sets this machine apart is the photo editing stylus and touch screen. It makes editing out red eye, color problems or anything else really easy to do.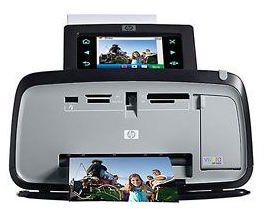 It can print up to 4800 X 1200 dpi, which makes for great photos, especially if you use the HP Advanced Photo Paper. While its speed may not be the fastest (0.63 pages per minute), it is still competitive for the market, and the price per print isn't bad at $0.29 per page. It is compatible with the following memory cards: CompactFlash (Type I and II), Magic Gate, Memory Stick, Memory Stick Pro, Secure Digital/MultimediaCard, Smart Media and x- Picture Card.