Share and Email Your Latest Snapshots with Photo Slideshows - Including Tips and Software Suggestions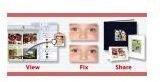 Creating a Photo Slideshow
Computers and digital cameras everywhere are jammed packed with pictures of life-changing events, exciting vacations and even pics of the new family pet. While some people are content to keep the images to themselves, most of us would like to share these pictures with family and friends. However, sending an album picture-by-picture can be not only time consuming, but also frustrating for the recipient, who has to open each and every picture.
Slideshow programs are familiar to most people, but difference here is the ability to send it by email. The fancier slideshow programs condense selected pictures into a single file. This file can be emailed and once the recipient opens it, it will run on their computer. In some of these programs you can add music, special transitions and other unique features depending on your preferences.
Photo Slideshow Software
Adobe Photoshop Album 3.2 [See Image 1], Microsoft Photo Story 3 [See Image 2] and Roxio PhotoSuite 5 Platinum [See Image 3] are some examples of these programs. If the recipient's computer does not have the necessary software (i.e. Acrobat Reader for Photoshop or Windows Media Player for Photo Story) to run the slideshow, free downloads are available.
Photography Websites
There are also many websites that will email a link to your album as opposed to the album itself. The recipient can go to the website, click on the thumbnails of images and then scroll through the pictures like a slideshow. While these may not make for the prettiest presentations, the process is easy and relatively quick.
Some free websites where you can do this are PictureTrail.com and Slide.com. On many of these sites, you can password protect your albums and even prevent others from reproducing your pictures.
So, ditch the old way of sharing photos. Many of the above programs have free downloadable versions. Photo slideshows are fun and unique ways of finally showing Grandma those graduation photos or sharing that latest trip to Santa Fe with Mom.
Images