Morpheus Photo Morpher - A Christmas Gift Idea for the Creative and Humorous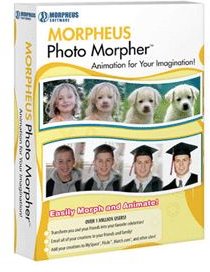 We've all seen those amusing photos where two or more people are morphed together into one image…or maybe the movie star that is made to be 200 lbs heavier! How about a person turned into their favorite animal via digital manipulation? Well, now all these ideas can be created instantly. It's the perfect Christmas gift for that creative and humorous person on your list. It's called Morpheus Photo Morpher.
Morpheus Photo Morpher is such a cool program that can be downloaded for only $24.99. With a fertile imagination and some creative keystrokes, Photo Morpher lets you create humorous animations to share on your website, MySpace, YouTube, via email or in any way you want.
These funny animations can be printed off and framed, and given away as amusing Christmas presents for those with a quirky sense of humor. You can also create hilarious ecards, jpgs, gifs and tiffs to share on Facebook, your blogs and other social networks.
Morpheus Photo Morpher lets you transform yourself into anything or anyone you want. You can take your baby's photo and turn them into an image of yourself. You can turn your loved on into their favorite movie star or pet.
The system requirements for this program are Windows 98SE/ME/2000/XP/Vista, Intel PIII 500MHz or faster. Your system must have 64M of RAM or more and settings must be 800 X 600 pixels or higher.
Morpheus Photo Morpher is a creative tool for web designer, digital photographers who want an edge on creativity and amateur artists with a desire for more animation options. Whether you have a creative child in the family or an adult with a twisted artistic sense of humor, Morpheus Photo Morpher is a great Christmas gift or stocking stuffer.
Hey, if you're the funny guy in the family, put Morpheus Photo Morpher on your Christmas wish list or if you can wait, purchase it for yourself now.