Panorama stitching software allows you to combine two or more images to create a larger image. It is usually used to create panoramic views of landscapes, but it can also be used to create mosaics. Whether you want to create a virtual tour of a house you are selling or if you simply like creating panoramic images as a hobby, these programs offer tools that make the task easier, faster and better as opposed to you manually stitching together images using image editing software.
AutoStitch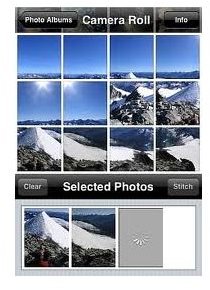 Taking its cue from its name, AutoStitch software automatically stitches matching images together, effectively forming a bigger picture. Manual modification from humans is not needed. All the user needs to do is to input the images that they need to stitch up and the software does the rest. The software works by comparing the input images and recognizing a pattern that it uses to build a larger image. If you want to create panoramic images, all you need to do is take a bunch of photos of your subject without worrying about specific angles. The software will do the rest for you.
Hugin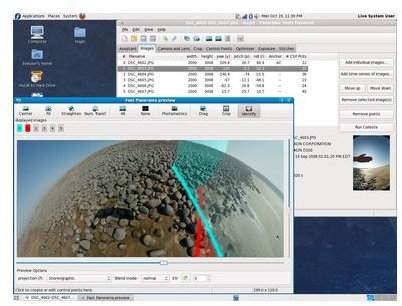 Hugin, an open source software offers a wide array of photo stitching tools like two-photo stitching, multi-row stitching and architectural projection simulation. These tools can be used to modify perspective effects and distortions via vertical control points or simply putting together a bunch of photos to create a larger photo. It is even capable of stitching photos taken with different kinds of cameras or lenses. Other advanced capabilities include blending image overlaps, using the parts of images with the best exposure and blending images with differences in exposure. For a free software, Hugin is extremely powerful.
Kolor Autopano Pro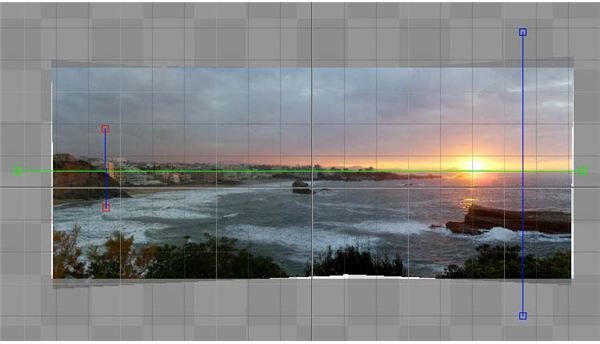 Autopano Pro boasts the most advanced image stitching technology available. This claim is very much supported by its ability to automatically correct color and exposure across images being stitched up, as well as its ability to find the best possible transition area in an image overlap of two images. Support for fisheye lenses, motorized panoramic heads and high dynamic range photography make this software powerful enough to do image touchups and corrections with minimal human intervention. It can even detect the images that you can use to create a panorama on your hard drive, eliminating the need for you to manually pick those images one by one.
PanaVue ImageAssembler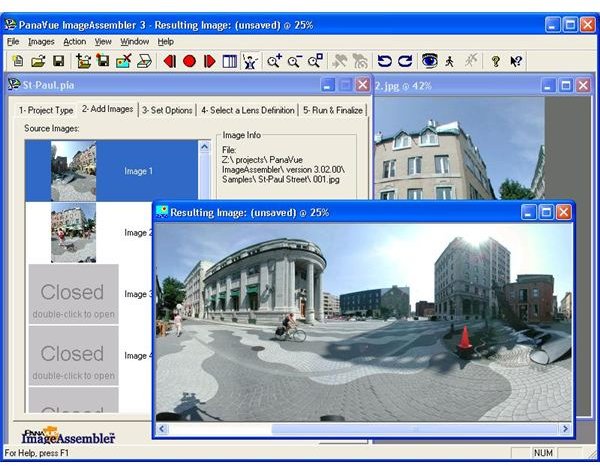 This software comes in three editions, each catering to the needs of beginners, power users and professionals. Its Standard edition contains the basic tools you need to create panoramas like multiple photo assemblers, support for importing images from scanners and support for high resolution images. Its Professional edition has added capabilities like retouching tools integrated with Photoshop, advanced color handling and handling of hard condition photos. All of these features are included in the Enterprise edition, which lets you use ImageAssembler's features from other applications.
PTGui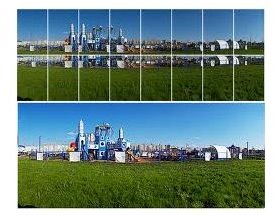 This panorama stitching software can stitch multiple rows of any number of images automatically, manually or a mix of both. PTGui is a very versatile program which can be used to create very large images without having an issue with tilted or rotated images. This effectively gives you an unlimited number of ways to produce an image of any size.
References
https://cvlab.epfl.ch/~brown/autostitch/autostitch.html
https://hugin.sourceforge.net/tutorials/index.shtml
https://www.kolor.com/panorama-software-autopano-pro-features.html
https://www.panavue.com/
https://www.ptgui.com/