Best Synthesizers We Found for Creating & Recording Music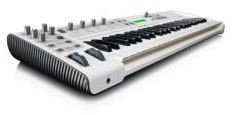 M-Audio Venom 49 Synthesizer
This 49-key synthesizer offers a combination of the traditional analog sounds with the newer digital processing to produce sounds previously not heard from a synthesizer. You can use it to reproduce the preset sounds from 512 Single patches and 256 layered patches, or you can create your own sounds through the top-panel interface or the included software editor. You can also use other music recording software such as Pro Tools to record right into the synthesizer.
The full-sized keyboard covers a range of four octaves, allowing for better control over bass notes and more high notes for soloing and string sounds. With the 53 preset drum sounds, composing and performing studio quality music is a cinch while it plays all of the different instrument sounds simultaneously.
The software editor provides the capability to store sounds in banks, rename premade patches, save backups to a computer, and share sounds with other people. You can also use the software to combine patches for even more unique sounds. It features all of the decorative effects you would expect from a high-end synth: chorus effect, compression, delay, distortion, EQ, flanger, phase shifter, reverb, tremolo and more, and you can invent new sounds by directing audio signals through the synthesizer's many filters and envelopes.
It has microphone, line-in, and stereo line-in inputs so you can lay down guitar tracks, bass, vocals, and any other sounds you want to record directly into the synthesizer. You can record MIDI tracks into the software, as well, and then play them back in real time. In this price range, you would have a hard time finding a synth with more features.
We found the Venom 49 Synthesizer at Amazon for $413.95
Alesis MICRON Analog Modeling Synthesizer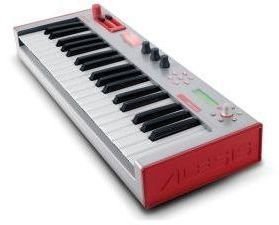 This compact synthesizer is a spin-off of its full-sized brother, the Alesis Ion: They share the same sound engine, but the Micron has a 3-octave keyboard. The Micron is compatible with Ion programs and has over 600 preset sounds and more than 1,000 programs and setups, including synth patches, drum beats and melodic patterns that are easily accessible through the push of a button and the turn of a knob.
It offers the ability to develop your own setups by combining 26 different programs with up to 26 different rhythms simultaneously. It is an 8-voice analog-modeling synthesizer, and each voice has three oscillators, two multimode filters, three envelope generators, two LFOs (low-frequency oscillations), sample and hold, and tracking generator. It has a 40 band vocoder for vocals, four drive effects, and stereo bus effects that include including reverbs and delays. You can download more programs and sounds directly from the Ion and from the Alesis website.
We found the Alesis Micron on Amazon for $289.99
Korg microKorg Analog Modeling Synthesizer with Vocoder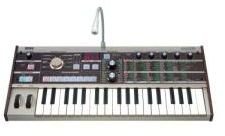 The dual-oscillator DSP synthesis engine in the microKorg is the same as that found in the popular Korg MS2000, but it has more waveforms from which to choose. It also uses 64 exclusive DWGS waveforms from Korg's classic DW-8000 to play even more sounds such as bass guitars, bells, electric guitars and electric pianos: sounds that are hard to reproduce on an analog synthesizer.
It has four voices and six kinds of arpeggiators. Sounds can be shaped with the two classic ADSR envelope generators, as well as the two MIDI-syncable low-frequency oscillators. You can create your own advanced modulation settings with the Virtual Patch matrix. The vocoder is handy for processing vocals.
Reviewers really liked this unit, but there were some complaints about the small size of the keys on the 37-key keyboard. Comments included those stating that the microKorg is reminiscent of a small, toy keyboard. To be fair, it is called the "microKorg." All other comments were favorable and the consensus is that you can't find a better synthesizer in this price range.
We found the microKorg at Amazon for $351.72
Yamaha MM6 Music Synthesizer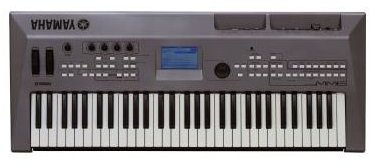 The MM6 has 61 synthesizer-style velocity sensitive keys that produce state-of-the-art synth sounds for creating, composing and performing live or in the studio. It will record eight tracks plus a pattern track. These patterns consist of backing instruments such as acoustical instruments, bass, and drums from one of the 22 integrated drum kits. The available styles include hip hop, rap, R&B, dance, ambient, pop, rock, jazz and more.
The MM6 gets its sounds from the professional series of synthesizers, the Yamaha MOTIF. The sounds can be changed on the fly by turning the sound knobs. Choosing the right sound from the 418 different voices is easier than you might think. All you have to do is choose the type of instrument you want to hear, and then choose a particular voice for the instrument.
The unit is lightweight and portable, so it is easy to take along to the gig, rehearsal or recording studio. When using it at home, you can connect it to your computer via USB cable. Software is included to record to the computer, and then edit and mix the recording as you wish.
We found the Yamaha MM6 at Amazon for $599.99
Moog Little Phatty Stage II Analog Synthesizer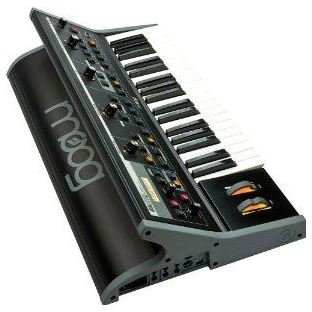 Moog has been a leader in synthesizers for decades. When you hear classic rock music from the sixties and early seventies, you often hear a synthesizer in them. Moog was the one to use, and they set the pace for synthesized music.
The tradition rocks on with the Little Phatty Stage II. It uses a 100-percent true analog synthesis engine, which produces a warm sound as opposed to the overly bright sound of digital synthesizers. The keyboard has 37 keys, plus it has a two-octave transpose. However high or low the note is that you need, you can reproduce it.
One of the unique new features of the Stage II is the MIDI over USB. It provides the ability to create even more sounds with more variations. Hooking MIDI to a computer has been difficult in the past, but this feature makes it easy now.
Other great features include an arpeggiator, which is handy for creating a series of sequenced notes, and a MIDI Clock Sync, which lets you synchronize the low-frequency oscillator and arpeggiator rate to the tempo of your MIDI sequencer, software or drum machine. You can now flawlessly time wave modulations such as sample and hold, square, and triangle with the arpeggiator and the rhythm tracks.
We found the Little Phatty Stage II at Amazon for $1,299.99
References
Descriptions and images: Amazon.com