5 of the Best Voice-Over Microphones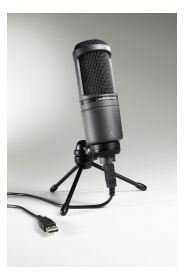 Introduction
What makes the best voice-over microphone? Bass boosts, treble boosts and switchable pickup patterns are not going to be needed in the quiet studio environment that proper voice-over recording necessitates. Instead of loading on lots of extra features, it is more to your advantage to find a powerful condenser microphone that accentuates the mid and upper mid-range frequencies where the voice tends to linger. Some features, such as a low cut filter for getting rid of unwanted background noise, can be useful but are not completely necessary.
AT2020 USB
For those that do not have a dedicated audio interface already set up, the Audio Technica 2020 USB is the most logical choice. It is modeled after the popular AT2020, and has the same low self-noise and flat frequency response, but simplified for those that are just starting out.
The package comes with a desk mic stand and plugs right into your computer's USB port so it can be used properly right out of the box. A USB microphone does not pack the same punch as comparable condenser models and does not have the XLR output needed for a studio setting.
Price: $96.62
Samson C01
The Samson CO1 features a hyper-cardioid pickup pattern, which can help to isolate your recording and produce clean voice-over recordings. The C01 has a warm sound and a full frequency response so the voice will have a good amount of clarity. It has a bit of an extended treble boost and has no built-in low cut filter, so some post-production EQ will be necessary. But for the price, it is hard to find a microphone that will produce the same results.
Price: $70.63
Rode NT1A

Rode is known for their versatile microphones at relatively inexpensive prices, and the NT1A is no exception. This is a great starter mic, it has low self-noise, boasted as the quietest microphone on the market, and produces the warm sound you want in your voice-over recording.
The frequency response is not as flat as one might want, boosting the bass end more than some of the other microphones on this list. A little post-production EQ will bring the perfect sound out of the microphone, but it will take that bit of extra work. The Amazon package comes with a pop filter and shock mount which are both useful, but it can be purchased without these.
Price: $229
Rode NTG2

If you are primarily recording voice-overs for television commercials or movie trailers, a shotgun microphone may be the ideal choice. Their directional pickup pattern and crystal clear clarity will pierce through layers of music and effects tracks and bring your voice-over to the front of the mix. The Rode NTG2 is one of the best out there, used by both professionals and amateurs because of its good off-axis rejection and low self-noise.
Keep in mind, shotgun microphones are extremely directional, and are typically used in film and television settings. They therefore cannot offer the versatility of some other microphones on this list.
Price: $269
Studio Projects C1

Modeled after the professional Neumann U97, the Studio Projects C1 is the golden egg on this list of the best voice-over microphones. It provides crystal clear clarity, warm mid-range and slight high range attenuation to reduce muddiness in voice-over recordings. The built in low cut filter and -10db pad round this microphone out for use in a multitude of situations.
The sound is more flat and dull than other microphones, but this will hardly be a problem for voice recordings and may actually be preferred.
Price: $239
References and Image Credits
https://www.audio-technica.com/cms/wired_mics/c75c5918ed57a8d0/index.html
https://www.samsontech.com/products/productpage.cfm?prodid=1601
https://rodemic.com/microphone.php?product=NT1-A
https://rodemic.com/microphone.php?product=NTG-2