Make the Most From Your Garage Sale: Pricing Tips, Displays, Best Times and More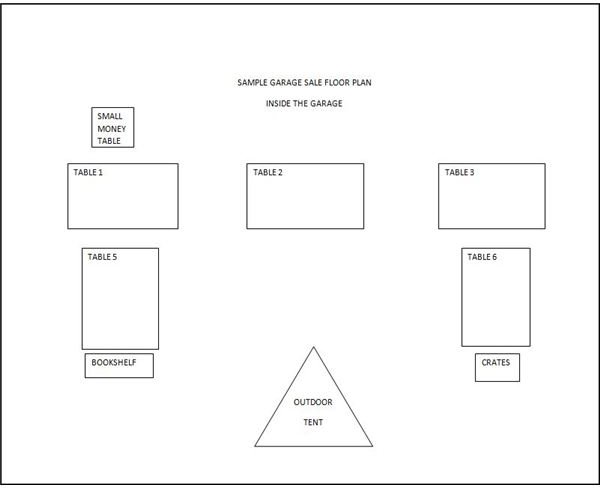 Junk or Treasure: It's All Perspective
Have you ever gone to a garage sale and thought, why are they selling this stuff? That is not what you want to happen at your sale. You want people to browse, stay for awhile and spend. Whether they do or not will depend largely upon the presentation, the advertising and the right price.
People coming to garage sales are looking for deals. For you, that could mean the difference between a five dollar sale and a ten dollar sale and every cent counts. The best advice tip is to make your items into someone else's treasure. Clean your items, paint them or make minor repairs before you place them in the sale. You don't want to have to cut the price for a tattered item, so make a small fix and add a little polish to get a better return on your sales. If someone feels like they are getting something nearly new at a great price, chances are they will be more willing to buy it at the price you set. They will also buy more when they perceive that you are selling good quality stuff.
Getting Organized
As you are gathering your items to sell, group them. There are many ways to group objects such as, breakables, kitchenware, seasonal, technology, men's items, women's items, children's items and so on. If you do this while you are preparing for the sale, placing the items will be a cinch. Take it one step further and make small signs as to label your categories to make it easier for the person to find what they are looking for.
After you have done this, consider how to display the items. You will need several tables that are not-for-sale for your displays. Stack crates or bins, and use bookshelves, barrels or benches to display your items. To state the obvious, you don't want someone to buy the table and have your items displaced. Thinking like this is your mini-store front, you want to create a place for your shoppers.
The next step is to map it out. Seeing as most garages are rectangular shaped, I made a sample floor plan to set up the area (see photo). If you like it and want to use it, then please feel free to download a copy from Bright Hub's media gallery.
More Essential Tips:
Make sure people have enough walking room around the tables.
Use caution when placing items underneath tables or they might be overlooked.
Reorganize your sale as items are sold.
Cover the tables with table clothes to add color. Hint: blue is the color of trust; red is the color of enthusiasm.
Place the largest and most expensive items toward the front of the driveway.
Create a dollar-bin or crate – label it with a sign (Everything Is a Dollar).
Remember to group items and use different heights to make attractive displays.
Do a check to make sure every item is identifiable and avoid clutter.
Assemble all items. The buyer can disassemble the item or move it whole.
The biggest garage sale display no-no is no piling. Do not pile. Place books on a shelf, hang clothing and drapery on hangers (making sure they are cleaned and pressed), display shoes on a rack, put CDs into a CD rack and so on. Everything should be easy to see and touch for the best sales.
The Price Is Right
As you are organizing your items for the sale, label each item with a price. You can use small circle labels and print them on your desktop or buy garage sale stickers. This is tedious indeed, but is well worth the effort. If you don't, two things can happen. Either people will not ask and not buy or you may find yourself selling it at the buyer's price instead of yours.
Do your research to learn the value of what you are selling. You should know the general worth of the items before setting the price. Do not overprice. You should come down by at least 40% of the item selling new, depending on the shape the item is in.
Be very wary of selling collectibles including antiques of any kind, jewelry, comic books, and coins. Believe it or not, pawn shop sharks frequent garage sales looking to take advantage of unknowing homeowners. They will buy your items knowing that they can resell them at a much higher price. Just be aware and avoid selling these kinds of items.
Don't be afraid to throw in some freebies. Word of mouth travels fast. If people like your sale and you were good to them, they will go home and talk about it. Chances are they are coming back tomorrow – with a friend or two.
Choosing Your Dates
The best dates for a garage sale are Fridays and Saturdays from 9-5. This shouldn't deter you from continuing on a Sunday though. If you decide to do a three day sale, start Sunday at 10:00 as many people go to church or sleep in. Also, if you do a three day sale, announce that Sunday will be half off all items left when you do your advertisements. Remember that you need a permit (it's free) in most towns so be sure to apply for it ahead of time.
Shout It From the Hilltops!
Use Craig's List and Free Ads
Advertisement is the key to a successful sale! This is true even for garage sales. Use these tips for advertising:
Advertise on your local Craig's List each morning before the sale.

Advertise in your local newspaper or online newspaper. It is worth it to pay for the prime slot on the page. It is a small investment and will say you mean business! For the local or online paper you should advertise the full week before the sale up to the last day.

Don't oversell your items; be honest, but be very descriptive. If you have a theme, say so. For example you may be selling a lot of dorm stuff, baby stuff, or teacher stuff and so on. Say this in the ad. It may mean that someone will take a longer drive to get to your sale if they know you have something they want.

Include the street name, town or city name, dates and hours.

Include as many photos of the expensive items as you can. This will also draw crowds.

Be sure to indicate rain or shine- fully covered area. Be sure to have a pop-up tent or two with sides to extend the garage if you need to. Place anything that cannot get wet on the tables.
Use Signs on Stakes to Increase Visibility
Spend a few dollars on some outdoor, plastic corrugated signs available at office stores. See the photo for an example.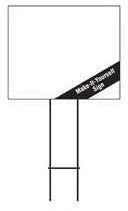 These have stakes that you can put right into the ground. They are a step above the rest because they are clearly visible from the road. Don't make the mistake of stapling it to the corner light post. No one will see it. From there you can find a template right on Microsoft Word to create a free sign or you can print it out neatly with permanent marker.
Then, tape the whole sign with packaging tape in case it rains. You can reuse the sign by changing the date for the next sale just be covering the dates with index cards and resealing the sign with packaging tape.
Display your signs on major intersections within a five mile radius all around your street and at the corner of each crossroad on your block. Each night at the end of the sale collect your signs for the next day.
Add a sign and some balloons to the front yard.
Making the Exchange
To make a successful exchange you will need the following items:
Cash box or a money apron/belt
Change (some singles, a roll of each coin)
A small table out of reach just for payment
Recommended- plastic bags (boxes of them are available at office stores, or plan ahead and save them up)
It's Hard Work
Having a successful garage sale is the goal. If you follow these pricing, displaying and advertising steps at the end of your garage sale you will undoubtedly be tired. But, you will have made some good money from your sale and it will be worth the effort. Remember, don't expect the item to sell itself! Be proactive and mostly have fun and think of it as a way of giving to your community.
Outdoor sign image is courtesy of amazon.com.
Screenshot and all information provided are courtesy of Laurie Patsalides, all rights reserved.