Based on the same principle as the similarly named Slide2Unlock, Slide2Shutdown offers the user a set of options when it comes to switching off your Windows Phone.
Using iPhone-style onscreen sliders on touch screen Windows Mobile devices, Slide2Shutdown can be used to alter the shutdown/restart behavior of your device without interacting with the often tricky onscreen buttons.
Slide2Shutdown is available free from either FreewarePocketPC.Net or xda-developers.com (the latter requires a free account to access the software).
System Requirements and Installation
Slide2Shutdown requires the pre-installation of Microsoft .NET Compact Framework 3.5 – if your Windows Phone will run this and has the space for installation then you shouldn't have any problems installing this app. Slide2Shutdown is designed for use on touchscreen Windows Mobile devices with QVGA displays – any larger and the app will appear very small!
This 752 KB download file that must be present on your Windows Mobile device before installation can proceed. You can either download directly from the link above via your mobile browser or download to your PC and copy the CAB file to your Windows Phone.
Slide2Shutdown Images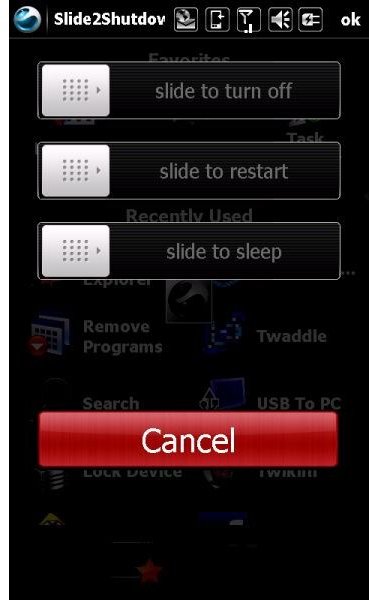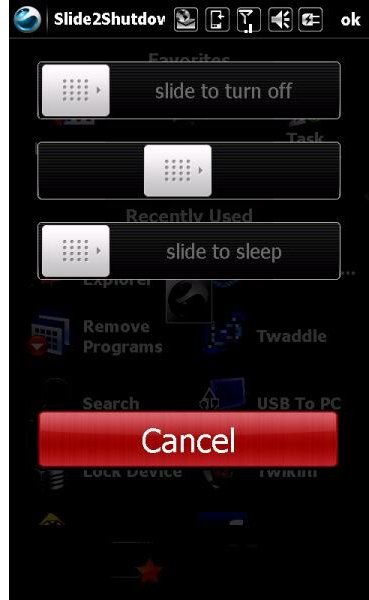 How To Use
Using this application is simple – it's just a case of selecting the icon from your Programs screen and choosing whether you want to shutdown, restart or sleep.
Whichever you choose, use your finger to drag the required slider to the right – and the phone will react in the required manner!
Slide2Shutdown is a useful and quick to install enhancement to both the standard user interface of your Windows Mobile device and any other enhancements you might have, such as Spb Mobile Shell 3 or TouchFLO 3D.
Worth the Install (4 out of 5)
This is a simple to use, quick to install enhancement to any Windows Mobile user interface – as such it is a definite must-have!
The slide-button interaction method is a great development and it has already been used to good effect in both Slide2Unlock and various Windows Mobile volume control enhancements.
Engaged here, it overcomes clumsy single touch buttons that can often cause a phone to switch off in your pocket without warning. Available for free, there really is no excuse not to download and install Slide2Shutdown on your Windows Phone!