Auto Call Recorder
Available for free, Auto Call Recorder adds call recording functionality to your Windows Mobile device.
This is a great tool for referring back to previous phone conversations, or using as an interview tool if you're a journalist for instance.
Auto Call Recorder is particularly useful as it overcomes some design differences in recent Windows Mobile devices that have prevented the traditional method of recording phonecalls from working.
System Requirements and Compatibility
Auto Call Recorder is available for Windows Mobile 5, 6 and 6.1 devices, and is known to work on the following:
Samsung Omnia
Sony Ericsson Xperia X1
HTC Kaiser
HTC Diamond
HTC Diamond 2
HTC Trinity
HTC Touch 3G
HTC Touch Cruise
HTC Touch HD
However the software won't run without first installing Microsoft's .NET Compact Framework 3.5 Redistributable.
Installation of the 332 kb file (available from FreewarePocketPC.net) is via .CAB file – so you'll need to download directly to your phone via the Windows Mobile browser or download to your PC and copy across via USB or BlueTooth connection.
Auto Call Recorder screenshots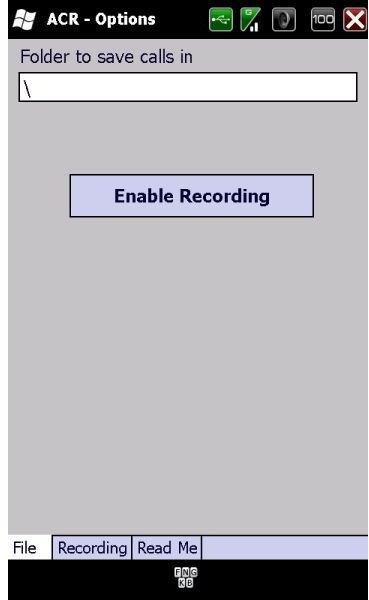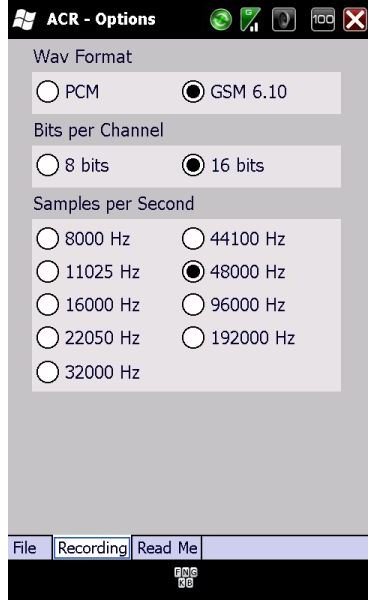 Recording Your Calls
Using Auto Call Recorder is so simple – simply run the application from the Programs menu and select Enable Recording. The next incoming or outgoing call will be automatically recorded and saved to the location you specify.
A range of settings can be chosen to configure the bit rate, sample speed and WAV format type, all of which will affect the final size of the recorded call.
Auto Call Recorder runs unobtrusively in the background, and uses minimal resources as it records your calls. In fact the only thing it lacks is MP3 encoding of the saved file, but there's obviously scope for this to be introduced in a later version.
One other guide for use – make sure the person you're speaking to on the phone knows that you're recording the conversation, as this is required by law in most countries!
Great Application (4 out of 5)
Auto Call Recorder happens to be an application that I've been waiting for since I first started using my current Windows Mobile handset. As such I'm very happy to have it, and find that it works so well.
If you run any of the Windows Mobile devices listed above and have been looking for a call recording application, then Auto Call Recorder should suit you perfectly. It's another great free application that is worth its weight in gold.