Overall Use (4 out of 5)
Spb Wireless Monitor is very simple to install, the application requires only a .cab file which can be downloaded for trial purposes or after paying Spb Software House the $19.95 full version fee. The .CAB file is simply downloaded to the users device and then once clicked on it will install the application in less than a minute.
Once installed users have the option to look at each connection that is using minutes. The first type of view is your standard application view which simply listed each application that has used data and the amount of data in terms of Megabytes. For instance YouTube may show the YouTube icon with 1.2MB while HTC Touch Flo may show the HTC Logo with .2MB. For a more visual look at Spb Wireless Monitors list view check out this screenshot: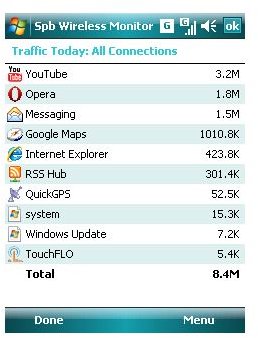 While the list view is probably more than enough for most users the program also offers graph charts which can help compare actual data transfer rates among programs in the blink of an eye.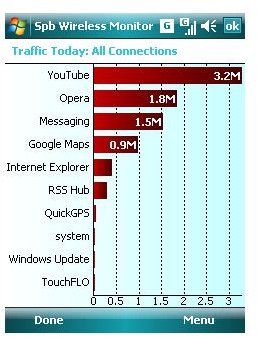 As you'll notice if you look at either type of view they are showing the data used for a particular day, the program also allows for weekly and monthly views and users can even choose to show the data use only for certain connections. For instance you may have Verizon Wireless data use and WiFi data use, thanks to an easy to display options screen you can choose the time period to show and the data connection for that period.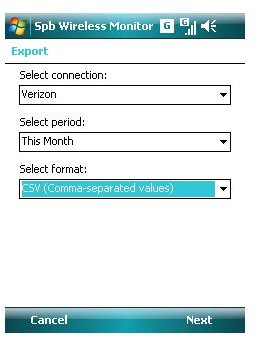 Also as you can also see from the picture shown above you can also choose which format you want to export the information into. If you use CSV you can easily pull up your data usage via MS Excel which is great for storing your data on your PC and cross referencing it at a later time with other data points.
Aside from simply showing data use the program also allows users to set alarms when data levels have been exceeded or at certain intervals. For instance you can tell the program to alert you when 10mb per day on a certain connection has been reached. You can even set multiple alarms for different levels. Here's a look at how simple it is to choose your data threshold alerts: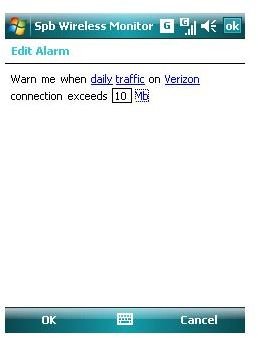 Conclusion
Spb Wireless Monitor is a very useful application both for users with non-all inclusive data plans and for anyone travelling abroad since roaming data rates can be ridiculously expensive. The program is also very simply to use thanks to a very intuitive user interface. To prove how simply this app is to use just take a look at all of the options well though out on the homescreen: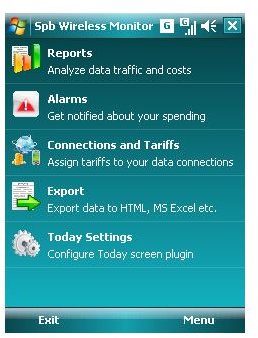 Overall Spb Wireless Monitor is very simplistic yet very useful. If you don't have unlimited data we suggest you pony up the twenty bucks and download Spb Wireless Monitor today.