Hello Twitface is a New Twitter and Facebook Client for Windows Mobile
This improbably named Twitter client for Windows Mobile features integration with Twitter as well as allowing status updates to Facebook as well as a range of other social networking sites which can be accessed separately via SMS.
As Twitter clients for Windows Mobile go however, it is possibly the poorest example, and given its relative lack of Twitter features and ugly user interface that seems to have ignored the advances in technology since Windows Mobile 5, it is very difficult to find anything with which to recommend Hello TwitFace upon.
Installation
Hello TwitFace can be downloaded from FreewarePocketPC.net where it can be downloaded as a modest 63 kb CAB file.
This can be installed in two ways:
1. Browse to the link above on your PC, and follow the download link to find the hellotwitface.CAB file. Download this to your PC, and then copy it to your Windows Mobile device. On your handset, navigate through explorer to find the CAB file, and run it to begin the installation.
2. Alternatively, browse to the link above via your Windows Mobile device browser of choice. Download to your chosen location, and then as before navigate to the CAB file and run it to install.
Hello TwitFace screenshots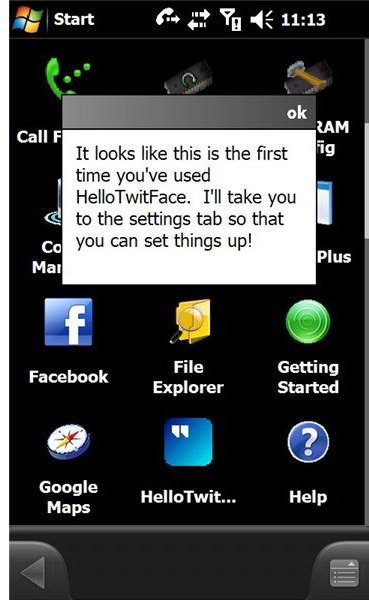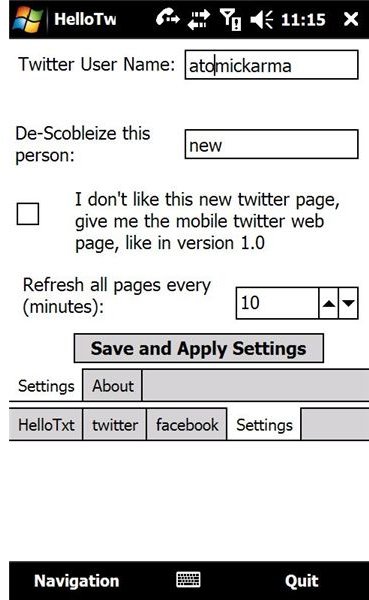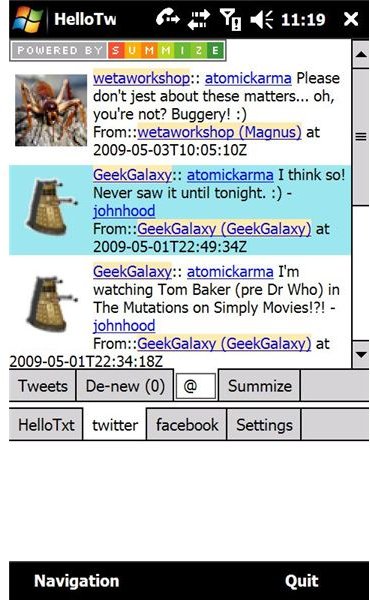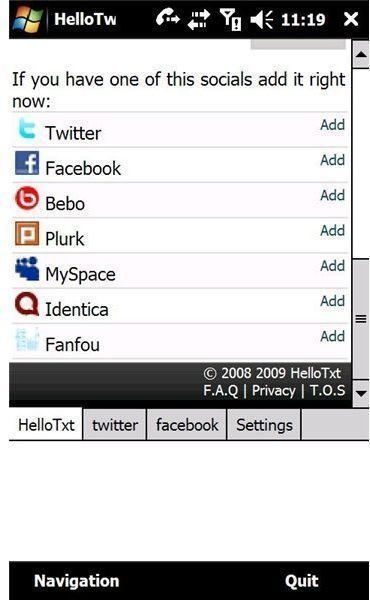 Usage
Once installed, Hello TwitFace requires a username (although curiously no password) to access your Twitter feed, while access to Facebook requires the usual username and password entered into a very familiar Facebook themed screen that bears a striking resemblance to the one at m.facebook.com. Use of the HelloTxt functionality is unclear, meanwhile, and it all sits together rather clumsily in a series of tabs that don't otherwise bear any relation to one another.
Conclusion (1 out of 5)
The main problem with Hello TwitFace is its apparent lack of any real functionality. It all looks as though the Facebook and Twitter views have been pulled from the Internet Explorer mobile browser, while the one true avenue in which the software can be developed into something unique – the SMS updates to the various networks (Bebo, Plurk, MySpace, Identica, Fanfou) – are totally underplayed and relatively ignored in favour of a rehashed browser view.
There is so much room for development for Hello TwitFace, if not an entire reimagining, and as such there is little to recommend.