Among the improvements that the Mango update brings to Windows Phone is the inclusion of Windows Live Messenger and Facebook Chat. These are two of the most popular chat services currently in use, so it makes sense to include them. Indeed, Windows Phone users have been clamouring for Windows Live Messenger ever since the mobile platform launched in 2010.

As one of those curious anomalies – the lack of copy and paste being another – that resulted in the initial Windows Phone release being welcomed with some reservation, overlooking Windows Live Messenger on a phone that is full of Windows Live integration seemed to miss the point of a smartphone being a universal communications device.
Instant messaging wasn't completely unattainable before Mango, however. The Facebook Instant Messenger app was listed on the Windows Phone Marketplace, along with IM+ and Messenger by Miyowa, and all of these apps can still be used by anyone running a pre-Mango device.
Another improvement to messaging on Windows Phone comes in the shape of speech texting, a very useful addition that comes in particularly handy while you're driving.
Let's take a look at how these new tools all fit together!
Messaging Integration
One thing to be clear about with these new features on Windows Phone is that they don't appear as separate apps — you can't launch into Facebook Chat, for instance, or open Windows Live Messenger.
Instead, both are integrated with SMS. This might seem baffling at first, but it is in fact a stroke of genius. If you have Windows Live contacts on your phone with whom you also regularly share text messages, a conversation can be carried out on SMS and then switched to Windows Live, while continuing the same conversation thread on your phone.
It is therefore completely possible that you might start a chat on Facebook, continue it via SMS and then resume it on Windows Live! A few years ago on the old Windows Mobile this feature would have been clunky and unusable, but here on the slick new Windows Phone it sits perfectly. It really is a fantastic idea!
Are You Ready for Chat?
To make sure that your phone is able to perform SMS and instant messenger chats, you will need to check a couple of things.
First of all, you will need to make sure you have your Windows Live account in use on your phone. The vast majority of Windows Phone users will have, as without it you won't be able to access the Marketplace, for instance. If you haven't, then open Settings > Email + accounts > Add an account and add a Windows Live account here.
Facebook Chat is a slightly different proposition. Clearly you will need a Facebook account, but you will also need to set up your account on your phone. If you don't currently use this option, note that it will import details from Facebook for all of your existing contacts, and depending on the options you choose might import your whole Facebook friend list. Adding an account for Facebook is a case of heading to Settings > Email + accounts > Add an account.
With these options configured, you will be ready to set your status and make yourself available to chat!
Chat Availability
Different steps are required for fully activating chat, depending upon which network you plan on using.
For Facebook, you will need to open Settings > Applications and switch the Facebook Chat slider to On. Meanwhile, for Windows Live, as long as you have the account set up, you will be automatically ready to chat.
For both chat networks, however, you will need to make yourself available so that you can start to receive and send messages. To do this, you will need to open your profile. This will typically be found on the Start screen, and feature your preferred social networking profile picture. It will also be labeled Me to avoid confusion.
Adjusting your chat availability here is a case of tapping the Set chat status option and choosing the appropriate option from the list.
Switching Text Chat and Speech Texting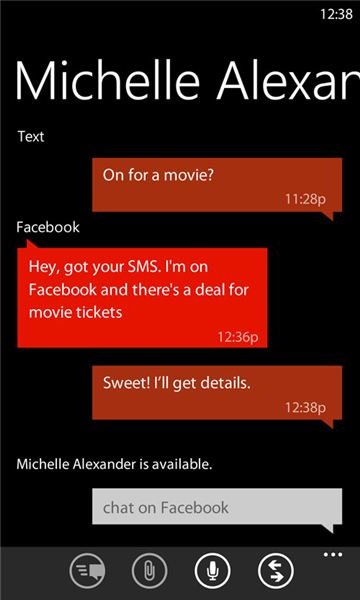 When you open Messaging and click the + button to start a new chat thread, Windows Phone will ask you to select a contact. If multiple options are available, you will then have a choice of which chat method to use.
For instance, your contact might have a mobile telephone number and Facebook listed. Their Facebook status might be offline, however, so you would select the mobile number, and then send a message as normal.
If you don't want to use your hands, once you're at the point of entering your message text, simply tap the Speak button (a microphone icon) and intone a few words to send to your contact. Note that this requires an Internet connection to work successfully. This feature seems to work pretty well, and is certainly faster than typing!
When you receive a message back, your contact might have since logged into Facebook, so you can continue your chat with them by tapping the Switch button, identified by two opposing arrows. You will have a choice of what service to switch to and then be able to carry on chatting.
Great Idea, Easy Implementation
As you can see, this new text-based chat messaging integration in Windows Phone 7.5 is really simple to use. This should come as no surprise, as making mobile phones easier to use was part of the whole Windows Phone ethos when the platform was launched in 2010.
While other platforms might rely on third-party apps for services such as messaging, Microsoft is really pushing the idea that there is a responsibility on the platform provider to offer features that many users take for granted.
Rather than abiding by the mantra of "there's an app for that", Microsoft seem to prefer the idea of "you don't need an app for that – the phone does it".
By combining speech recognition, Facebook Chat, Windows Live, MMS and SMS into one easy-to-use tool and keeping the conversation as a single thread, Microsoft has introduced a platform-enhancing new feature that simply cannot be missed!
References