A Paid Mobile App for Android and iPhone – but Not Windows Phone?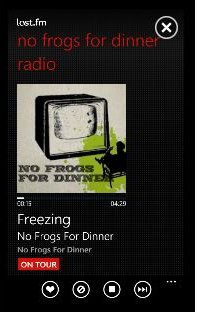 The popular online music streaming service Last.fm announced in February that the mobile apps that are provided for iPhone and Android would soon become subscription only – but Windows Phone 7 users would not find themselves frozen out in this way.
While desktop streaming through a browser of a list of online favourite tunes generated by your previous likes and dislikes will remain free and ad/affiliate supported, no such facility will be provided to Android and iPhone users. With a possible annual charge of anything from $20 to £36 depending on location, Last.fm's announcement has resulted in quite a backlash from their community.
So how did Windows Phone 7 users get out of the subscription?
What is Last.fm?
For the uninitiated, Last.fm is a very useful browser application that allows you to listen to music on your computer, streamed from remote servers and based on tracks that you have previously expressed a liking for, across all sorts of different styles and genres. For instance if I listened to a particular Led Zeppelin track, Last.fm might then play song by Whitesnake.
Last.fm is particularly popular in the UK and Europe, where it is seen as a substitute for the similar Pandora service which is sadly blocked outside the USA.
While this service is free on desktop computers, the subscription announcement forces iPhone and Android users (along with users of many other non-desktop and non-laptop devices) to pay a subscription charge in order to continue using the app, something that has been met with some resistance and dismay if the reaction to the company's announcement is anything to go by.
Controversy Over the Last.fm Announcement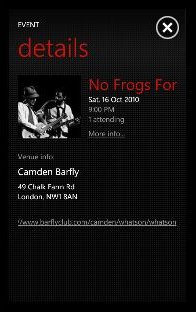 Last.fm announced on Monday, 7th February 2011 that mobile listening via apps for iPhone/iOS devices and Android would be restricted to users paying a monthly subscription which could be made via PayPal.
There are several elements about the announcement that have caused concern:
The subscription cost differs from territory to territory: £3 in the UK, $3 in the USA and €3 in the European Union. This effectively means that US users will pay much less than UK users.
The subscription model has been chosen in favour of a paid app
Microsoft Windows Phone 7 and Xbox LIVE users have been exempted from the charge.
This last point has caused quite a bit of fuss, with Microsoft being accused of leveraging Last.fm for its own aims. Whatever the truth of this is, the fact remains that Windows Phone 7 users will not have to pay to use the Last.fm app, which will remain one of the top free apps for the Windows Phone 7 platform.
Why is the Windows Phone 7 Last.fm App Free?
According to an interview with Last.fm's Matthew Hawn, the answer to why Microsoft's Xbox LIVE and Windows Phone 7 apps are free is down to a previous arrangement:
"…they are free-to-their users specifically because MS has subsidised the radio experience."
However, e-mails from Last.fm to users who take advantage of mobile apps indicated that the Windows Phone 7 app was also included in the arrangement, something that has caused some additional confusion.
Ultimately, it seems that Last.fm's expansion into the Xbox LIVE platform has benefited Windows Phone 7 users, who will continue to enjoy the mobile service throughout 2011.
References
Sources:
https://www.wired.co.uk/news/archive/2011-02/07/lastfm-mobile-streaming
https://blog.last.fm/2011/02/07/lastfm-radio-becomes-a-premium-feature-on-mobile-and-home-entertainment-devices