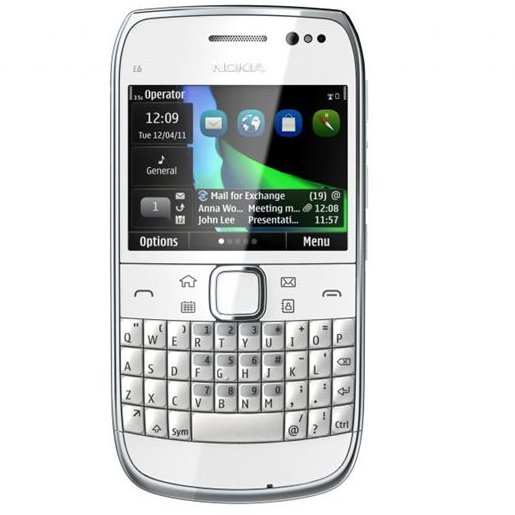 The Nokia E6 is a sleek and compact smartphone for business oriented users which was announced in April 2011 and is expected to be released in 2011 Q2. This phone is among the first to use the enhanced Symbian OS and comes with improved Internet communications speed, better e-mail integration, improved meeting requests, enhanced Ovi Maps features and integrated social networking. This Nokia E-series phone comes with easy to use controls for single or dual hand operations. Let us start off with a look at the design.
Design (3 out of 5)
The Nokia E6 comes in an assortment of colors ranging from black and white to silver. This Nokia phone is a candy bar style phone with a full QWERTY keyboard that takes the look and feel of several other Nokia E-series phones such as the Nokia E71, Nokia E72 and Nokia E73. This one, however, comes with greater curved corners at the bottom and a basically flat section at the top end.
The front of this smartphone has the ear piece right at the top with the proximity sensor and the secondary camera and light sensor right next to it. Below this there is a 2.46 inch gorilla glass display.
Below this display there is the soft-key panel with the call begin and the call end buttons on either side. Next to these buttons there is the home key, the calendar key, the messaging key and the address book key. Centered on the soft-key panel is the Navi-pad.
Below all these there is the full QWERTY keyboard and the microphone slot right at the base of the front panel. The left side of the Nokia E6 is solely equipped with a microUSB slot. The controls on the right side of this smartphone include the volume up and down buttons and the dedicated camera button, while the back is fitted with the primary camera, a dual LED flash and a single external speaker.
On the top there is the power button, microSD card slot and a 3.5 mm audio jack slot.
The Nokia E6 measures 115.5 x 59 x 10.5 millimeters and weighs 133 grams and is covered in a stainless steel casing.
User Interface (4 out of 5)
The Nokia E6 comes with the new flavor of the Symbian operating system also known as Symbian Anna. The user interface on the phone is accessible through a variety of options which include a multi-touch input screen, a full QWERTY keypad, a soft-key panel and dedicated hardware keys.
Volume on the phone can be set when the respective application is in use using the volume key. Access to the primary camera is made through the dedicated camera button. The Nokia E6 supports customizable home screen widgets which you can use to get notifications on missed calls, or incoming messages directly onto your home screen. You can also keep track of your calendar and things-to-do, meetings and appointments directly from your home screen.
Navigating around the phone can easily be done by swiping across the screen to change home screens or by tapping on the home screen swap region on the display.
The menu is laid out in large icons that grant access to the settings menu items, the personalization features and the applications menu. To launch applications you can easily tap on the respective icon to launch the program. All applications consist of large soft keys for ease of access when using your fingers to tap through the applications. Text for messaging can be input either using T9 format or normal format.
The user interface on the Nokia E6 comes with fluid transitions for pop-ups and all notifications. It also offers a user friendly experience with customizable sounds, wallpaper backgrounds and home screens at the disposal of the user.
Features (4 out of 5)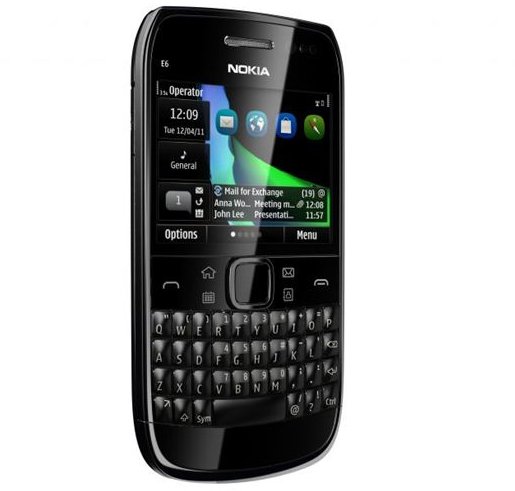 The Nokia E6 comes with a TFT multi-touch capacitive touch screen that supports 16 million colors and a resolution of 640 by 480 pixels. There is an accelerometer on board for auto-rotate functionality and a proximity sensor for auto turn off.
For music lovers there is a loud speaker and a 3.5 mm audio jack for headphones. Music can be played on the MP3/WMA/WAV/RA/eAAC+ music player as well as listened to using the built-in radio. Included in this phone is a MP4/H.264/H.263/RV video player as well, backed by a 720p capable video camera. There is also a secondary camera for video and conference calls.
As far as storage goes, there is 8 GB of internal storage with 256 MB RAM and a 1GB ROM. External memory is also available through a microSD card to the tune of 32 GB. You can have additional storage using USB Flash drives as well.
As for connectivity, GPRS, EDGE and 3G are supported with 3G supporting up to 10.2 Mbps. Wi-Fi and Bluetooth are also featured.
Geo-tagging and face detection are also part of the feature set on this smartphone. Other features include a built-in digital compass, a TV-out slot, Quick Office for Word, Excel and PowerPoint editing. Flash lite 4.0 and PDF documents are also supported on this smartphone.
Performance (5 out of 5)
The Nokia E6 has outstanding performance on application launch and general operational use. With Symbian Anna behind the hood, this Nokia E-series phone has enhanced speed on menu navigation.
Games are also quite responsive thanks to the 2D and 3D Graphics Hardware Accelerator and a 600 Mhz ARM 11 processor that gives it that extra edge. There is talk time of up to about 15 hours on this smartphone with about 750 hours of standby time. Ovi Maps on this smartphone is quite improved and very responsive.
The Verdict (4 out of 5)
The Nokia E6 is another awesome business mobility smartphone from the Nokia E-Series family of business phones. It comes well enhanced with plenty of storage and memory for fast operations. An improved user interface and enhanced hardware features make the Nokia E6 a must have phone for the serious business executive on the go.
Backed by the growing number of apps from Ovi store the possibilities of this smartphone can be extended beyond imagination. To get this smartphone it will cost you about US$510.
References
Nokia Press, press.nokia.com/media/
Nokia, europe.nokia.com
Image Credtis: Nokia Press, press.nokia.com/media/