Examining NetworkAcc
It's a common complaint from many mobile users that they face network problems while browsing wireless Internet on their mobile phones. This is mainly because of the fact that most of the mobile phones are not configured properly to transfer data at their maximum speed. The other reason being that due to the frequent copying and deleting of files, fragmentation of data takes place resulting in poor data transfer. But the real question is, can these problems be fixed and can your mobile phone be optimized so that you get maximum efficiency and utmost speed while browsing the Internet.
NetworkAcc claims to accelerate your mobile network by fine-tuning several key parameters to provide faster browsing and faster downloading on your Symbian mobile phone. You simply have to provide some basic information about your mobile phone's operating system and the network you are using. This information is then used by NetworkAcc to configure your phones network settings in such a way that you get the maximum out of your Internet connection. It also claims to accelerate memory responsiveness by fixing memory leaks and recovering unused memory. It has predefined settings for all types of networks like GPRS, HSDPA, EDGE, 3G etc. and is fully compatible with almost all network carriers. The best thing is that it is a small Java application and runs in the background without coming into the way of other running applications.
NetworkAcc is a premium product from eMobiStudio (same people who developed MemoryUp Pro) and you can buy it from the manufacturer's website for $9.99. You can also download the fully functional trial version from the companies website. The setup file is only 108 KB in size and downloads within seconds. Installation is easy and I hardly faced any problems while configuring the application on my mobile phone.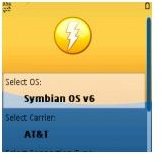 When I opened the application for the first time I was asked to select my operating system and the network carrier I was using.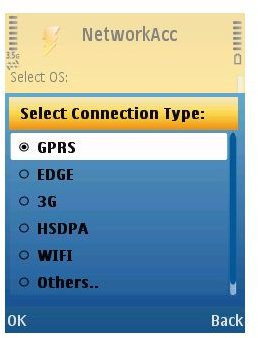 Then I was asked to select the type of connection I was using. The application allows you shift acceleration gears with a maximum value of 5 and you can choose any value depending upon how much acceleration you want. The entire process took a few seconds and after I had provided all the information I was guided to the 'accelerate' tab. It appeared from the get go that the installation, setup and use would be a breeze to learn.
The application then starts the memory acceleration process when you press the tab and then works in the background never disturbing you again. Most readers who use this app will probably agree with me that the application has an extremely easy user interface to learn and you just have to go through a few simple configuration steps to start using it. I cannot say that the application boosted my network performance to a maximum level but I must admit that I felt a significant change. I noticed that websites opened a little faster and I had a slight boost while downloading songs from the Internet. I had tested the application in my standard use areas as well, thus ensuring that the network I was using during testing was operating as it normally would.
Finally, this application is compatible with almost all Symbian and Blackberry phones and you will be asked to select your operating system while configuring the application. Be sure to select the right operating system and network carrier to get the maximum out of this application.
Final Verdict
I wasn't completely convinced bssy the performance but NetworkAcc has one of the easiest user-interfaces I have used on any Symbian application and I was able to configure it within a few seconds. I am not sure whether I had the proper network performance boost the companies marketing material advertised but I surely felt a significant change while opening my websites, however those fast load times could have been caused by a number of variables.
I can't stress enough that It seemed to work but not in a way that manufacturer claims on its website. Overall, this application is worth giving a look and you can download the free trial version to try it before buying the final product.
References
Emobi Studio, https://www.emobistudio.com/networkacc.asp