The Samsung Galaxy S 4G is not the successor to the original Samsung Galaxy S, but rather an upgrade to the Samsung Vibrant.for T-Mobile. T-Mobile has done an amazing job enhancing their new "4G" network and has released several smartphones capable of using the high speeds of the network. The original Samsung Vibrant was unfortunately not one of the smartphones that could use 4G, unlike its brother, the Samsung Epic 4G on Sprint. The Samsung Galaxy S 4G is Samsung's, and T-Mobile's attempt to add a new 4G smartphone while also updating an already popular, powerful smartphone. Verizon had a similar update with the Samsung Continuum over the Samsung Fascinate, but unlike this moderate upgrade, it was considered a wholly new phone to the series.
Samsung Galaxy S 4G Specifications:
Dimensions: 4.82 x 2.54 x 0.39 inches (122 x 65 x 10 mm)
Weight: 4.16 oz (118 g)
Display: 4 inch Super AMOLED capacitive touchscreen display, 480 x 800 pixels
Memory: 1 GB + 32 GB MicroSD
OS: Android OS 2.2
Processor: 1 GHz Hummingbird Processor
Camera: 5 megapixel camera, 2592 x 1944 pixels, Autofocus (2 Cameras, 1 front facing)
Connectivity: GSM 850, 900, 1800, 1900 / UMTS 1700/2100, 2100
Data: EDGE, HSPA+
Bluetooth: Bluetooth 3.0 with A2DP
GPS: GPS with A-GPS
Battery: Li-Ion 1650 mAh
Design and Display (4 out of 5)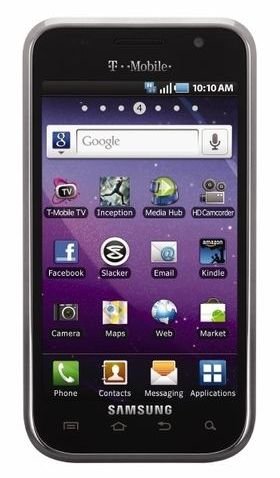 The Samsung Galaxy S 4G looks very much like the original Samsung Galaxy S version for T-Mobile, the Samsung Vibrant. The front is once again dominated by a 4 inch Super AMOLED capacitive touchscreen display. The display is vibrant and colorful with a very wide viewing angle, thanks to the Super AMOLED technology. To the right is the power / lock button, on the left is the volume rocker and up top is the 3.5 mm headphone jack and microUSB with sliding cover.
Rounding out the back is a different cover than the original Samsung Vibrant. The Samsung Galaxy S 4G has a silver, almost frosted look on the back. The 5 megapixel camera still exists on the back, and it still lacks any type of flash. Another new aspect is on the front, right above the display on the upper right corner. Look closely and you'll notice the addition of a front facing camera.
Overall, not much has changed in this moderate upgrade on the Samsung Galaxy S 4G. The easiest to spot differences from a design perspective are the newly finished back cover, and the small front facing camera. The Galaxy S 4G is still extremely light like the predecessor.
Hardware and Software (2 out of 5)
The Samsung Galaxy S 4G comes with the familiar 1 GHz Hummingbird processor, capable of running the Android platform that it comes preloaded with, though it is a bit laggy. The Samsung Galaxy S 4G is preloaded with Android 2.2, unlike 2.1 like its predecessor. One thing to note, however, is that the Samsung Vibrant now has an update available for it to be upgraded to Android 2.2. The Samsung Galaxy S 4G also comes with TouchWiz 3.0, not 4.0 like the Samsung Galaxy S 2 will come with.
Disappointingly the Samsung Galaxy S 4G only comes with 1 GB of internal storage which is a lot less than the 16 GB offered by its predecessor. For a smartphone that was supposed to be a minor upgrade, they actually downgraded in an important aspect of the phone.
User Interface (2 out of 5)
The Samsung Galaxy S 4G is disappointing due to the lag on the smartphone. With a live wallpaper background and news feed widget enabled, the smartphone ends up being extremely choppy. It can easily be compared to the LG Optimus T, which is a cheaper Android powered smartphone on T-Mobile. There should be no reason that a smartphone that is a minor update to the Samsung Vibrant would lag, but the Galaxy S 4G manages to achieve this.
It's strange considering the Samsung Galaxy S 4G pretty much packs the same software, Android with TouchWiz 3.0. It can't be the version of Android, as the Samsung Vibrant runs smoothly with Android 2.2. Whatever Samsung did with the Galaxy S 4G, they made very disappointing. This is a stark contrast to the Samsung Infuse 4G being released on AT&T, which was smooth and fast and had connection to AT&T's HSPA+ (4G) network.
Features (4 out of 5)
The Samsung Galaxy S 4G comes loaded with some familiar features, namely the 5 megapixel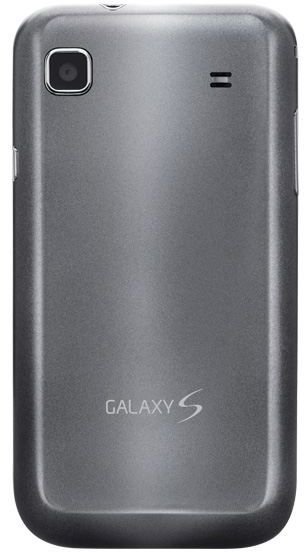 camera that can record up to 720p HD video. There's no LED flash, like the original, which is a bit disappointing. The Samsung Galaxy S 4G also comes with a front facing camera, finally being able to rival its predecessor on Sprint, the Samsung Epic 4G. It's not the best in quality but it does its job.
Since the Samsung Galaxy S 4G utilizes T-Mobile's new 4G network, it can also share the network. The Galaxy S 4G can be used as a Wi-Fi hotspot and can connect up to 5 different devices, though it does have an extra cost associated. The 4G network has a theoretical peak of 21 Mbps depending on location, which is blazingly fast.
The Galaxy S 4G also comes preloaded with a movie, similar to the Samsung Vibrant. Instead of Avatar, the Galaxy S 4G comes with Inception. It's a good choice of a movie, however, it's not as easy to play. When you click on the Inception icon, it doesn't immediately play, instead, you're brought to the media hub and asked to sign up. You have to go to your applications and use a file explorer to get to the movies folder and play the movie. Or open it using a video player. A minor nuisance but T-Mobile should've just made it play immediately.
The Final Verdict (3 out of 5)
The Samsung Galaxy S 4G ranks in the 'Average' category. While the original Samsung Vibrant was a breath of fresh air to a stagnant T-Mobile line up, the Galaxy S 4G actually acts as a bit of an insult to T-Mobile customers. It hasn't even been a full year yet, meaning customers who bought the Vibrant can't get the Galaxy S 4G at a discount. Even if they were able to, it's really a negligible upgrade, and in all honesty, a step backward.
The lag is a huge killing factor for the Samsung Galaxy S 4G. In addition, while the battery size has been increased to 1650 mAh, it seems to run out of battery faster. With live wallpaper enabled, and some Internet radio applications running for about an hour, and about 30 minutes or so of calling, it lasted a little over 5 hours, which is a huge disappointment. Also, with Gingerbread becoming readily available to smartphones, one has to wonder if the Galaxy S 4G will receive an update soon or have the massive lag time for updates like its predecessor.
Overall, a disappointment from T-Mobile and Samsung. While AT&T and Verizon updated their Samsung Galaxy line up with the Samsung Infuse, Samsung Continuum and an unnamed Samsung LTE device, T-Mobile took a very weak approach releasing a smartphone that should've been a bigger update. While people who already have Android powered handsets may not feel the need to get the Samsung Galaxy S 4G, new users interested in getting a smartphone should try picking one up.
References
Source: Author's experience
Image Credit: Mobilecreek.com, https://www.mobilecreek.com/wp-content/uploads/2011/02/Samsung-Galaxy-S-4G.jpg
Image Credit: iTechTalk.com, https://blog.itechtalk.com/wp-content/2011/02/samsung-galaxy-S-4G-2.png