What is the Best Contract for the Samsung Galaxy S II?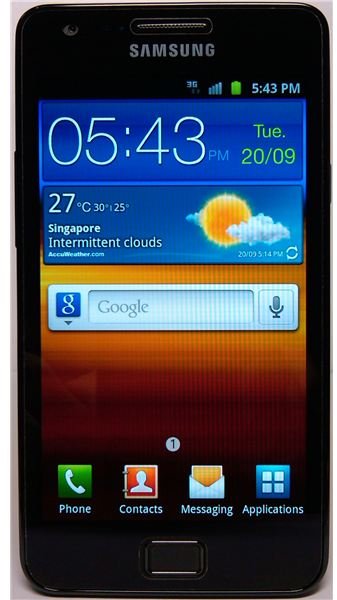 The Samsung Galaxy S II smartphone is attracting a lot of attention from mobile phone buyers as a good quality alternative to Apple's iPhone. It is also being seen by many existing Android phone users as the current pinnacle of the platform, and has become the first choice for anyone upgrading from an older Android device.
After all, the Samsung Galaxy S II has a 1.2 GHz dual-core processor (or a 1.5 GHz CPU if you're buying from T-Mobile) and up to 32 GB of storage. With front and back facing cameras, AMOLED display, and various connectivity options (not all handsets are 4G, so be aware of this when shopping).
With more and more top quality smartphones coming onto the market, the time is right to be settling on a specific model and a favorable contract that offers exactly what you need to use the phone in a way that suits you.
What You Should Look for in a Contract
This might mean having plenty of call time and text messages, or it might mean that all-important 4G access. Either way, simply finding a contract and clicking "buy" isn't the way forward. Instead, you should spend time checking that the version of the handset you're looking at is the right one and that there are no hidden extras in the contract. You should also be familiar with the term of the contract, as this might not suit your current situation.
With the Samsung Galaxy S II, you should probably be looking for a contract that benefits and complements the phone. For an Android handset that features access to thousands of apps and games, this probably means online access. But for making calls and sending texts you should also have something in reserve just in case.
Top Samsung Galaxy S II Contracts
So what contracts can you expect to find for the Samsung Galaxy S II?
It can depend on where you live. For instance, the Samsung Galaxy S II Epic 4G Touch available on Sprint is as little as $149.99 if you live in a suitable area, but could be over $600 in other locations.
This price includes shipping with FedEx as well as a free 2 GB backup service if you purchase via Wirefly.com. On top of this, various monthly plans are on offer with Sprint, from $69.99 for 450 minutes and unlimited texts, Internet and 3-way calling to $99.99 for unlimited monthly minutes. Note that family plans are available alongside individual contracts, and this route offers a reduction.
The Samsung Galaxy S II can be purchased on AT&T for the slightly smaller sum of $144.99, and again this includes free shipping. Again, this is a location-based price, so your zip code could prove crucial in getting a good deal.
For instance, you might get 900 minutes offering inclusive calls at any time, unlimited calls at weekends and to other AT&T numbers as well as unlimited calling to five favorite numbers. You can also rollover any unused minutes. All of this costs just $59.99, and a similar rollover package of 450 minutes and 5,000 night and weekend minutes is also available for $39.99.
Meanwhile, AT&T offer 4G at $15.00 for 200 MB of data or as high as $45 for 4 GB which includes tethering. Text messaging is available at 20 cents a message or $20.00 for unlimited texts.
Finally, the Samsung Galaxy S II can be found on T-Mobile for $229.99 and this comes with a $50 rebate and many data and call options, ranging from the unlimited text, calls and 200 MB option at $69.99 to the completely unlimited (up to 10 GB) option at $119.99.
Various other options are available with T-Mobile, but you might find things can get confusing. If you just want to talk, 500 minutes will cost $39.99 per month.
You Might Want to Overlook AT&T
Naturally, you're going to have to spend some time researching your decision. This might involve getting feedback on the call quality and actual data speed of the network in question, both nationwide and in your region. However, given the high price of their data plans you might want to give AT&T a miss, depending on where you live.
Remember that these contracts are all over 24 months, and that they all have a buy-out clause. Naturally, unless you're extremely well-off you don't want to invoke one of these clauses, so you should plan your contract choice around your finances and what you can afford. The last thing you want to do is get yourself into financial trouble over something like a mobile phone!
For peace of mind, however, you should certainly consider mobile phone insurance. Once again, you will need to spend some time researching which insurance is best, but with a good policy you can pay for repairs or a replacement in the event of theft or damage.
References