Top 5 Samsung Restore Cases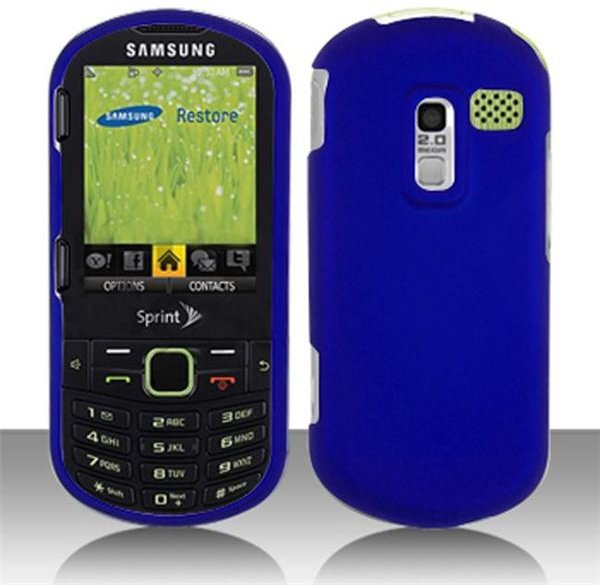 Samsung Restore M570 Blue Protector Case
This electric blue protective case for the Samsung Restore, suits the phone's offbeat styling perfectly. The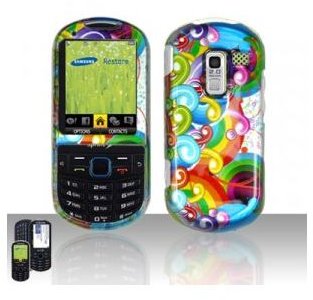 Samsung Restore M570 Blue Protector Case is made from rigid plastic, and is designed specifically for the Restore, so fits the shape of the phone perfectly. It covers the back and sides of the phone, so a screen protector would be a wise investment at the same time; although the design does feature precision cut outs so you can still access all your ports, buttons and camera without having to take the case off. The snap-on design is easy to put on too, meaning protection is instant.
Also available in black, red, pink, and purple, as well as more quirky and vibrant designs, like the one shown (right).
Image: Soulwireless.com
Body Guardz Custom Designed Clear Protector for Samsung Restore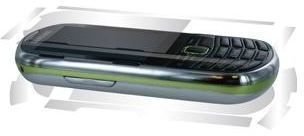 This product from BodyGuardz isn't so much a Samsung Restore case, as a protective device; but it is nonetheless worth considering. It will suit users who don't want to add any bulk to their phone at all, and who want to retain the looks of their phone, whilst keeping the phone protected.
The Body Guardz Custom Designed Clear Protector for Samsung Restore is made of tough stuff that belies its looks. The ultra-thin construction is durable and high quality, being made from the same material that is used to protect cars from stone chips. Each part of the protector is custom designed for the Restore, ensuring every part of your phone is protected (even the screen), but the precision cut-outs still leave all your functions available for use. The film is so incredibly tough, it will protect your phone impeccably. It is smooth and unobtrusive once applied to your phone, so you will hardly know it is there.
Hard Crystal Snap-on Case for Samsung Restore M570 - White Rainbow Butterfly Print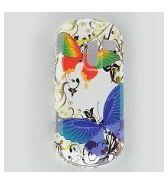 The Hard Crystal Snap-on Case for Samsung Restore is a striking design which will not appeal to all, but it certainly will make your phone stand out from the crowd. Made from long-lasting and durable rubber, it is a tactile case with the added benefit of making sure you have a good grip on your phone, so are less likely to drop it in the first place. If you are accident-prone though, this hard snap-on Restore case will protect your phone from drops and scratches, but make sure you buy a screen protector at the same time as the case doesn't cover the front of the phone. The case has openings for all functions and buttons that you need to access, while the rest of the case hugs your phone superbly - being molded to protect the Restore specifically.
Samsung Restore M570 Phone Protector Case - Clear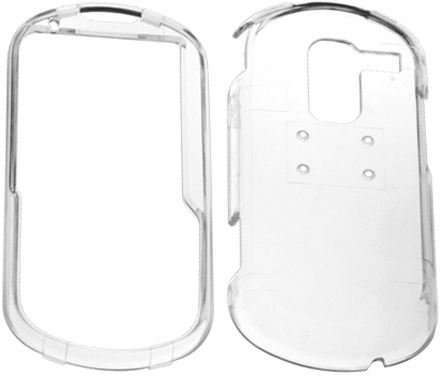 There is little to dislike about the Samsung Restore M570 Phone Protector Clear Case. Being made specifically for the Restore means it is a perfect fit, and the clear design means that the looks of the phone aren't impeded in any way. It comes in two pieces that easily snap on to the front and back of your phone, keeping your Samsung Restore perfectly protected and safe, but is designed so as to leave all functions available - so you can use all your phone options even with the case on. The material is lightweight and durable, adding little bulk to your phone but adding maximum protection.
Samsung Vertical Pouch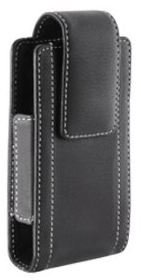 For a more traditional method of protecting your Samsung Restore, you might want to consider the Samsung Vertical Pouch. It's made of weather resistant polyurethane, that is tough and durable but retains good looks. The added white stitching adds a great contrast, and for little more than 8 dollars, it's a pretty good looking case. Your phone is kept in place with a magnetic clip on the case, but it's designed to make access easy. The plus point of this option is that your phone is entirely protected, and it contains just enough "give" to permit use of a snap-on case too.
As one of the few eco-friendly mobile phones out there, it's a shame that, during the course of my research, I wasn't able to find any covers or cases for the Samsung Restore that had equally good green credentials. Nevertheless there is a good range of Samsung Restore cases here that should offer something for most users, and if you know of any eco-friendly cases specifically for the Restore then please let me know.