Highly Recommended Motorola Droid 2 Cases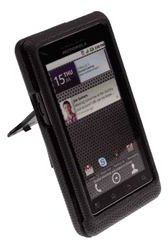 Body Glove Original Snap-On Fitted case – Black
The black colored Original Snap-On Fitted Case by Body Glove is custom designed to perfectly fit your phone like a glove. It is manufactured using premium quality material that allows better grip to prevent any accidental slips or drops. The Body Glove case comes with a removable knob and a quick release locking swivel belt clip at the back portion of the case. The knob and the clip can be easily and rapidly removed any time for the user's convenience. The belt clip can also be converted into a kickstand for an excellent viewing angle. This extremely attractive snap-on case, which is suited for any occasion, costs just $22.99.
Hard Plastic Snap-On Case – Purple Love
The Hard Plastic Snap-On Case with Purple Love design gives a totally new feminine look to your phone and adds a touch of class. This is another example amongst Motorola Droid 2 cases that is ingeniously created with a highly durable and quality shell for ultimate phone protection against bumps and drops. The hard plastic case comes with various openings or windows to allow fast and easy access to all of your phone's functions. This particularly adorable case is so easy to install. Just a simple snap-on and your Motorola Droid 2 will have a new fantastic look. This Purple Love case costs $12.99.
Seidio Innocase Surface Case – Blue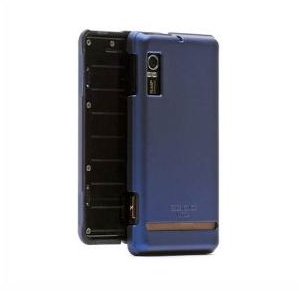 The Seidio Innocase Surface case is specifically manufactured using durable, high quality and lightweight polycarbonate plastic. The case is designed with a soft touch coating for a great feel and a much more secure phone grip. The case has custom made cut-outs for all the phone's controls, camera, ports and other features. The Innocase Surface can give your phone a totally new sophisticated look and this 1mm ultra thin case won't add noticeable bulk. This also comes in a variety of colors like black, purple and red for $22.91.
Superior Rubberized Hard Case with Holster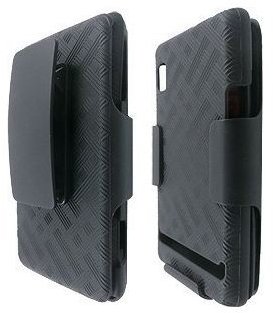 Another highly recommended Motorola Droid 2 case is the Superior Rubberized Hard Case with Holster. This case is made from high grade rubberized material with a criss-cross textured finish for easy grip. This is designed to allow fast and easy access to all of the phone's basic functionalities. The Superior Rubberized Hard Case also has a rotatable belt-clip to easily adjust your phone to a horizontal or vertical position. This is a highly elegant case that provides the utmost phone protection for only $15.82.
Rubberized Premium Phone Hard Case – Colorful Stripes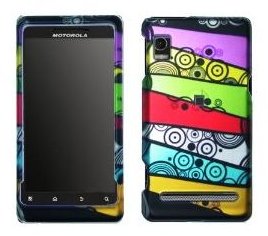 The Rubberized Premium Phone Hard Case with a colourful striped design is fascinatingly eye-catching. It is ideally made for people who want to add a flashy and multi-colored visage to their device. This is made of sturdy and high quality plastic material that can shield your phone from unwanted dirt, scratches and bumps. This case perfectly fits every curve of your phone. Give your Motorola Droid 2 a new hip and funky look for just $7.50.