Must-Have Accessories: iPhone Holster Wallet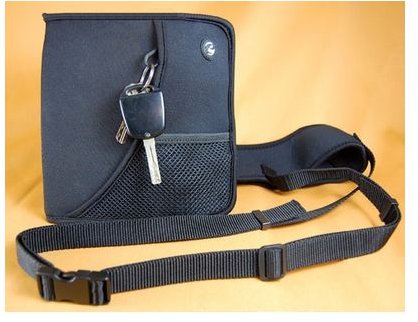 e-Volve Gadget Holster – Black
The new e-Volve Gadget Holster is made from lightweight, high quality and durable nylon and neoprene materials. It is specifically designed to conceal, carry and protect your iPhone, its accessories, other electronic gadgets and personal items. This extraordinary "carry-all" wallet holster is extremely comfortable to wear and it comes with a highly secured closure flap with magnetic snap, a front mesh pocket, a passport pocket and a quick release shoulder strap. It has has an arched pocket with a hidden key clip and an internal wire hiding conduit system. This e-Volve gadget holster is a must-have iPhone holster wallet. It costs $39.95 only.
Front Pocket Wallet w/ iPhone pouch - Black
The Front Pocket Wallet w/ iPhone Pouch is expertly handcrafted using durable and high quality nylon, leather and soft felt materials. Its universal iPhone pouch with elastic sides provides total phone security and protection against bumps, drops and scratches. It also has an ID holder slot, two extra card slots for credit cards and business cards and a zippered coin pocket. This totally elegant black colored wallet with pouch costs $34.95 only.
Horizontal Swiss Carrying Holster – Brown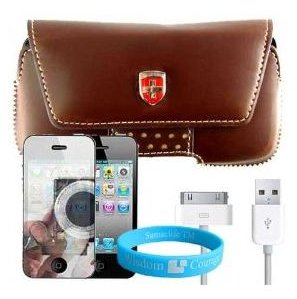 Another highly recommended iPhone holster wallet is the Horizontal Swiss Carrying Holster which is made from sturdy and high grade leather material. It comes with a rotatable belt clip to easily attach it to your belt and bag strap for total security and maximum portability. It also has a protective magnetic exterior front closure and a non-scratch interior lining. This horizontal holster comes with a Mirror Screen Protector, OEM Data Cable and a Wisdom Courage Wristband for just $19.99.
e-BeltPouch Belt Holster with Leather Case – Black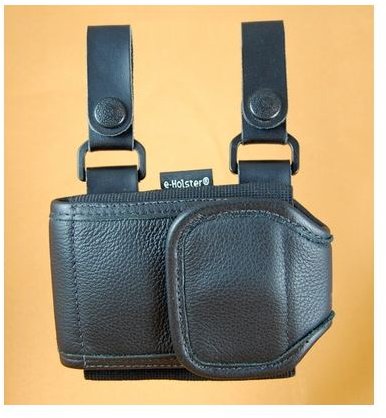 The e-BeltPouch Belt Holster with Leather Case is ideally designed for smartphones such as the iPhone, Palm Treo and BlackBerry. This is made from durable and high quality leather to give ultimate protection to your device. It is worn horizontally and it guarantees total comfort and security. It comes along with a quick release safety flap, e-BeltSnaps, modular case and an elastic pen holder. This e-BeltPouch with leather case has an extremely unique design with a touch of elegance for only $49.90.
Carabiner iWallet 2 in 1 Wallet & Phone Holster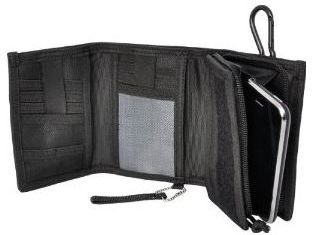 The Carabiner iWallet 2 in 1 Wallet & Phone Holster is an ultra versatile iPhone accessory. This tri-fold wallet consists of an emergency key pocket, 7 credit card slots, 3 larger card slots and 2 SIM or SD card slots. It also has currency dividers and a zippered pocket for coins or other personal items. Another feature is the removable carabiner to easily and conveniently clip the iWallet to your belt, pants or purse. It also includes a belt loop for extra security against accidental loss or drops. This iWallet is made from durable and superior Ballistic Nylon and YKK Zipper and it costs $36.00.