iPhone 4 Holster Round-Up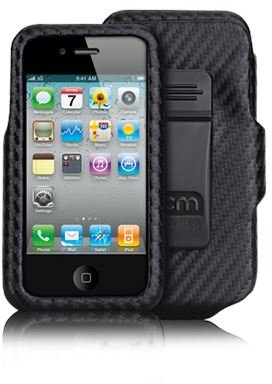 Case-Mate iPhone 4 Carbon Fiber Case Holster Combo
By its looks alone, there's no reason why you wouldn't fall in love with this Case-Mate iPhone 4 Carbon Fiber Case Holster Combo. It looks classy, elegant and truly emits a professional form factor with a touch of ruggedness courtesy of the uneven texture brought about by its first-grade Napa leather material wrapped around an impact resistant molded shell. Its form-fit leather cradle holds your precious iPhone 4 while in the leather case ensuring that your iPhone 4 is fully protected at all times. This iPhone 4 holster is probably the most secure way of carrying your iPhone 4 on your belt. The iPhone 4 holster also comes with a multi-directional, 360-degree ratcheting belt clip which lets you adjust it for maximum comfort while standing or sitting. The case also has the appropriate cut-outs to let you access all of your iPhone 4's essential ports. (Price: $49.99) Buy the Case-Mate iPhone 4 Carbon Fiber Case Holster Combo.
Otterbox Defender Case for iPhone 4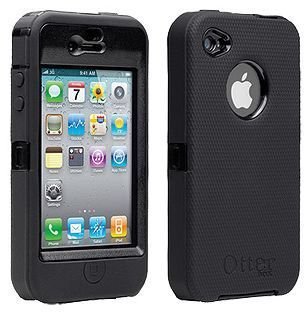 Since we're talking about cases and holsters, what good is a list without including an Otterbox Defender Case? This time for the iPhone 4, Otterbox has come out with a semi-rugged, fully interactive case that allows complete usability of your iPhone 4 in a sleek design that provides distinguished protection. If you've purchased previous Otterbox Defender Cases, you'll know that Otterbox cases are great for people on the go who want optimum protection for their phones. The Otterbox Defender Case for iPhone 4 boasts the following features - clear membrane for scratch, dust and water protection, hi-impact polycarbonate skeleton, silicone skin for absorbing bump and shock, texture silicone exterior for improved grip, inner felt liner cushions, patented membrane, protective screen membrane, and rotating belt clip holster that can also be used as a kickstand. (Price: $45.99) Buy the Otterbox Defender Case for iPhone 4.
Seidio Spring Clip Holster for iPhone 4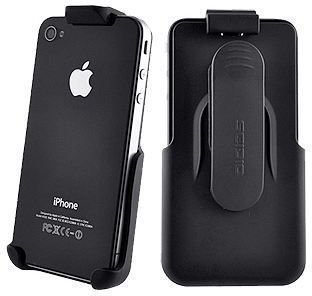 Aside from the Otterbox Case brand, Seidio is also one of my favorite phone case and accessory makers. For their iPhone 4 holster, we've got the Spring Clip Holster for iPhone 4. This iPhone 4 holster secures your iPhone 4 on all of its sides. It has a unique spring-clip that holds your iPhone 4 securely and lifts for quick access. Of course, it also sports the trademark Seidio soft-touch rubberized textured that provides a unique look and extra protection to your iPhone 4. This iPhone 4 holster also has a face-in design that protects your iPhone 4's screen and features a soft interior padding. To prevent scratching your iPhone 4 when removing or attaching it to the holster, rubber padding on the spring-clip has been included. It also has a locking swivel belt clip that rotates through 7 angles. (Price: $28.99) Buy the Seidio Spring Clip Holster for iPhone 4.
What is the Best iPhone 4 Holster?
So which among these three iPhone 4 holsters is the best? For its sleek and simple look and form factor I will have to go for the Otterbox Defender Case. Don't get me wrong here, both the Seidio and Case-Mate are equally good iPhone 4 holsters. But the Otterbox Case has an extra touch of class and makes your iPhone 4 feel like it's not wearing a case at all.