Best Motorola Droid Car Mount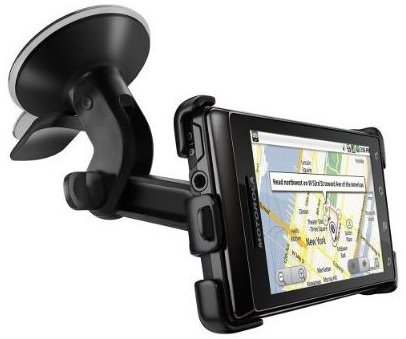 Motorola Car Mount
It should come as no surprise that the company that created the device itself is also responsible for creating the default go-to car dock option. The OEM Motorola Droid car mount performs admirably in all respects. Quality of materials, solid construction, and a sleek form factor make the standard Droid car mount your best do-it-all option.
Perhaps the number one reason for wanting to mount your smartphone in your vehicle is for ease-of-use when it comes to navigation. In this respect, having your phone mounted to your windshield is ideal, and the Motorola dock offers just that. The suction cup mounts sturdily and will leave nothing behind when unmounted. Unfortunately, some people are turned off by having their phone mounted to their windshield glass, and in some areas it is actually illegal and considered a distraction and/or blockage of the driver's view.
The Motorola mount also features fast-charging from the cigarette lighter port on your dash. This is a relatively universal feature in all the premium car mounts currently available, so it isn't really a selling point one way or the other.
Overall, the OEM Motorola Droid car mount is the best option for almost all general-use purposes. From navigation software to playing music on the go, Motorola has made the best optional add-on for its own product.
Alternative Droid Car Mounts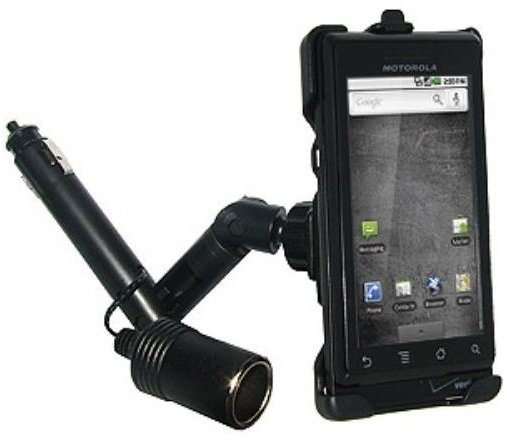 As with any popular mobile device, there are plenty of 3rd-party alternative accessories for the Motorola Droid. When it comes to car mounts, a couple stand out as being different and possibly better suited for more specific needs.
If you like you car mount with as little clutter as possible, the Amzer Lighter Socket mount (pictured right) may be what you're looking for. Featuring a rigid, yet adjustable stalk, it plugs directly into your vehicle's cigarette lighter and makes for one of the more unusual options available for the the Motorola Droid. It includes an additional socket on a separate dongle that allows for multiple charging from the same lighter outlet.
There is one massive drawback to this option however; the phone mount itself blocks the audio jack on the phone, meaning that it's good for using your phone as a navigation tool, but not much else. Essentially, you won't be playing any music while this is connected to your device.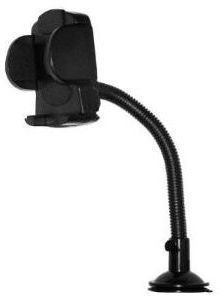 If you like your car mounts with a little less charging and a little more flexibility, you could always go with a generic holder such as this one (pictured left) sold by Accessory Export. It has the fewest bells and whistles of all the options, but it does one thing very well; hold your phone wherever you want it to be. Using a suction cup that can be mounted anywhere, and a long flexible stalk, this universal mount can hold your phone anywhere. The obvious drawbacks are that it does not charge or connect your device to your vehicle's audio system. A bare-bones option, but also the least expensive dock available.