Top Three Cell Phone Car Mount Options for the HTC Smartphone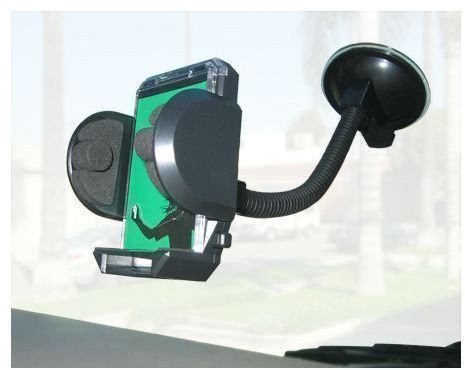 Cell Phone Car Mount
Having a car mount that you can slot your HTC smartphone into when you're on the road is undeniably handy. No rummaging around to find your phone and no need to use your hands. In conjunction with a cell phone car charger, and a hands free kit, a cell phone car mount is ideal.
The majority of HTC's output are Android phones and therefore you can get free directions using Google Maps Navigation. If you plan to use your mobile phone as a GPS device then some kind of cell phone car mount is downright essential.
The vast majority of car mounts come in three categories. You can get mounts designed to fit into your air vents, you can get mounts designed to stick to the dashboard or windshield with suction cups, and you can get mounts that fit into a cup holder. We'll have a look at examples in each category.
HTC Series Car Mount
First up is a versatile cell phone car mount that can fit into your horizontal air conditioning vent or be hooked up to a suction cup attachment with a flexible arm. It even comes with an adhesive disk which you can stick onto the dashboard - giving you the option of attaching the suction cup there if you prefer not to have it on the windshield.
The holding part of the mount has foam protection on the base and sides. You simply push a release button to slide it open, drop your phone in and then tighten it and release the button when the phone is snug. The groove at the back of the mount allows you to attach an air vent clip or the flexible arm. It is quick and easy to use with either attachment.
The backing is clear plastic and you can slide a photo of your choice into it so you have a photo frame when the phone isn't there. Hardly essential but it's a nice touch.
You can order this suction cup mount for $19.95.
Gomadic Car Vent Holder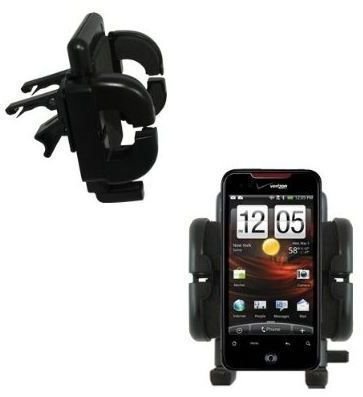 This is a fully adjustable mount which should work with most HTC smartphones. There is a release button which allows you to move the arms into place and the cradle part has thick rubber padding to prevent any damage to your phone. The vent clips can be adjusted to work with vertical and horizontal air vents, with a spring mechanism which holds the mount securely in place.
This cell phone car mount from Gomadic comes with a lifetime warranty and considering the price you'd expect one.
You can order this car vent mount for $24.95.
Bracketron Universal Cup Holder Mount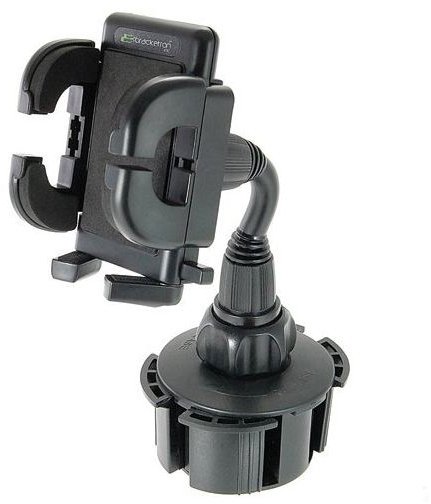 This is a cheap alternative which is designed to slot securely into your cup holder. Of course, if you don't have a cup holder or it's in an inconvenient position then this is not the mount for you. There is a short flexible arm, allowing you to rotate the mount. As with the other cell phone car mounts, you can adjust the cradle to hold your device securely in place. There is padding to ensure your phone doesn't get damaged.
You can order this cup holder mount for $12.30.
More Cell Phone Car Mounts
There are hundreds of other cell phone car mounts out there but these are three of the best. In general, because they are adjustable, car mounts are suitable for a wide variety of phones. If you want to be sure you get something specifically designed for your HTC phone you could always check out the HTC Accessory Store, but be warned - it is a bit on the expensive side.
References