The Best HTC Evo Car Kits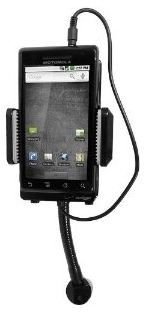 These are the best HTC Evo car kits to give you multiple functions in one complete component while offering superior quality and performance when traveling. Indulge yourself in a world of comfort and ease by implementing one of these amazing devices in your car. You will discover how much more relaxing driving can be, even during a hectic day when there is a lot to do.
Take a look at some fantastic features with each of these dynamic devices and see why they have been selected as the top choices for travel.
Advanced Car Mount System FM Transmitter & Charger
Considering which car kit is the best option for you depends on if it fulfills your most important
demands when traveling. This Advanced Car Mount System has three very important features in one package - that is a charger, FM transmitter and holder. It simply connects to the cigarette lighter adapter for a full boost of power on-the-go.
Included is a USB cable to charge your smartphone, as well as any other USB enabled devices. The transmitter features an LCD screen for viewing stations as you select them and has terrific sound quality. The phone holder cradles your handset securely and steadily, even on the roughest terrain – it has adjustable arms with cushioned rubber grips with a non-slip rest to give your HTC Evo exceptional protection and comfort. This dynamic car kit system gives even more versatility with its bendable, flexible neck and rotatable head for multiple stances so you can view your HTC Evo in a suitable position while you drive.
Bluetooth Hands Free In-Car Visor Kit
Take this Hands Free In-Car Visor Kit with you anywhere you go, although it is designed for using in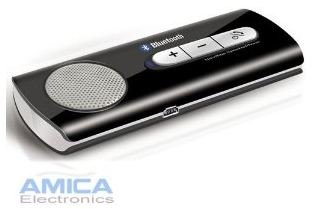 the car, this device can also be used in the office or at home. It uses Bluetooth technology to pair with your HTC Evo to provide hands free talking and has multiport support so that you can connect more than two cell phones if you want. It gives you quite a good amount of control when using your smartphone, including a one touch answer function, call rejection, last number redial, adjustable volume, plus a voice dialing function with voice activation.
You can count on echo free and noise reduced sound quality through a full duplex and high performance speaker, which also gives exceptional range. What's even more appealing with this car kit is its small size and compact design; it fits comfortably in the palm of your hand and has an ultra sleek form.
Premium FM Transmitter Car Kit with LCD
With this car kit you get dynamic audio broadcasting features to play high quality music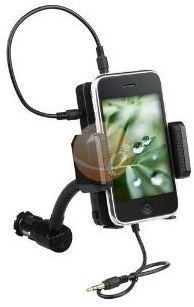 on your HTC Evo along with an iPod, PDA, MP3, CD or DVD player while going for a drive. It has a transmitter so you can tune in to any FM station and listen to endless digital music in crisp, clear audio. The transmitter has a great LCD display with an orange backlight, which looks great in the dark.
This car kit simply plugs into the DC input/cigarette lighter adapter of your car for long lasting functionality. Plus it has a USB connection through which you can charge your phone as well as other devices. It comes with a 3.5 mm male-to-male audio cable to conveniently connect the car kit holder to your phone.
Attached to the base of the holder, is a flexible gooseneck pipe for easy viewing, whether you are the passenger or driver. Its construction, however, cleverly includes a rotation prevention system so that your phone doesn't shift during vigorous driving. The holder creates a sturdy grasp to keep your phone in place, and has a silicone gel sheathing on the inner sides and back, to protect the device from being damaged.
GTMax Wireless In-Car Bluetooth Car Kit
Make and receive calls on your smartphone hands-free while driving with this GTMax Wireless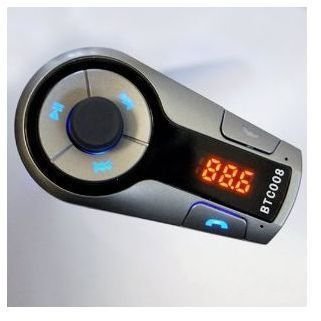 In-Car Bluetooth Car Kit. Users can also play music from their playlist on the HTC Evo through the speakers of the car. This device powers-up through the DC stabilizer in the car so you can experience non-stop talk time and audio for listening to music. You can connect this device with others, such as an MP3 player, with the use of a 3.5 mm jack without the Bluetooth function. This device makes it simple to access and control the volume, play and tune the music, plus answer and receive calls with just the click of a few buttons.
This featured HTC Evo car kit can be fitted into an attachable, flexible goose neck pipe and fully articulated head to provide a customized angling of your smartphone in the car. Also, you can easily uninstall and move the device to another vehicle to optimize its use. There is an integrated USB charging port too to skyrocket its functions. This complete package includes a mini and micro USB cable and 3.5mm cable.
OEM Motorola T-505 Bluetooth Car Kit
Here is another Bluetooth car kit for your HTC Evo smartphone, it wirelessly connects your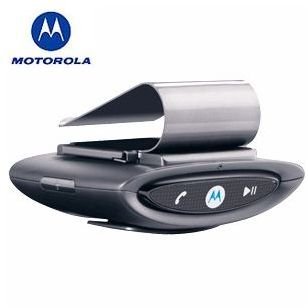 phone and car stereo for hands-free communication and broadcasting of your favorite music while you drive. There are control buttons on the front to easily manipulate the desired functions without any hassle or distraction from the road. It is very small in size and feel weightless in your hands, through a simple visor clip it snaps on to the visor in your car for convenient handling and control.
This intelligent device features a Stationfinder function that announces where to tune the FM radio for clear FM connectivity to the car stereo. There is also an Audio Caller ID feature that speaks aloud the number of the person calling during an incoming call, so you don't have to take your eyes off the road. It comes complete with a car charger so you can listen to music and talk all you want when traveling.
References