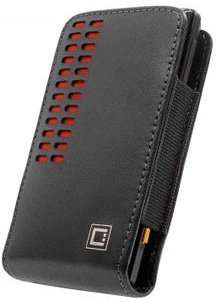 Here you will see various pouch designs in Kyocera Echo cases, some made from leather, neoprene and soft fabric material. Each case offers style and superb protection for your phone, you can count on a secure and custom fit as well as carrying versatility, quality and durability. Get a detailed description and highlighted features here and choose your favorite.
Cellet Bergamo Case
Expect nothing less than impeccable style and craftsmanship with this patented leather case from Cellet.
This case is made from high quality European leather and is sewn to perfection to give durability and lasting quality. A simple pouch design, this case allows easy retrieval of your phone and a snug enclosure with its smooth slightly padded interior and smart elastic sides that retract firmly when stretched. It has a very distinct perforated surface to one side with a red under layer to give it a nice trendy pop on the outlook of the case.
If you're looking for a slim fitting, lightweight case for your Kyocera Echo that is not too bulky, then this is the case for you. Also, it features a removable spring clip in the back for you to snap on to a pocket or bag strap.
Amzer Activa Sports Pouch
Take a look at this sporty pouch case from Amzer; it has a sturdy and firm enclosure to provide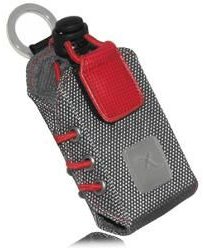 the ultimate protection. It is one of the strongest Kyocera Echo cases around, yet it showcases a very elaborate style and workmanship.
Its design allows for multiple carriages; you can choose to wear this case with an adjustable Velcro armband for the gym, jogging and other exercises or a detachable lanyard during work. Also, there is a belt loop and carabineer clip to snap on to your belt, handbag or pocket for convenient travel.
Slide In Neoprene Case w/ Belt Clip
This case has a very simple but classy design plus a unisex appeal for any consumer. Simply slide your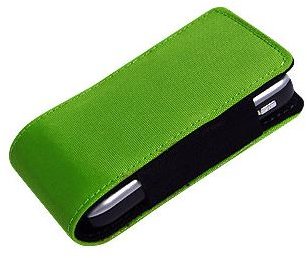 Kyocera Echo in and out of this case with no stress or snag. However, you may want to be careful when moving about, because, as you can see, there is no cover flap or strap to securely hold the phone inside the case. You can rest assured nevertheless, with its built-in elastic and expandable sides, that it does provide a snug and secure fit.
The sides of this case are slender in form to give a flat enclosure and its neoprene surface is a great guard against moisture of any kind, this will not prevent the phone from water damage, however, so please do not submerge.
For those of you who like to keep your phone at arms length with hassle free retrieval, this case comes with a super flat belt clip in the back to easily snap on to your pocket or bag strap.
Neoprene Sports Case Pouch Clip
If you want a casual sporty looking case, this Neoprene Sports Case Pouch is a great choice. The entire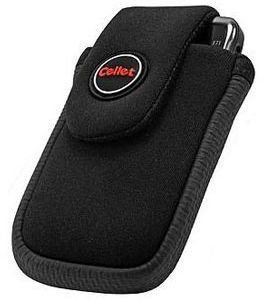 case is soft and flexible and makes for a comfortable and relaxed fit for your Kyocera Echo along with other similar sized devices. It has a cover flap that buttons firmly to keep your device securely inside. The edges are masked with flexible rubber to add to its sporty appeal as well as provide an effective shock absorber for the sides of your phone.
This versatile case has a slot in the back to accommodate two different clips - a fixed spring clip and an optional swivel 360-degree adjustment clip. If you choose, the clip can be completely removed for a flat, carefree look.
Black Red Zebra Pattern Leather Case Clip
Looking for a Kyocera Echo case with an exotic twist? This black and red zebra pattern leather case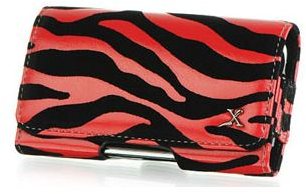 is the way to go. Get stylish protection with this beautiful, genuine soft leather pouch case and the ultimate convenience though its design. This case has a large cover flap that opens from a horizontal setting and houses a magnetic closure to keep your phone safely inside. It has a versatile fixed belt clip in the back for multiple carriage and portability.
The inside of this case is lined with soft leatherette material to keep your phone safe and protect it from surface damages. Even though this case is easy to open for quick and easy retrieval of your Kyocera Echo, a major drawback is the lack of immediate visibility of your handset especially upon receiving a call or text.
Universal Pouch with Belt Loop & Carabineer
This is a universal case and it is a perfect fit for your Kyocera Echo; it is made completely of a light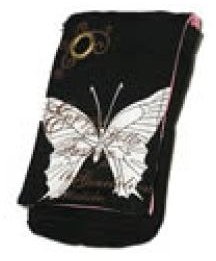 fabric material with a fashionable butterfly design both on the back and front cover flap of the case. You will find that this case gives a soft and smooth enclosure, is lightweight and easy to handle.
There is a pocket in the back to hold credits cards, coins, receipts – you name it. Also, you can show off this fancy case by carrying it around your neck with a lanyard (included) or simply strap a belt through the belt loops in the back. If you prefer, this case also comes with an optional carabineer that enables you to easily attach it to a bag, pocket or belt.
References