Top Choices for HTC EVO Motorcycle Mounts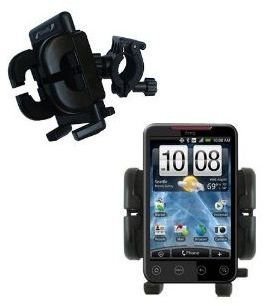 Now that you have your HTC EVO, it's time to take it for a ride. Whether you ride a motorcycle or bicycle, there is a mount here for you. These are the best kinds of HTC EVO motorcycle mounts you will find, offering superb protection and security for your device during rough, off-road terrain or long road trips. They are all designed to fit the HTC EVO smartphone even in a protective casing. Check them out.
Bike Handlebar Holder Mount System
Designed for the HTC EVO 4G, this bike handlebar mount has a three-channel clamp system to
accommodate for a wider range of handlebar diameters and a more accurate fit for your device. The clamps are rubberized and have an innovative ribbing system to prevent the mount from rotating on the handlebar during motion. Make sure to tighten the grip holder especially when traveling through rough terrain and long road trips.
This HTC motorcycle mount has an inconspicuous design; there is no over the top bulk or weight to worry about once it is installed to the handlebar. You will find accessibility is easy and removal - effortless.
Arkon Universal Mega Grip Motorcycle Mount
This versatile transferable mount can attach to the handlebar of your bicycle, motorcycle or ATV bike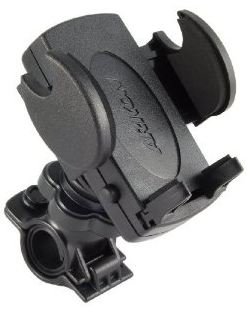 easily. The adjustable clasp that encircles the handlebar connects to an adaptable hinge, which makes positioning of the mega grip and phone effortless to any preferred angle while you ride.
The mega grip holder is cushioned and designed to work with nearly all phones including the HTC EVO even in a protective case or skin. It has an integrated side grip technology with a quick push-button mechanism to secure your phone in the holder and release when necessary.
RAM Motorcycle Brake Clutch Reservoir Mount
This RAM bike mount installs to both the brake and clutch reservoir on the rails of your bike. However,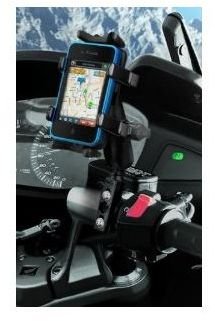 it only fits onto rails measuring 0.5" to 1.25" in diameter. The grip holder is designed to work with a long list of devices including the HTC EVO and you will find it has multiple pivot points, rubber ball and socket technology that allows for countless adjustments and viewing angles.
Additionally, it comes with (3 sets) of four flexible rubber coated fingers that are situated along the sides to tightly grip your device. To release, simply squeeze the ends and it will quickly open for you to remove the phone.
Universal Bike, Motorcycle Mount with Swivel Joint
A great HTC EVO motorcycle mount is this universal bike and motorcycle mount with swivel joint. It is easy to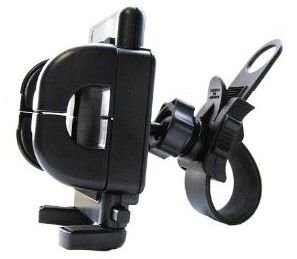 mount onto the handle bars of your bike with its strong elastic pull strap, which securely locks in place to brace your smartphone in place while you ride. There are no tools or additional accessories required, it comfortably holds your device and allows complete access and a good view of your phone.
The grip arms are cushioned and have an adjustable sliding system for additional support. The mount comes with a 360 degrees swivel tip that allows landscape or portrait viewing.
Bicycle & Motorcycle Handlebar Mount
This handlebar mount takes a strong and secure hold of your HTC EVO while on the move. It gives great

protection and braces your device on rugged, rough off-road terrain, which makes it great for ATV's and dirt bikes. The mount fits handlebars up to 33mm diameter; the side grip arms opens to 86mm and closes to 57mm. The side arms are cushioned for added support; there are moveable foot posts and the capacity for a 360 degrees rotational view for optimal convenience.
References