Ballistic iPhone Case Rundown: Do They Live Up To Their Tough Guy Image?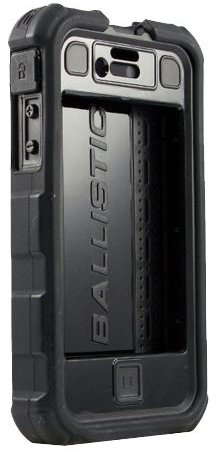 Rough & Tough Cases
Ballistic has enabled Apple's iPhones to become even more mobile by allowing them to operate safely in less-than-safe conditions. The Ballistic range of cases protect the fragile iPhone from scratches, dust and drops. These military influenced designs are tested to meet MIL-STD-810 specifications.
There is a shock absorbing ring around the edges, a detachable outer silicone layer plus a built in screen protector. These cases also include connector seals, waterproof meshes and strong lenses to make sure that dirt, dust, moisture and other corrosive matter does not enter the speaker, microphone and connector ports. These cases are the best if you are planning to push your iPhone to the limit.
iPhone Ballistic HC Series Case
The Ballistic HC is a tough iPhone case with a matching clip. It's specially designed to shield your iPhone and its ports from wet, dusty, or harmful surroundings. The HC (Hard Core) series case is a four part case that is made up of two clamshell hard case pieces that join together to guard the iPhone from impact, a detachable outer silicone layer for shock absorption, an integrated screen protector to guard against scratches and a 180 degree rotating belt clip, that offers the users the freedom to hang it anywhere.
The interior of the clamshell has a smooth and soft rubber mat in the back so that your iPhone won't get scratched. The bottom of the case allows only Apple's charging cable and doesn't accept any third party ones. In case you want to use a third party charging cable, you have to completely remove your iPhone from the case.
The inner case is also protected by an additional layer of silicon wrap that you may use the case with or without. If you want a slimmer look, you can ditch this extra layer, but it does offer extra protection from impact and shock. Another added benefit of this layer is that it protects your mute, headphone and dock connectors with rubber plugs.
The belt clip is well-built with a good rotating clip that makes it easier to sit down when wearing it.
Overall, the case is very good but bulky and expensive at $49.99.
iPhone Ballistic SG Series Case
Another cool but more traditional case from Ballistic, SG (Shell Gel) Series Case for iPhone 4/3GS/3G, is a two-piece cover with three layers of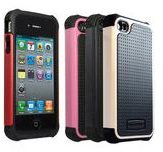 protection. The inside of the case is a soft rubber that helps absorb shock when dropped, the second layer is impact resistant poly carbonate and the third layer is shock absorbing line of protection made of soft silicone material. The back of the case has an interesting design with dot-textured rubber, a camera protector and nicely angled edges.
This case doesn't include a screen protection but does provide top and side button coverage for your iPhone. Those who cannot bear the inevitable bulk of the HC case series can buy this iPhone case between $14.99 – $34.99 from US retail locations and Ballistic's website.
iPhone 3GS/3G Ballistic Lite Series Gel Case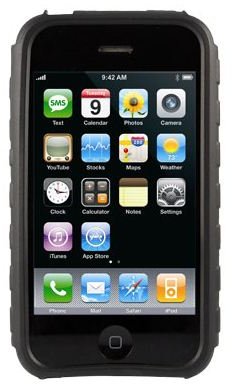 The Ballistic Lite Series Gel Case, is more like other cases for iPhone that have an open face. Though it looks standard, it still incorporates the multi-layer protection approach seen on other Ballistic cases. Its inner layer is made of soft silicone that increases both grip and shock protection. The case costs $17.99 and is available from goballisticcase.com.
If you are a hyperactive person who likes going crazy on the streets, in nature, or you have kids who play with your iPhone, or you are so clumsy that you drop your iPhone several times a day, then you should consider ultimate protection for your delicate iPhone. There are lots of cases for the iPhone in the market, but the most protective cases ever designed and built for iPhone are the Ballistic iPhone cases.
References
Ballistic, "https://www.goballisticcase.com/"
All images are the courtesy of the manufacturer_._