Best iPhone Accessory Kits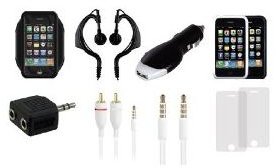 Guide to iPhone Accessory Kits
For iPhone lovers, great iPhone accessories are a must-have. With so much out on the market it's hard to weed through all the accessories that are available to find the good ones. In this roundup we're going to take a look some top iPhone accessory kits. There is a link to buy the kit with each item listed, but you may want to do a quick search to find the best deal. The links included were the websites with the lowest price available at the time the roundup was written. Kit prices and the best deals may change.
iSound 10-in-1 Accessory Kit for iPhone 3G/3GS
This affordable accessory kit gives you 10 useful iPhone accessories in one kit. With this iSound kit you receive:
2 silicone phone cases.
2 screen protectors.
1 armband case.
Earbuds.
Audio RCA cable.
USB car charger.
Audio sound splitter.
3.5mm audio cable.
This kit comes at a great price and gives you several basic iPhone accessories. The cases are only silicone and won't give you extreme protection and the earbuds are pretty basic, but it's still a great deal. If you aren't looking for high-tech, top-quality accessories, iSound is a great, affordable option.
iSound Accessory Kit - Link to Buy from Amazon - $18.98
Image Credit: Amazon, www.amazon.com
Griffin Technology Accessory Kit for iPhone

This car accessory kit gives you what you need for your iPhone on the go. Although there are only 3 pieces in this kit, they are very useful. The Griffin Technology Accessory kit features:
PowerJolt SE car charger.
Auxiliaryaudio cable - To connect your iPhone to the car stereo system.
iSqueez - Fits into your cupholder, makes it into a holder for your iPhone.
This car accessory kit is convenient and affordable, giving you handy items for your car trips. If you are one of those people who are always throwing your phone on the seat or into your lap while you're in your car, this kit will be great for you because it will finally give you a place to put your phone. There is nothing flashy or fancy about the items in this kit, but they are practical and useful.
Griffin Technology Accessory Kit - Link to Buy from Best Buy - $29.99.
Image Credit: Best Buy, www.bestbuy.com
Incase Deluxe Travel Kit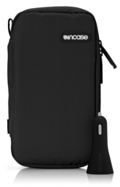 The Incase Deluxe Travel Kit is a great accessory to have when you will be traveling. The zippered case has room to safely store your iPhone and favorite accessories. This great iPhone carry case comes packed with:
Car phone charger.
iPhone stand.
This kit is a must have for travelers. It's the best way to keep your accessories in one place and protect your phone. You don't get a whole lot with this kit, but the case alone is worth the purchase. The car charger and iPhone stand are just added perks.
Incase Deluxe Travel Kit - Link to Buy from Apple - $39.95.
Image Credit: Apple, www.apple.com
XO Vision iPhone 4 Accessory Kit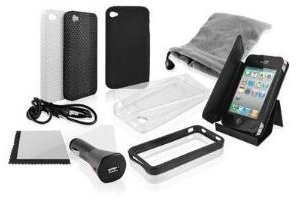 The XO Vision iPhone 4 Accessory Kit is an 11-piece kit of iPhone cases and protection accessories. The kit features:
Car charger.
Leather case.
3.5mm cable.
Carrying pouch.
Clear case.
iPhone stand.
iPhone 4 bumper.
Screen protector.
Cleaning cloth.
Hard plastic case.
Protective silicone case.
The XO Vision iPhone 4 Accessory Kit is an extremely affordable option for iPhone protection and a car charger. With multiple case options, a screen protector, cleaning cloth and carrying case, this kit is great for basic iPhone protection. If you want a high quality case, this may not be a great option for you.
XO Vision iPhone 4 Accessory Kit - Link to Buy from Sears - $21.16.
Image Credit: Sears, www.sears.com
Conclusion
Each kit featured in this article has something different to offer. For an overall accessory kit that features a variety of items, the iSound 10-in-1 kit is great. The best car accessory kit goes to Griffin Technology with the car charger/auxiliary cable/cupholder holster package. For frequent travelers, the Incase Deluxe Travel Kit is a must-have. But for the overall best deal, the XO Vision iPhone 4 Accessory Kit gives you the most pieces for your money.
Sources