The Top 5 Nokia 5800 Case Choices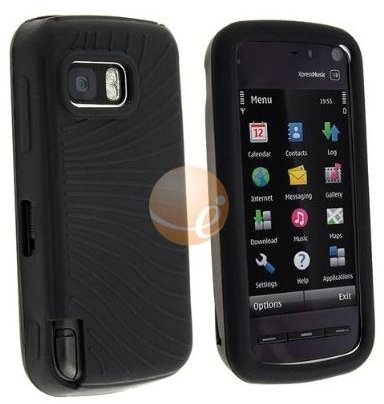 Nokia 5800 Xpressmusic Cases
Your Nokia 5800 Xpressmusic needs protection from dirt and stains. Fortunately, there are several protective silicone cases and holsters that resist dust and scratches and keep your cell phone safe. An ideal Nokia 5800 case must be stylish, rugged and sleek. It should protect your cell phone from bumps and should not be too bulky. Here's a rundown of the best Nokia 5800 Xpressmusic cases and holsters, that boast all the necessary features in protecting your cell phone.
eForcity Silicone Skin Case
This silicone skin case provides ultimate protection to your Nokia 5800 Xpressmusic. It protects your cell phone against dirt and grime. The case easily slips on to your phone and provides a rugged protection to the phone's sides and back. Made from smooth, treated silicone, the case resists any kind of stains and provides a better grip, thanks to the stylish textured design. The decently carved openings provide easy access to the front buttons, lock switch and the stylus slot.
The eForcity Silicone Skin Case is an ideal choice for users who want a protective, yet non-bulky case bumps while traveling. While everything is designed to perfection, users may complain about the absence of openings for the external volume control and camera switches. But the silicone case surely is a winner because it provides a better grip and overall protection against dust, scratches and stains.
GizmoReady Black Horizontal Holster Pouch
A holster pouch can be a great way to carry your Nokia 5800 safely while traveling. The GizmoReady Horizontal holster is one of the most comfortable pouches to keep your device away from dust and scratches. Your Nokia 5800 Xpressmusic easily fits in to the pouch, and is secured by its magnetic closure. The material quality is high and so is the stitching, making it a perfect traveler's companion. You can fasten the holster pouch to your waist belt using the sturdy belt clip.
So, if you are looking for a pouch that can easily carry your Xpressmusic without being too bulky, then the GizmoReady Horizontal Holster Pouch is the right Nokia 5800 case for you.
[Link to Buy.]
Naztech Vertex Protective Cover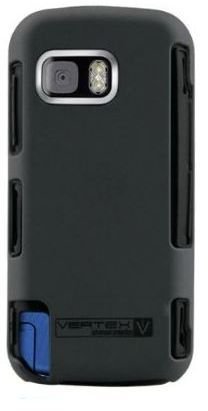 The Naztech Protective Cover provides double protection to your Nokia 5800 device. Its inner silicone core works as a shock absorber in case your device drops accidentally. The exterior shell is made from hard polycarbonate material that protects your device from scratches and damage, thus ensuring complete protection.
The Vertex Protective Cover has an elegant design that easily fits in to your mobile phone. You can easily access ports, buttons and the lock switch, without removing the cover. The case comes with a good LCD screen protector for complete protection and a cleaning cloth. The dual layered protection and superb design makes it an ideal Nokia 5800 case choice amongst other generic cases and covers.
OtterBox Impact Case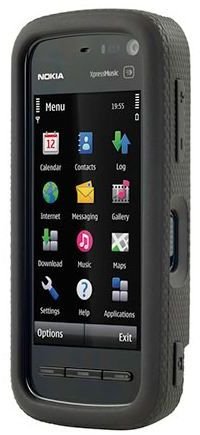 OtterBox cases are well-known for their smooth finish and sleek fit. The Impact case is specially designed for the Nokia 5800 to protect it from bumps and shocks. The inner coring around the corners and dual silicone protective covering dissipates any kind of impact away from the cell phone. Generic silicone cases are usually made up of hard plastic on the inside, which may leave scratches while removing, whereas OtterBox Impact easily slips on to your cell phone and can be easily taken off without scratching the cell phone exterior, thanks to the smooth silicone finish.
The OtterBox Nokia 5800 case comes with a protective screen to protect your resistive touchscreen from smudges and minor scratches. All buttons and ports can be easily accessed through the silicone case. However, the case is slightly more bulky than the eForcity Silicone Skin case. Well, the added bulk can be expected, courtesy of the impact absorbing material. And given the popularity of OtterBox cases, the Impact case for your 5800 Xpressmusic can be an ideal choice for complete protection to your device.
Krusell Classic Case for Nokia 5800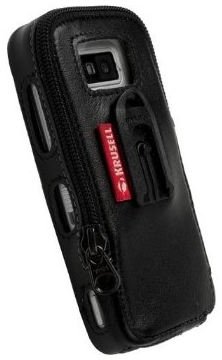 The Classic Case from Krusell, zip fastens your 5800 Xpressmusic to provide complete protection from dirt and stains. There is absolutely no chance of your phone falling out of the case. What's more, the front plastic cover protects the screen from water splashes, dust and grime, which makes this case ideal for traveling, adventure sports and other activities. It's the best carrying case for people working in dusty environments ,as there is no chance of dust accumulating due to its zip fastened closure.
The Classic Case's rear boasts a fold down cover that protects your Nokia 5800 Xpressmusic's camera lens from scratches. You can easily flip open the cover before capturing any photographs from the 3.15 MP integrated camera. The case easily mounts to your belt using different mounting clips. A standard belt clip is also included with the case. Made from durable leather, the Krusell Classic Nokia 5800 Case is a must-have for travelers.
References
Images courtesy of respective manufacturers.