Pantech Breeze Review for Seniors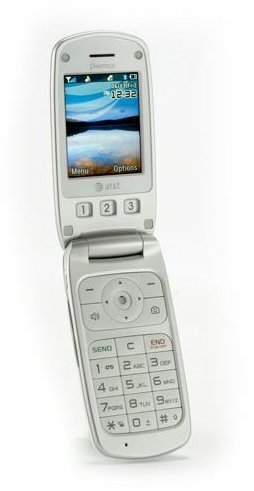 Pantech Breeze
The Pantech Breeze flip phone has incorporated many innovations which mark it as an elderly focused device but there are a few extra features that will attract people simply seeking an efficient and basic phone. The Pantech Breeze is definitely a phone for the masses with technology that appeals to the visually handicapped, aged population and also the general phone user.
Design (5 out of 5)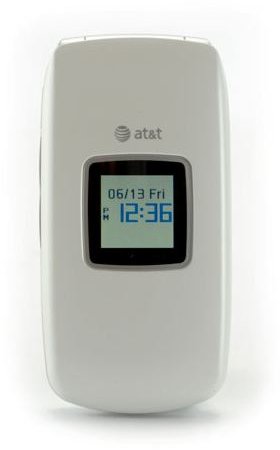 The Pantech Breeze is a visually attractive mobile phone. It is a slim and small device at 1.97 inches wide, 3.9 inches thick and 0.77 inches thick. It features curved corners and tapered sides to ensure a good grip. Its body is wrapped in matte plastic which can be purchased in either black or white. This entry level cell phone has large buttons, a loud volume, speakerphone function and a basic 2.2 inch display screen which supports 65,000 colors.
When the phone is closed it houses a 1.04 inch external screen which allows you to see the time, date, service strength and battery level. When there is an incoming call the external screen also shows the number, name or photo ID of the caller. On the spine is a volume rocker and a charger port. On the back is the camera lens. Upon opening the phone, users are confronted with ergonomically designed, large buttons. The bright display makes for sharp graphics and vivid colors.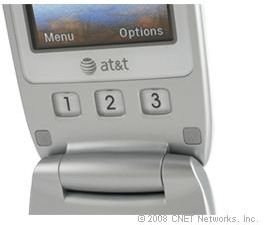 Directly underneath the display is a row of three numbered buttons. These quick call keys are numbered 1 through 3 and when pressed will dial pre-designated contacts. They can be also be set to dial emergency contacts. Underneath the quick call keys on the keypad area of the phone, are navigational toggles and soft keys. The navigational toggle has four options and a middle OK button. Each direction on the navigational pad goes to a predefined shortcut, such as the messages menu, alarm clock function or the contact list.
Below the navigational button are the Send, Clear and End/Power keys. There is no QWERY keyboard, the keypad is an alphanumeric design. The keys on the keypad are bubbled and large for effortless dialing and texting. There is also the option of hearing a tone whenever the keys are pressed.
User Interface (5 out of 5)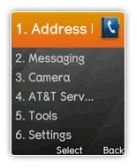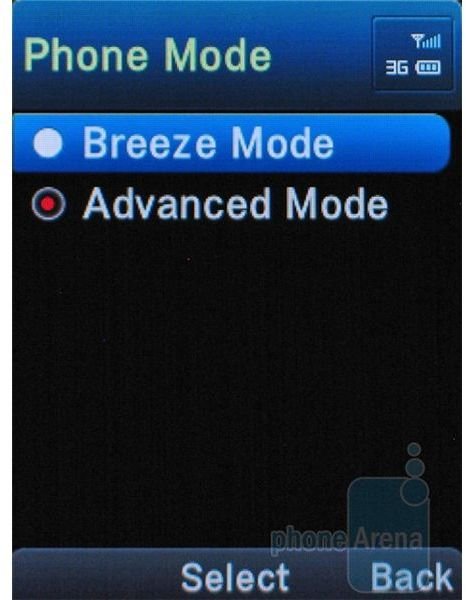 The Pantech Breeze features an easy to manipulate user interface featuring large font and minimal icons and options. There are two interchangeable modes with the Pantech Breeze which further promote usability. There is a basic and advanced mode.
Within basic mode, icons are changed to list form and options are simplified. Advanced mode is purely icon based. Within both modes, sub-menus are listed in large type. Because of this innovation navigating through menus and options is incredibly easy. Users are also able to adjust the typeface, font size and brightness of the screen for better readability.
Features (4 out of 5)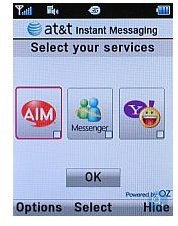 The Pantech Breeze is perfect for the elderly but also features a few unique applications and tools which make it the perfect entry-level device for anyone looking for a basic mobile phone. Some of its more basic features include an 800 limit contact book (capable of assigning each contact with 3 different numbers, 1 email address and assigning a photo), notepad, speakerphone, calendar, alarm clock, calculator and voice memo recorder. Some of its more advanced features include, SMS and MMS messaging, mobile e-mail, IM services, Web browser and Bluetooth.
The Pantech Breeze also features a less than 1 megapixel, VGA camera. This is an especially unique feature on a device targeted towards the elderly. Photographs can be captured in at least 3 different resolutions, 320 x 240, 640 x 480 and 176 x 220. There is also the ability to capture short video clips with the Pantech Breeze although video quality is way below average. Unfortunately, because of its low megapixel rate, the camera is not the best photo capture device on the market today but is still a high end feature on such a simple and basic mobile device.
The Breeze also has a list of games, although most are only demos. Sudoku, Solitaire, Tetris and Pac-man are all included within the Pantech Breeze. The Web browser can be used to outfit the Breeze with ringtones, games and applications.
Performance (4 out of 5)
The Pantech Breeze features excellent call quality which is a major plus for the elderly generation. The speakerphone and phone's volume is very loud. The Breeze's battery life holds up for 3 hours of talk time and up to 10 and a half days on standby. Surfing the internet and downloading media is accomplished under a minute in most situations, unless the web page being visited is content heavy.
Verdict (4 out of 5)
The Pantech Breeze is an exceptional entry-level device. Although promoted and marketed towards the elderly it has proven to be a

great addition to the life of a regular Joe. Not everyone is looking for a phone jam packed with features which they may never use. The Pantech Breeze can be purchased at www.amazon.com.